Little Rock's 10 Best MTB Trails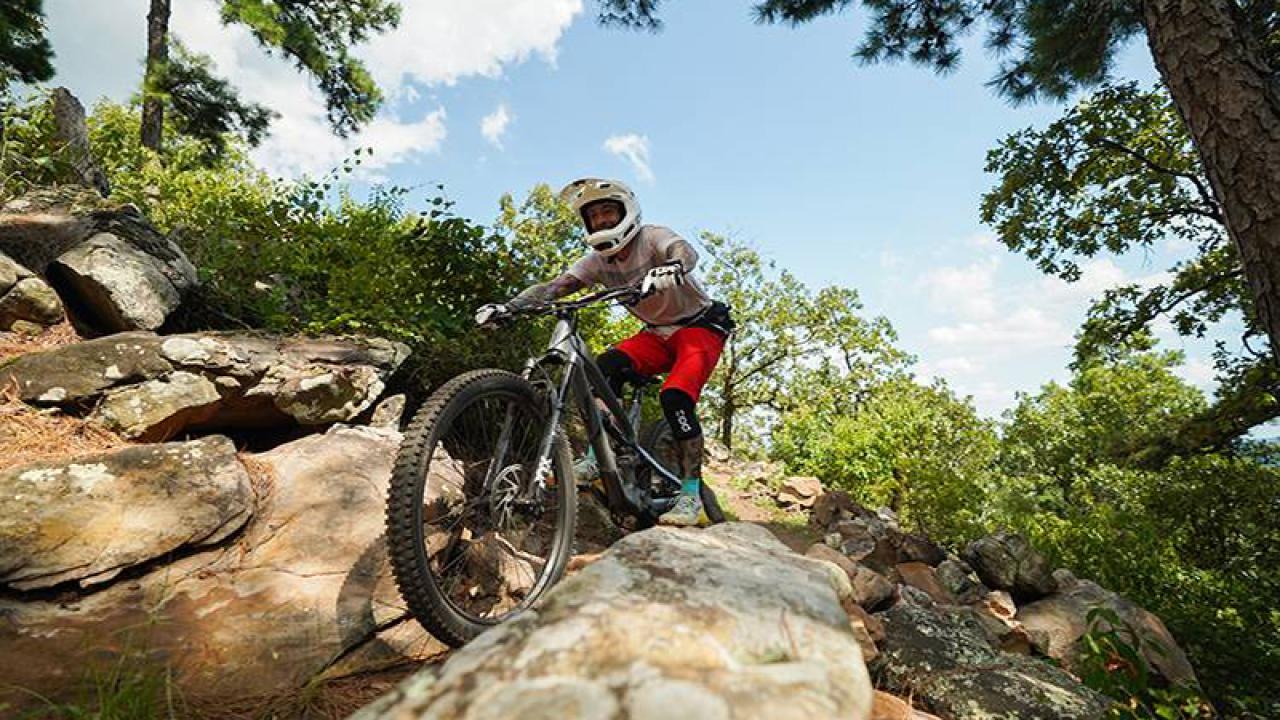 Little Rock has bike trails for every kind of cycling, but its mountain biking trails are some of the best in Arkansas. It doesn't matter your experience level; we've got the perfect trail for you. With so many unique trail systems, it can be hard to know where to start. But don't worry, we've got you covered. These are ten of Little Rock's most iconic places to shred.
Emerald Park
Sometimes, the best views of Little Rock are actually from North Little Rock. That's definitely the case with the Emerald Park trail and its clifftop view of downtown Little Rock. This unique trail features both an uphill and downhill section, and they're both intense! Between them is the beautiful Emerald Park, built on top of an old granite quarry. This ride should only be attempted by advanced riders. Those with less experience can quickly drive to the top of the quarry.
Green Loop
With its long, continuous loop, this is one of the most popular trails in the Burns Park Trail System. You'll experience everything from easy, smooth singletracks to rock gardens and short, steep, and rooty climbs. It's become a local favorite due to its easy access to the Arkansas River Trail. 
Gravity Falls
Gravity Falls is a .4 mile, flowy directional downhill trail that ends at the base of River Mountain with an optional 12-foot drop and several jumps. Towering earthen berms allow you to gain even more speed. This trail is not for the faint of heart!
Live Like Laura (L3)
This trail is a perfect introduction to riding at Camp Robinson. It features several rock gardens, making it ideal for intermediate riders. The trail gets its name from local rider Laura Wooldridge who regularly led weekly rides at Camp Robinson. Don't forget to plan ahead so you'll be ready to get your day pass at Camp Robinson's front gate.
Perimeter Loop
This trail is exactly what its name suggests: a loop around the Camp Robinson Trail System's perimeter. Best ridden clockwise, it crosses several bridges and even a few rocky creek beds and gives you a taste of all the larger system has to offer. Like the L3 route above, you'll need a day-use pass to access the trails.
Carnasaw
Located in Pinnacle Mountain State Park, this downhill is everything you expect from a world-class trail. Rated as a black diamond, be on the lookout for large boulders, drops, and jumps. This trail is downhill only and can be accessed by the Centipede Trail.
Glade Runner
This is another black diamond downhill that's part of the Pinnacle Mountain Monument Trails. The trail splits off Turkey Tracks and includes rock features and mandatory jumps. The trail ends at the Lower Stick near the lower parking area and can easily be turned into a loop via the connecting trails.
Dynamite
A mountain bike playground with various features including jumps, challenging rock sections, big views, and fast flow, Dynamite is one of the most exciting trails at Pinnacle Mountain. It's best accessed from the Jackfork Trail and is not far from the system's connection to the Arkansas River Trail.
Armadillo Run
If you've always wanted to try a downhill trail, this is where you start. Fun and fast with bermed turns, it's the perfect practice trail. It can be accessed from the top of the Centipede Trail at Pinnacle Mountain.
Mountain Boomer
Many riders use Mountain Boomer as a continuation of Rattlesnake's Ridge's Diamondback Trail, but it can also be accessed directly via the Cliffbrake Trail. You'll find lots of berms and rock gardens here as well as the famous Tombstone Rock. Less experienced riders should stick to the right, but a black diamond roll line tracks to the left. The trail ends by connecting to Cliffbrake where hikers and other mountain bikers are often present.