Majestic Elk Draw Wildlife Watchers to Buffalo National River Country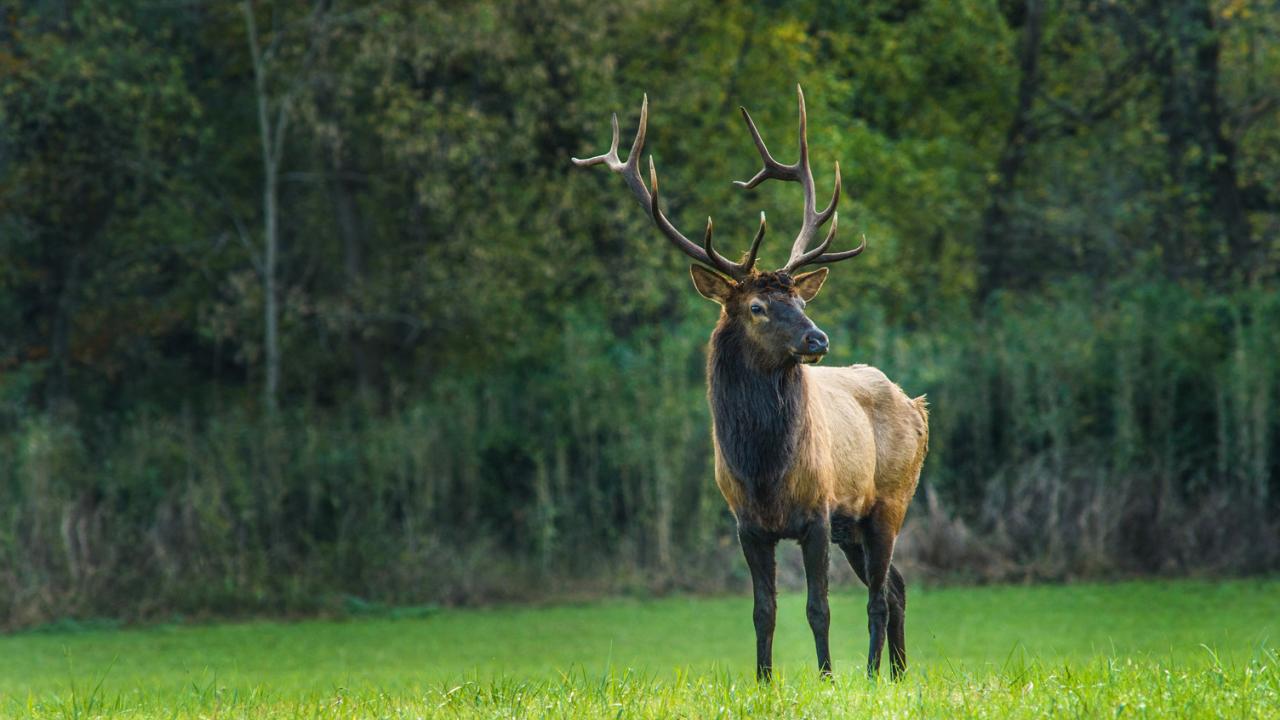 As the fog lifts in Boxley Valley and the morning sun warms the dew on the grass, elk move from the mottled shade at the edge of the forest into the open pasture to graze.
Before long, cars stop on the side of the road and their inhabitants stand at the edge of the field, pulling out binoculars, cameras and tripods to view and photograph the majestic beasts. 
Elk range through more than 315,000 acres in Arkansas in the northwest part of the state along the Buffalo National River in Newton and Searcy counties and in portions of southern Boone and Carroll counties. The large beasts prefer open areas for grazing with nearby wooded areas for resting.
One of the most popular places to view elk in their natural habitat is along AR 43 and AR 21 in Boxley Valley. On the weekends, visitors need to get there early to get a spot, particularly in the fall when the elk are bugling. 
"Plus that area is absolutely beautiful with the fall color change, so a lot of people show up," Randy Zellers with the Arkansas Game and Fish Commission says. "Around the area by Ponca, there are places you can stay in a cabin or camp out so you can get out early and enjoy that experience." Dawn and dusk are when the elk are most active any time of year.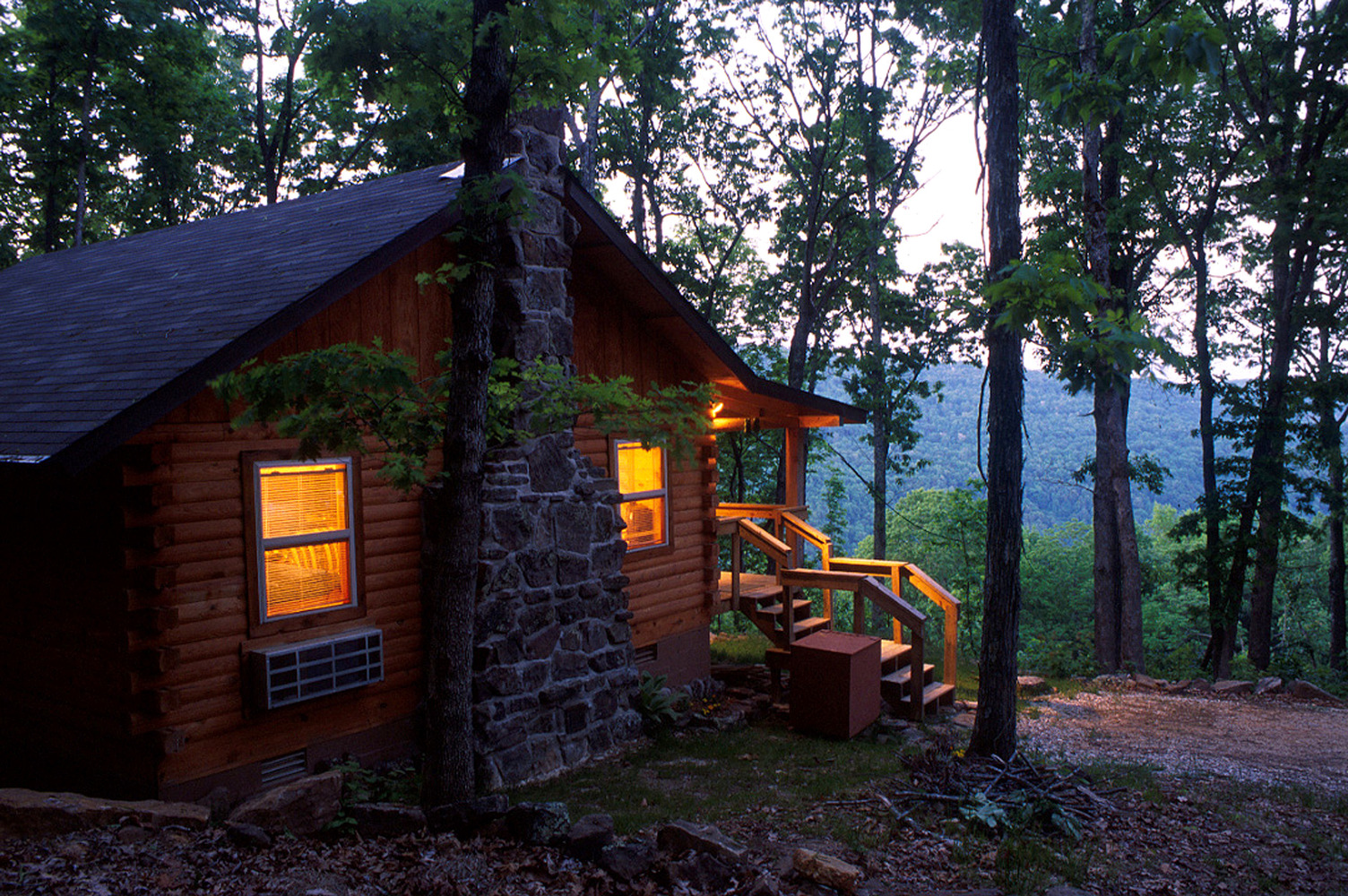 September through October is mating season for elk with 76 percent of calves born in early June. At birth, calves weigh about 35 pounds. By the start of its first winter, the elk may weigh five times as much as when it was born. By the time they reach adulthood, cows weigh up to 500 pounds, and bulls may reach more than 800 pounds, stand five feet at the shoulder and measure eight feet from nose to rump. Each year, bulls shed their antlers and it takes about 180 days for them to grow a new rack.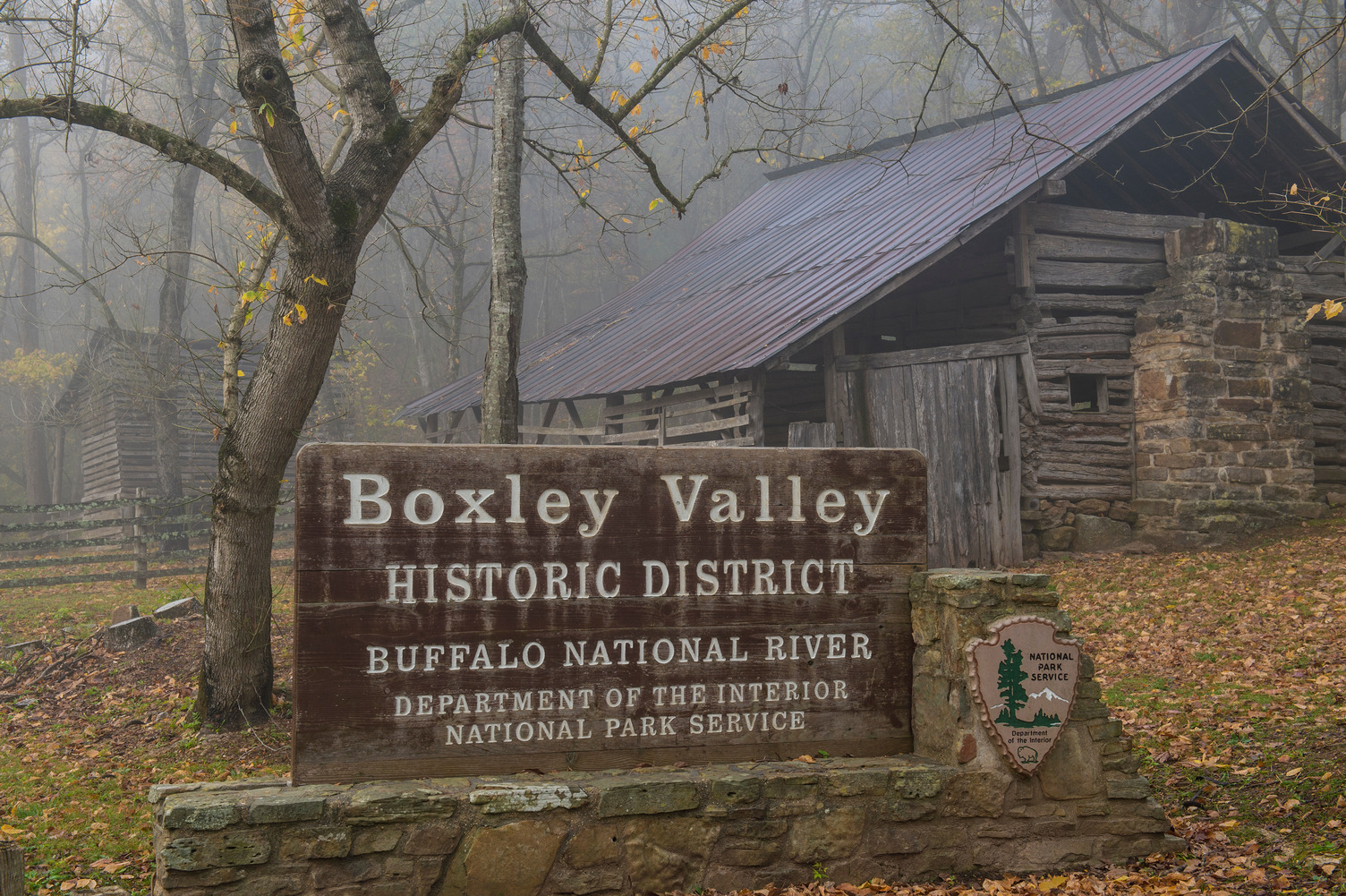 "If you want to step out of your car and easily view elk, you can't beat Boxley Valley. We have turnouts there. You can pull over and park your car safely to view the elk," explains Zellers. "While you're there at Boxley Valley, stop into the nearby Ponca Elk Education Center and talk to those folks. They can give you daily updates on what the elk are doing."
If you're more adventurous and want to immerse yourself in the elk experience, Zellers suggests primitive camping at Gene Rush Wildlife Management Area. "You'll hear them all around you, and in the twilight, it's a powerful sound," he says.
Additionally, elk can often be seen near the Erbie campground on the south side of the river or in fields on the north side. Another opportunity for elk viewing is along roads leading east and west from Pruitt Bridge in Pruitt. In Carver, look for elk in the fields near the Carver Bridge and in the Gene Rush Wildlife Management Area just south of the river.
Bearcat Hollow WMA and the Richland Valley addition to Gene Rush WMA are the newer elk viewing areas. They contained elk before, but now have better public access and improved habitat for elk.
No matter where visitors decide to go to see the elk, Zellers reminds people "the elk are wild animals. They are unpredictable and very strong."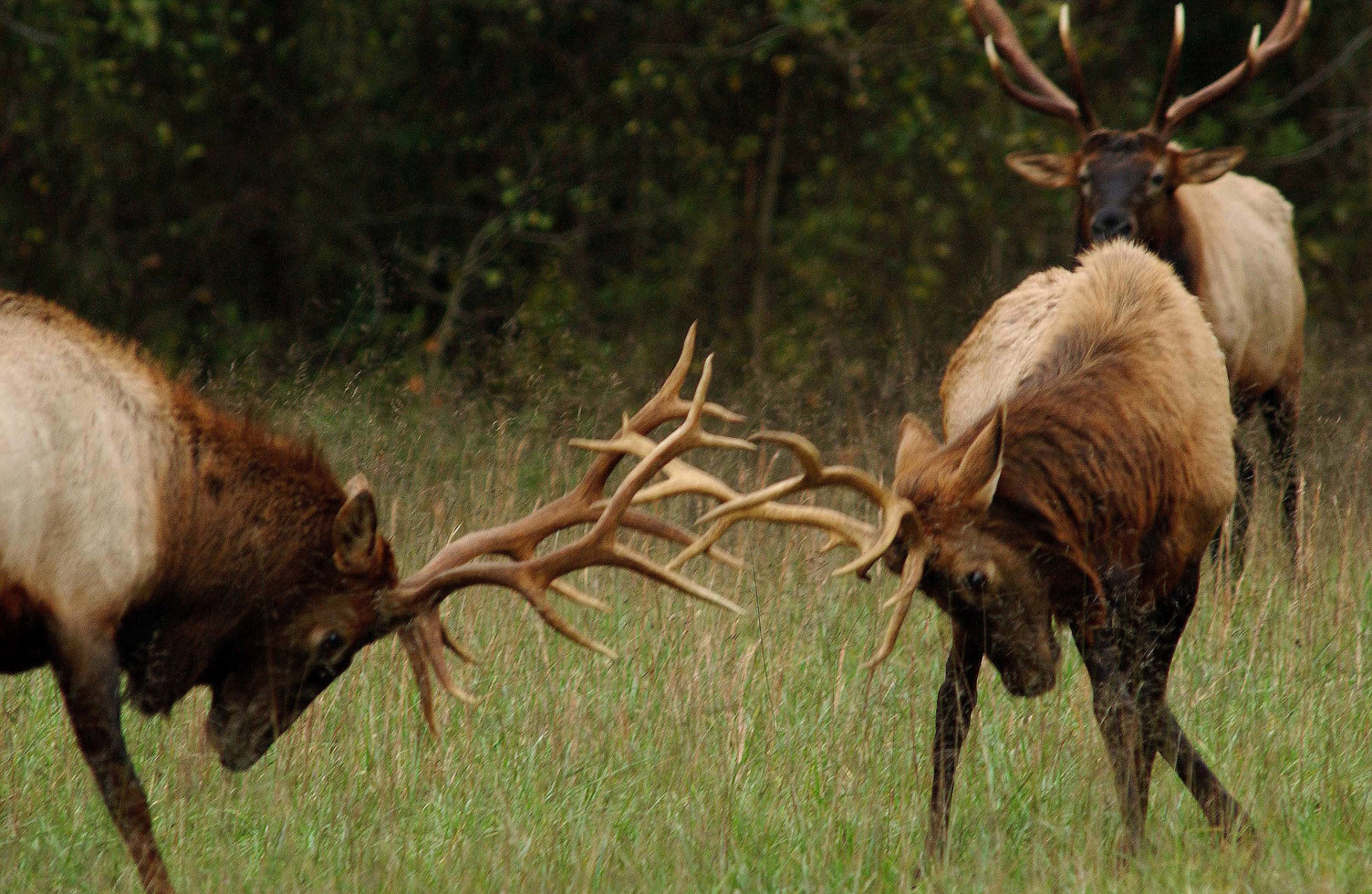 Even the herds in Boxley Valley that are used to people gazing at them from the fence row are still wild. "That is private property, so you don't want to go walking into that field," he adds. People that take advantage of the remote wildlife management areas should also remember to keep their distance from animals and be aware of open hunting seasons.
Although elk are often thought of as a western animal, the eastern elk was a native of Arkansas. However, it disappeared from the state's forest sometime around 1840 and is now considered extinct.
The U.S. Forest Service introduced 11 Rocky Mountain elk in the Black Mountain Refuge of Franklin County in 1933. Although the herd did well for a number of years, it eventually disappeared likely due to illegal hunting, natural mortality and loss of suitable habitat. Between 1981 and 1985, 112 Rocky Mountain elk were again stocked. This time they were placed near the Buffalo National River in Newton County.
The 112 elk have grown to about 550 elk. The animals are referred to as the Hilary Jones Elk Herd, after former Game and Fish Commissioner Hilary Jones. Jones, along with local citizens of Newton County were instrumental in establishing the elk herd.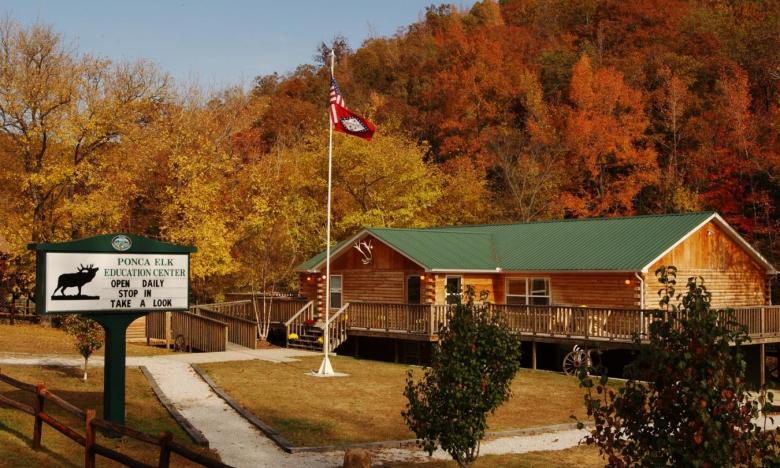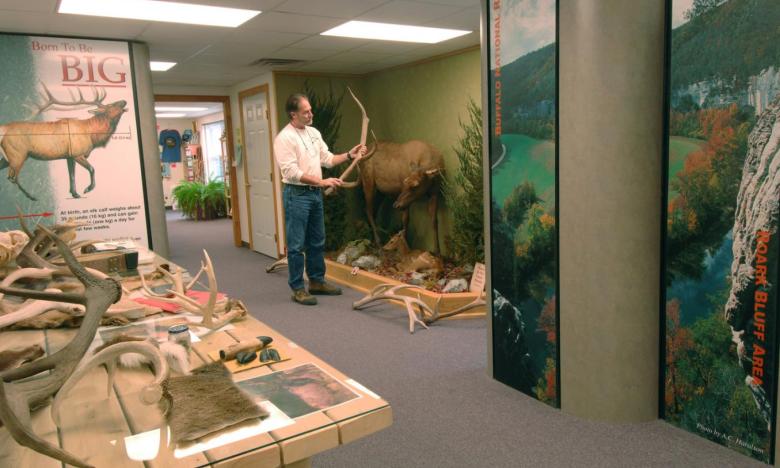 Two centers interpret the elk and their habitat. 
The Ponca Elk Education Center is operated by the education division of the AGFC in Ponca and has about 6,500 to 7,000 visitors annually. This interpretive center, which has free admission, contains an exhibit room with full-body mounts of elk in natural settings as well as an Arkansas black bear. Hands-on displays include hides, skulls and other artifacts, a geology display, interactive computer quizzes, and a birding window. Groups are welcome to schedule use of the facility for customized programs. 
Visitors can shop for educational and fun souvenirs, books, videos, shirts, and even buy a hunting and fishing license at the center, which also has rustic log rockers and benches on its wrap-around deck overlooking Pond Creek, picnic tables, and a covered pavilion. 
Another source of information is the Hilary Jones Wildlife Museum and Elk Information Center in Jasper. Learn more about elk and other wildlife through exhibits and video presentations. Exhibits include elk mounts, three freshwater fish aquariums, and touch table of furs, feathers and bones. 
The gift shop offers hand-painted agar nightlights, carved wooden toys, wildlife prints, note cards, T-shirts, caps, jewelry made from elk antlers, coffee cups and more. Admission is free and the center is located on Scenic Byway 7 about a half mile north of Jasper and the Little Buffalo River.
The Buffalo River is a national park known for superb recreational activities such as hiking, floating, camping and wildlife watching.