Make a splash to beat the heat
​
The good news: Summer is officially here! The bad news: It's about to get really, really hot. Don't wait until the dog days drain your energy to figure out how you're going to cool down. Central Arkansas has lots of urban splash pads and water parks that are easy to access and great for a quick cool-off or a full day not at the beach.
Benton: At the Splash Pad at Tyndall Park, kids will seek cover among a series of stilted sprayers—some shaped like umbrellas, some like water buckets—through which water courses at a rate of 70 gallons per minute. Covered picnicking areas nearby keep landlubbers dry. The splash pad in this 24-acre park, which also contains basketball and tennis courts, softball fields, a skate park and a concession stand, is open daily from 9 a.m. to 8 p.m.
​
Bryant: The splash pad at Bryant's Bishop Park is the perfect place to cool off in between rounds of enjoying the 106-acre park's many other amenities, including sports fields, fishing ponds, nature trails, a Boys & Girls Club and a disc golf course. For days when a mist isn't enough, a competition pool is located in the adjacent aquatic facility. The splash pad is open May through September from 5:30 a.m. to 8:00 p.m. Monday-Friday and 12:30 to 8:00 p.m. on Sundays; day passes to the complex including the splash pad are $4 for youth and $6 for adults.
Jacksonville: Splash Zone is like a typical splash pad on overdrive. With three pools offering water structures catered to swimmers of different ages and heights, Splash Zone offers fun for a wide range of kids. For taller kids, the plunge pool offers two slides; a shallow pool with dew drop, umbrella, and teacup features is perfect for little ones still in their floaties; grownups will love the lap pool with jacuzzi and massage area. 
Little Rock: Right downtown in Riverfront park, the Peabody Splash Pad is an urban oasis designed for kids and by kids—really, area children were asked for input in the design, and the result is a watery wonderland featuring huge native climbing stones, indoor and outdoor rooms to explore, and, of course, a large circular splash pad. A pavilion provides a pretty (and dry) place to watch from the sidelines. The water is flowing on warm days from sunup to sundown in this free and accessible park.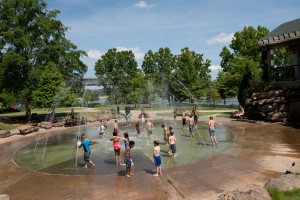 ​
At War Memorial Park, a splash pad is incorporated into a natural play area whose design mimics the features of The Natural State: rivers, bluffs, boulders and waterfalls are represented in climbing walls, caves and grottoes built of native stone. The free park is open until 10 p.m. daily.
​
North Little Rock: Central Arkansas's premier water park, Wild River Country offers aquatic fun for everyone, from tadpoles who like to stick close to the lily pad to sharks who prefer their play fast and full of surprises. More than a dozen attractions—several of them recent additions to the park—can provide a full day of entertainment with slides, a wave pool, a splash pool with fountains and Arkansas's largest water park raft ride.