Matt McClure of The Hive named James Beard Foundation Awards chef semifinalist
For the 5th year in a row, Executive Chef Matt McClure of The Hive at 21C Museum Hotel in Bentonville was named a semifinalist for the 2018 James Beard Foundation Restaurant and Chef Awards.
On March 14, the Foundation will announce the final nominees for all award categories during a press conference in Philadelphia. The event will be streamed live on the JBF website, www.jamesbeard.org, and live-Tweeted via the JBF Twitter feed at twitter.com/beardfoundation.
Selected from a list of more than 20,000 online entries, the prestigious group of semifinalists in 21 categories represents a wide range of culinary talent, from exceptional chefs and dining destinations nationally and in ten different regions across the U.S., to the best new restaurants, outstanding bar programs, bakers, and rising star chefs 30 or younger. The JBF awards are considered the most prestigious of its kind.
McClure is nominated in the category Best Chef: South. He was born and raised in Little Rock, Arkansas, where hunting, fishing and his grandmother's cooking ignited his passion for food. After studying at the New England Culinary Institute in Vermont, he settled in Boston working at a number of restaurants including Troquet, Harvest and No. 9 Park under the direction of Barbara Lynch.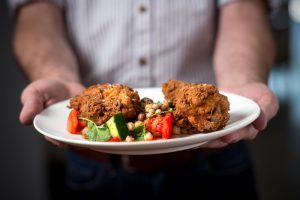 After years in Boston, McClure was eager to get back to his home state to reconnect with the ingredients and food ways of his childhood. He returned to Little Rock where he worked under Lee Richardson at Ashley's at the Capital Hotel. In 2012, he was selected to open The Hive located at 21c Museum Hotel.
"The James Beard Foundation should be applauded for their efforts to improve our food system. I am honored to be considered for this coveted award for the fifth year in a row and bring well-deserved recognition to the cuisine of my home state. It is a testament to the hard work and values of the team at The Hive. An affiliation with this organization that is working to better our world for everyone is an important part of my personal goals as well as the goals I have for the Hive," said McClure.
At The Hive, McClure showcases the refined, country cuisine of the High South, focusing on the ingredients of Northwest Arkansas and the region's traditional methods of cooking. McClure was a James Beard Award semi-finalist for the "Best Chef: South" award in 2014, 2015, 2016 and 2017, and was a speaker at the 2016 James Beard Foundation Conference: Now Trending: The Making of a Food Movement. McClure was awarded Food & Wine magazine's "The People's Best New Chef" award for the Midwest in 2015. He is also an active member of the Southern Foodways Alliance and supporter of No Kid Hungry.
Click here to see this year's full list of semi-finalists: jamesbeard.org/awards.
A cookbook author and teacher, James Beard was a champion of American cuisine who helped educate and mentor generations of professional chefs and food enthusiasts. Today the Beard Foundation continues in the same spirit by offering a variety of events and programs designed to educate, inspire, entertain, and foster a deeper understanding of our culinary culture, according to the James Beard website. The James Beard Foundation is a national not-for-profit 501(c)(3) organization based in New York City.