Meet Executive Chef Tyler Hensley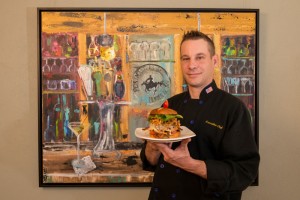 The Postmasters Grill is making a culinary impact in south Arkansas.
Housed in Camden's historic 1896 post office, the picturesque building, built in a Richardson Romanesque design, was once scheduled for demolition in the 1970s. Luckily it was saved from this fate. When the building was sold in 2010, it underwent a year and a half restoration to become the restaurant now there.
Tyler Hensley became Executive Chef of the Postmasters Grill in mid- 2014.
Hensley, who is from Pittsburgh, Pennsylvania, has been in the industry for over 30 years. The Postmasters Grill, which is owned by Camden native Emily Jordan-Robertson and located at 133 West Washington Street, was a finalist in the best chef, best restaurant and best burger categories of the 2015 Arkansas Times Readers Choice awards. The restaurant has also received the Wine Spectator Award of Excellence the past two years.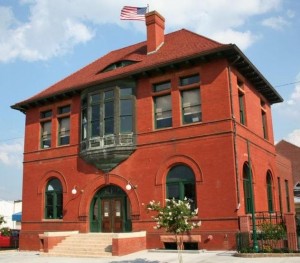 Hensley said the awards speak volumes about the impact a small restaurant in a small town can have. "We are doing something right," he said about Postmasters Grill.
Hensley has worked all over the country and said he has been impressed by the support he has seen for the local food scene in the state. He said people are craving to support it. "Coming to Arkansas, southern Arkansas specifically, and being able to pick up all the local beers and all the local food products, people really care and want to come to the restaurant to absorb this Arkansas culinary culture," he said. "People are really into it and it's so much fun to be around. "
The restaurant uses local products like War Eagle Mill grits and Riceland rice and has Arkansas beers on tap such as Diamond Bear. Southern favorites also make an appearance. "We use purple hull peas on our menu; we make a hummus with it," he said. "Anything Arkansas, people want. These are also things that people grew up with. So we couldn't just serve purple hull peas as a side dish because they might be going to get those from grandma on Sunday. But when we are able to take some of these products that they've had their whole lives growing up and utilize them in different ways, they really love to come in and try it."
Hensley said along with using Arkansas products and being involved with the community, what also makes the restaurant stand out is a willingness to take their food on the road. "We are the only food truck you are going to see in the area," he said. The food truck, known as the Cruisin'  Kitchen, makes appearances at regional festivals and they also take the truck out during the week where it makes stops in Camden, Smackover and El Dorado. Here, folks can purchase culinary creations such as the 3 Little Razorbacks, which entails andouille sausage, Petit Jean bacon, and pulled pork on an onion bun or options like a sliced ribeye cheese steak that  "we have turned into an Arkansas cheese steak by using queso dip for the cheese."
At the casual restaurant, guests can order creations including the Duke Burger (fresh beef ground in house, BBQ sauce, Petit Jean bacon, onion straws, green chile, white cheddar cheese, lettuce and tomato on a pretzel bun) which was the finalist for the Arkansas Times award.
Hensley works at the restaurant in Camden and lives in nearby El Dorado with his wife (who is a doll maker in town) and his two young kids. He said living in south Arkansas was a draw for him. Though he worked in big cities throughout his career, he grew up in a small town and appreciates being able to have his kids grow up in a similar scenario. On his downtime he enjoys cooking at home and hanging out with the family. Hensley has travelled through Central and South America, as well as all over Europe studying and enjoying cuisine from around the world. In south Arkansas, he is putting his culinary chops to prime use. "My bio is pretty simple," he said. "I love to cook and enjoy making people happy on a daily basis by feeding their hunger." For more details on the Postmasters Grill, visit postmastersgrill.com.