Meet Jim and Barbara Larkin of Fox Pass Pottery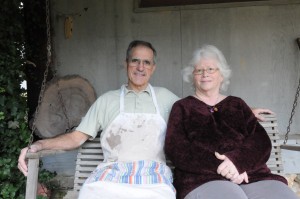 Since 1973, Fox Pass Pottery has been a landmark of the Hot Springs arts community. The studio is located in a woodland setting nestled against Hot Springs National Park and features handmade pottery by Jim and Barbara Larkin. The Larkins specialize mainly in functional pieces and Barbara does sculptural items. Jim's work is made on the potter's wheel and Barbara's is hand built. "Barbara and I have different jobs in the workshop but it is an equal partnership," said Jim.
Over the years, their game plan has been to stay small and specialize in hand crafted items. "We started in '73 with the idea of doing something we love, working with our hands and our minds," said Jim Larkin, who was named an Arkansas Living Treasure in 2012 by the Arkansas Arts Council.
There is a wood fire kiln that he and his son Fletcher Larkin built in 2001 in the back of the studio. "A lot of our work is fired in that," said Jim. When people come in, the Larkins said the main question they get is where they find the clay for their work. They mix their clay from several different clays and minerals. 'It's our own formula that we've worked up over the years to fit the firing temperature, durability, glaze fit, color, elasticity, and various criteria that we have," said Jim.
They also mix their own glazes, which are formulated for specific colors and surface qualities. After glazing, the pottery is fired in either a gas or wood fired kiln to 2350 degrees F. The finished pieces are durable and safe for putting into dishwashers, ovens, or microwaves.
The second question, or the "big" question they usually get is "You do this for a living?" "Because I think for so many people that would be their dream if they could do something like this for a living," said Jim. "They can't quite believe that we do. And for 42 years."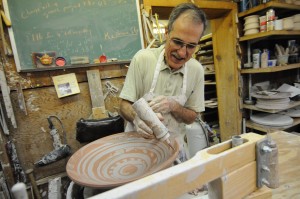 Art is a family affair for the Larkins. Their daughter Erin is a sculpture major and is the costume designer for the Arkansas Arts Center Children's Theater. Their son Fletcher also is a potter and has a workshop in Little Rock. "They are two of our best critics," said Jim. "We value both of their opinions about what we are doing."
The Larkins get their inspiration from being surrounded by Hot Springs National Park. "I think we are directly inspired by living in a woodland area," said Barbara. "We spend a lot of time hiking," added Jim. "We go out our backdoor and down a dirt road and we are in the national park. We have a little waterfall back there, a little cascade that we hike to about a mile in. Just walking down there and sometimes picking up a leaf or a rock or just watching the water patterns run over the rocks just gives you an idea or an inspiration."
The most popular items they make are mugs.
"I love to make them because I know people are going to use them," said Jim. "We look at other cultures and we talk about their rituals as if we don't have our own. But they are so common to us we sometimes take them for granted. But getting up in the morning and having your coffee…I collect mugs from other potters and I'll look them over and I'll pick a mug out that just feels good, there is something to it that I really enjoy. And that morning cup of coffee just sort of relaxes me and gets me ready for the day and there is that ritual involved with that."
When he makes a mug, "I want it to be one that brings someone some bit of pleasure," he said. "And that's true with all the pottery we make."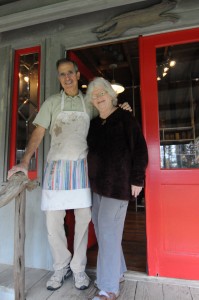 Fox Pass Pottery is located at 379 Fox Pass in Hot Springs. Their phone number is 501-623-9906 and their shop is open Tuesday-Saturday from 10-5. For more details, check out their website at foxpasspottery.com.