Surrounded by the Ouachitas, Mount Ida is home to abundant quartz crystal deposits.  This zone is part of the state's "quartz belt," an area about 30 miles wide, stretching roughly from Hot Springs west to Pencil Bluff.
Family-owned rock shops line the highways in and around town, and you'll see the sign proclaiming  Mount Ida "Quartz Crystal Capital of the World" when you enter the town limits. There are many spots to dig for crystals around town, including Wegner Quartz Crystal Mines at 82 Wegner Ranch Road.
Wegner's, which opened in 1980,  provides the opportunity to dig for your own crystals at a working mine. It's also a spot to learn first hand about geology and mining techniques. The scenery surrounding the mine is beautiful and what further stands out are the environmental practices that are followed here. Contrary to popular mining practices of leaving a huge open pit wound in the earth, owner Richard Wegner restores the land when they are done mining an area by filling in the mine and contouring the terrain for erosion control and planting trees. The progressive practice has not gone unnoticed and has been used as a study example by the Forest Service.
"My favorite part about living in Arkansas is that I am free to create the lifestyle I choose to live," said Wegner. "With abundant natural resources I can live a sustainable relationship with nature.  Growing my own organic gardens, building my own fresh water ponds for fish, tree farming for lumber used to build my home and firewood, and artesian springs to drink from.  Foremost the quartz crystals I mine to create a livelihood for myself and others.  I am most grateful to live here."
After graduating from college and discovering Lake Ouachita and the surrounding national forest, Wegner, who is from Chicago, chose to move here in June of 1979.  "Arkansas was the land of opportunity then and I was interested in what that would mean for me," he said.  "I found a great location affordably and resources I could use to build my home."
"My favorite places to visit are all the fantastic state parks here in Arkansas," he added. "I have a special place in my heart for Lake Ouachita State Park.  I spent 30 days of spring break with friends camping on the lake and fell in love with the area.  Little did I know that I would end up living 15 minutes from the very same lake."
"Living in the Ouachita mountains is a very nurturing and gentle place to call home," Wegner said. " I travel worldwide and when I drive back into the mountains I feel this powerful sense of well being and gratitude that I live here."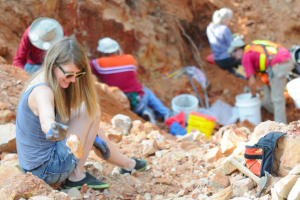 At the mine, visitors have a choice of various collecting options such as the Crystal Forest Mines (they offer many trips daily). The Crystal Forest Mine is well known for its clear gem quality crystals. The Phantom mine is another choice and is home to the rare Phantom Crystals, manganese inclusions that look like smaller dark crystals trapped within a larger clear crystal.
Also onsite is a barn that houses a 10,000 sq. ft retail shop where crystals from around the world can be found and bought. Those interested can also work the gemstone sluice for precious and semi-precious gemstones or collect crystals at the tailings pile.  The Diamond Experience is also available. Each bag of diamond bearing gravel contains a minimum of ½ carat t.w., which is between 1 to 5 diamonds.  Of note, these are not Arkansas diamonds. Diamonds for this activity come from the Congo, Africa. For those wishing to search for Arkansas diamonds, Crater of Diamonds State Park is a 50 minute drive from Mount Ida.
Once you get to Mount Ida, Wegner Quartz Crystal Mine is 3 miles east on Owley Road. Then just follow the blue signs. After you enter the gate,  follow the dirt road to the visitor's center at the  barn. For more details, call 870 867-2309 or check out their website at wegnercrystalmines.com.