If you were not at Verizon Arena on Friday, October 17, you missed one of the best rock shows I have seen in a long time. It was 100.3 the Edge's Monster Ball with headliners Volbeat and Five Finger Death Punch as well as Hellyeah and Nothing More. Hellyeah and Nothing More rocked it, but I do have to give it to Volbeat. They were very humble for being able to come over to the U.S. to play and about how the fans accepted them. They were very humble. At one point, they pulled young children up on stage to sing and dance with them! It was something I never expected!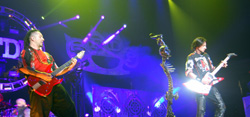 Five Finger Death Punch came on the stage. The crowd was going insane!! From the first beat of the drum to the last note, everyone was on their feet. Ivan Moody knows how to bring an arena to life! Zoltan and Jason were so passionate about their playing but also stopped and involved the crowd as much as they could. Chris was shredding on the bass, running back and forth on the stage. Big props to Jeremy for those amazing sets he is able to do!
North Little Rock was thrilled to have these bands in their city. Kudos to Nothing More, Hellyeah, Volbeat and Five Finger Death Punch! We cannot wait to have you back in the great state of Arkansas.