Monster Ball Storms North Little Rock's Verizon Arena
What would cause thousands of people to flock to North Little Rock on October 17? Radio station 100.3 The Edge has announced the lineup for this year's Monster Ball. An energy packed event, it features Hellyeah and Nothing More as the opening acts. The main headliners are Volbeat and Five Finger Death Punch. This is a show for any and all rock lovers, from fans of the classics to those of heavy metal.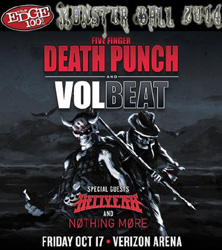 Hellyeah is a super group, consisting of Mudvayne lead vocalist Chad Gray, Nothingface guitarist Tom Maxwell and former Pantera and Damageplan drummer Vinnie Paul. Just their set alone will electrify the crowds but there's more on the schedule. Nothing More is from San Antonio with such top hits as "This is the Time (Ballast)" and "Mr. MTV."
The big draw for this show will be Volbeat and Five Finger Death Punch. Discovered by Metallica, Copenhagen's Volbeat is known for music that is hard and to the point. Five Finger Death Punch has driving percussion and most of their songs are written for and about American soldiers.
There will be no denying that hard rock will overtake Verizon Arena in North Little Rock on October 17. The doors will open at 5:30 p.m. and the show will begin at 6:10 p.m. You can purchase your tickets from any Ticketmaster Outlet, at the Verizon Arena Box Office, charge by phone at 800-745-3000 or online at www.ticketmaster.com. I hope to see you all there!