Movie Connection: Bootlegger Daze in Calico Rock
Bootlegger Daze in Calico Rock is set for 11 a.m. to 4 p.m. on Saturday, March 12. Where does a festival like Bootlegger Daze get its name? From a movie of the same name that was filmed in Calico Rock and starred Jacylyn Smith and Slim Pickens. That's right, before Smith became a Charlie's Angel, she was a star in Calico Rock!
​
Festival-goers can watch the movie at noon in the Murphy Gallery of the Calico Rock Museum. Tickets are $2 and all proceeds benefit community development efforts. The movie details the lives of two feuding families of bootleggers, the Pruitts and the Woodalls, in rural 1920s and 1930s Arkansas. Its taglines included: "The Happiest Film Surprise of the Year!," "Revenge, Love and Liquid Dynamite!," and "It's War in the Ozark Mountains." Pickens plays Grandpa Pruitt and Smith plays Sally Fannie Tatum.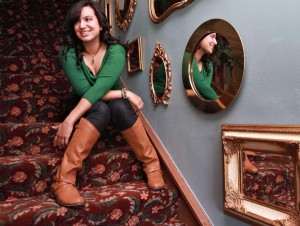 ​
The festival also features the soulful music of Christine DeMeo, a bouncy house for kids, crafts vendors, food vendors, and fun for the whole family.
Back by popular demand is the Lawnmower Race along Main Street. The race will kickoff at 1:30 p.m.  All entries should be present and registered by 1:00 p.m. in front of the Calico Rock Museum.
You can also enjoy exploring Calico Rock. Historic Main Street's brick and stone buildings from the 1920s flank the street for a few blocks. They are home to antique stores, a museum and various stores. Additional shopping is available in more modern parts of town.
Calico Rock Museum houses collections and displays exhibits beginning with the American Indian culture to about 1967 that are historically and culturally significant to the town and area. The museum not only preserves the past, it also features handmade works of area artists. About 28 artists sale their items – pottery, furniture, leather, organic home products, woodworking, jewelry, and more – in the museum.
Just steps away from this historic but thriving town center, is another lifetime of the town preserved. Calico Rock's Ghost Town include a pool hall/tavern, a barber shop, a theater, a café, a lumberyard, the telephone exchange, a cotton gin, a funeral parlor, and an electric company. The tour contains more than 20 different buildings and other structures, dilapidated yet holding a significant presence in the oldest part of town. All but two can be seen from the street and markers tell the history of each. You can drive it, but it's best seen on foot.
Lodging runs the gamut from motels on Main Street to motels and cabins on or overlooking the river. Hiking and biking trails are located in parks in the middle of town and fishing is hot here.
For more information, to reserve your free vendor space, or to enter the lawnmower race, call 870-297-6100. To view updated information, visit www.calicorockmuseum.com. Calico Rock is served by Arkansas State Highways 5 and 56, both pleasingly scenic.