Musical Storm hits Verizon Arena Tuesday
Tuesday, November 4, North Little Rock will once again be taken by storm! Verizon Arena will welcome King 810, Korn and Slipknot as part of the Prepare for Hell Tour! I don't know about you, but I am so ready for this show! I grew up listening to these bands and have yet had the opportunity to see them live!
King 810 is a relatively new band coming onto the rock scene. They are from Flint, Michigan. They released their debut album, Memoirs of a Murderer, on August 19, 2014. "War Outside," "Fat Around the Heart" and "State of Nature" are a few of their singles released from Memoirs of a Murderer. King 810 has a sound similar to Slipknot with the pulsating percussion and powerful vocals. I believe they will be a great band to see live!! From what I have seen, they have so much power and energy! I think they will be a great opening act for Korn and Slipknot!
I know as a teenager, I grew up listening to the energy packed Korn! With songs like "Blind," "Got the Life," "Falling Away From Me," "Twisted Transistor," "Freak on a Leash," and new hits such as "Never Never" and "Spike in My Veins," who could miss this show?!? Front man Jonathan Davis brings so much creativity and power to the stage and filters it out through the audience. They have dropped 10 albums since 1993 and won many distinct awards. You need to come out Tuesday night to see what Korn presents and see why they have earned so many awards and nominations!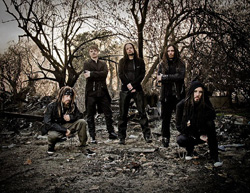 To the headliner, Slipknot. The last time Slipknot was in Arkansas, they played at 100.3 The Edge's Edgefest, which later became known as 'Mudfest' due to the weather and location of the concert. Arkansas gave them a great welcoming. You can tell how the audience's intensity fed the band. With five top-selling albums, Slipknot is one band I think you could not miss. Corey Taylor puts so much heart into his music. Well, the whole band does, but Corey brings it 100% every time. Slipknot has also been nominated and won many awards, one of them being Best Metal Performance in 2006 for "Before I Forget."
The show will be at Verizon Arena on Tuesday, November 4. The doors open at 5:30 and the show starts at 7:00 p.m. Tickets are still available. You can purchase the tickets by phone, at Verizon Arena or at Ticketmaster. For further information on tickets and prices, click here. I really hope to see a lot of Arkansans there tomorrow night and show the bands why Arkansas is so great!!