National Dutch Oven Gathering at DeGray Lake Resort State Park
The below news release about the National Dutch Oven Gathering was sent to us from DeGray Lake Resort State Park  Park Interpreter Elizabeth Bittner. Enjoy!
Fall is usually a quiet time at DeGray Lake Resort State Park, but for one weekend in October the park will be bustling with hundreds of Dutch oven enthusiasts from all over the country.  Every year a national gathering is held for experts and amateurs alike giving everyone an opportunity to trade recipes, check out new equipment, and catch up with friends from across the nation.  The National Dutch Oven Gathering (commonly abbreviated as NDOG) has finally come to Arkansas and will be held from October 18-20 at the Caddo Bend Day Use area in DeGray Lake Resort State Park.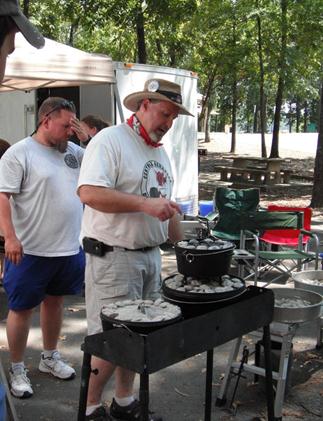 In order to participate in the full weekend of events, you must register as a participant and pay a registration fee.  However, for those who just want a taste of what Dutch oven cooking is all about, there will be a free public open house on Saturday, October 19 from 10-4. Many people have rediscovered this historic cooking vessel and all of its many benefits.  Need more iron in your diet?  Try cast iron.  Can't give up your non-stick cook wear?  Cast iron was the original non-stick surface.  Does that campfire flavor bring back fond memories?  You can experience it all again when you learn to cook outdoors in a Dutch oven.
During the free open house there will be demonstrations on how to use a Dutch oven to make everything from biscuits to cheesecake.  Other skills such as building an outdoor fire pit and cooking over wood instead of charcoal will also be discussed.  Guests can even learn how to roast an entire turkey outdoors using just a metal trashcan and some other simple supplies.  During the open house guests are encouraged to visit the "cooking village" where NDOG participants will be showing off their best dishes and essential tools that you need in order to be a great "iron pot" cook.  Many will even have samples to share with the curious.  A full schedule of demonstrations can be viewed at www.degray.com.
For those who want in-depth, hands on lessons in Dutch oven cooking, members of the Central Arkansas Dutch Oven Group will be offering an opportunity to "Adopt a Chef" after the Saturday open house from 4-7.  Each participating group will receive a commemorative 12-inch Dutch oven to take home, recipes to try, and admission to the evening Dutch oven pot luck supper.  Your chef will guide you step-by-step through the process of making a delicious Dutch oven dish.  This is a wonderful opportunity to get advice directly from an experienced chef.  Participants will choose a recipe from a pre-determined list.  All ingredients will be provided.   The cost per group is $50 for up to six participants.  Individuals are welcome to register as well, but the cost will be the same.  Please call a park interpreter at 501-865-5813 to register.
Locals, please note that the Caddo Bend day use area will be closed to the public for this event from October 17-20 (with the exception of the open house).  The Caddo Bend boat ramp parking lot will be closed on the 19th only.  For further details about the event, call the visitor center at 501-865-5810 or visit us online at www.degray.com.  At this time, there are no available campsites at the park for this event; however, there are sites at other area campgrounds.  Lodge rooms are still available.  You do not have to be staying at the park to attend the event.  The park is located off Highway 7 between Hot Springs and Arkadelphia, six miles north of I-30 at Caddo Valley (exit 78).