New Book on Baseball Legend Lon Warneke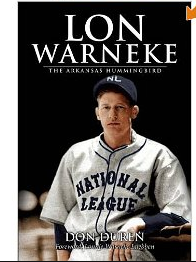 Emilie Kinney, Executive Director of the Heritage House Museum in Mount Ida, has sent word of a book signing that will take place September 25 at the museum from 11-1.  The book being featured is Lon Warneke: The Arkansas Hummingbird, which was published this summer. Warneke ( 1909-1976), who was from Owley, was a baseball pitcher for both the Chicago Cubs and St. Louis Cardinals. Below are the details care of a news release Kinney sent about the event.
'Don Duren, who grew up in Hot Springs and whose mother was from Mount Ida has written a book about baseball notable Lon Warneke. Lon grew up just south of Mount Ida in the small community of Owley and pitched on both the Mount Ida High School baseball team and the local men's team 'Mount Ida Athletics' before heading off to work his way up to the Minor and then the Major Leagues. He pitched for the St. Louis Cardinals and the Chicago Cubs during the 30s – 40s and earned the nickname "Arkansas Hummingbird" for his fast action. Later serving as an umpire, he had the distinction of being the only major league player to have both played and umpired in an All-Star game and a World Series.'
The author and Lon's daughter Lonnie W. Luebben from Hot Springs will be at the museum, which is located at 819 Luzerne Street, for the signing and open house.