New Book Celebrates Centennial of National Park Service
2016 marks the Centennial of the National Park Service. The exact date of the anniversary is August 25, 2016, but there will be celebrations and special events at parks across the nation and throughout the year to honor the milestone. A new art book to mark the occasion has also been released called 59 Illustrated National Parks. The book, which was 5 years in the making, pays homage to a series of famous Works Progress Administration posters that were created in the late 1930s and early 1940s to promote travel to national parks.  Among the parks featured in the book is Hot Springs National Park in Hot Springs. This national park was first protected when Congress declared the area a reservation in 1832, around 40 years before Yellowstone landed the title as the nation's first national park in 1872. Hot Springs Reservation was designated Hot Springs National Park in 1921 and is now known as the oldest protected area in the National Park System.
Currently, there are over 400 parks within the National Park System, including national seashores, monuments, historical parks, battlefields, etc.  Fifty-nine of these parks are formally named a "National  Park," and it is these parks that the art book focuses on. There are also individual posters available of the national parks featured in the book and a commemorative poster that showcases all them in one print.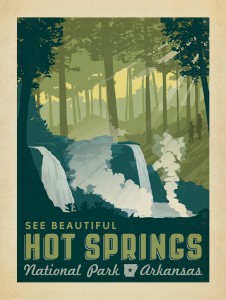 Along with Hot Springs National Park, Arkansas is home to other parks within the National Park System including the Arkansas Post National Memorial in Gillett; the Buffalo National River, the first river in the country to land title as a  national river; the Fort Smith National Historic Site; Little Rock Central High School; Pea Ridge National Military Park; and the President William Jefferson Clinton Birthplace Home National Historic Site in Hope.