New craft coffee roastery in Hot Springs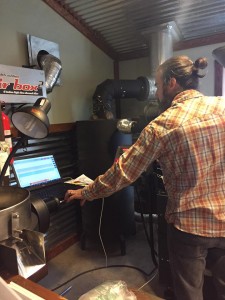 Hot Springs is the scene of a new craft coffee roastery, the first small batch roastery of its kind in the city. Red Light Roastery is located at 1003 Park Avenue and beans are sold by the pound from the back door of the roastery.
Owner and roaster Adam Moore said word of mouth has spread about the operation. "The response has been great and my biggest surprise is the actual number of people that come to the roastery to pick up the beans," he said. "I was expecting for most of my sales to come from wholesale to the other stores. But I am really surprised at how many people find me back here at the back of this building that looked abandoned for so long. And they come in and say 'I heard about you. I want to buy some coffee.'"
Plans are in the works for the operation to eventually include a tasting bar, with a targeted opening time of mid to late March. The roastery is currently in the back of the building and the retail and coffee bar will be up front.
"We are currently renovating this 1881 bungalow here that is just a few doors down from [former President] Bill Clinton's boyhood home on Park Avenue," he said. "And that is going to be our retail front and coffee tasting bar. So it will kind of be like how a winery or brewery has a tasting room. This will be a roastery with a tasting room. And we will have coffee for sale if someone wants to drink a cup of coffee. But our main focus will be on having people taste what we are roasting and see what they want to take home with them."
The roastery also has a community give-back program. They work with the Hot Springs YMCA and they have given money to the future David F. Watkins Memorial Park (in memory of the Hot Springs City Manager that passed away last year) nearby on Park Avenue. "We are focusing our give-back efforts directly in the community," said Moore. "We may go out into other Arkansas charities after that but at first we are focusing on our neighborhood, and then Hot Springs and then go out from there."
The operation started with a small 1-kilo commercial roaster and has grown since then to now include a 10 kilo machine. Beans are available for pick up at the roastery Tuesday-Friday from 11 a.m. to 4 p.m.  Starting in March, they will be expanding their hours. Currently you can find their beans at spots like the Savory Pantry, Old Country Store, Good Earth, Kollective Coffee and Tea, Superior Bathhouse Brewery and the Olde Crow General Store (which is in between Hot Springs and Benton on Highway 5).  To keep up to speed with Red Light Roastery, check out their website at redlightroastery.com or their Facebook page here.