New ride at Magic Springs in Hot Springs!
A new thrill ride is now open at Magic Springs Water and Theme Park in Hot Springs. According to a news release sent by Magic Springs about the ride, "SkyShark is a 115-foot lattice-style arch and has a 3-ring release system similar to the kind used on a parachute. The flight suits worn are similar to hang-gliding suits and are made to support weight of up to 800 pounds."
According to the release "riders in groups of 1 to 3 are winched to the top of a 95-foot launch tower and then dropped towards the ground, swinging from a cable tether back and forth until brought to a rest. Riders will reach up to 50 mph on their descent and will swing over Magic Springs Lake."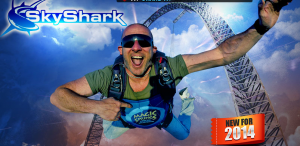 "The riders initiate the drop by pulling the ripcord themselves, then immediately enter into a state of total free-fall from almost 10 stories high," said Steve Honeycutt, general manager of the park in the release. "As you swoop just over the heads of onlookers below, a steel cable catches the fall, just a few feet from the ground, and continues to propel the riders over the lake."
Of note: riders must be 42″ tall to ride and there is there is a fee to ride. ($20.00 for single, $30.00 for double and $40.00 for triple)
Magic Springs Water and Theme Park is the state's only theme park, water park and concert amphitheater in one location. Admission to all three is available with any general admission ticket or a Season Pass. For further information and ticket prices, visit magicsprings.com or call 501 624-0100.