New Spy Exhibit at Clinton Presidential Center!
Editor's Note: This exhibit was at the center in 2014.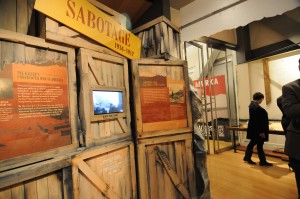 The William J. Clinton Presidential Center in Little Rock has a new temporary exhibit: "Spies, Traitors, and Saboteurs: Fear and Freedom in America." The exhibit is from the International Spy Museum in Washington, D.C. and will be at the museum until April 27.
The opening, which took place last Friday night ( Jan. 17),  included a quick keynote presentation by Peter Earnest, the founding executive director of the International Spy Museum and a 35-year veteran of the Central Intelligence Agency (CIA).
According to Clinton Presidential Center copy, the exhibit explores nine major events and periods in U.S. history when Americans were threatened by domestic enemies. With each major event, visitors can track the incident as it happened, witness the government and public response, and examine the complexities of securing the nation without compromising the civil liberties upon which it was founded.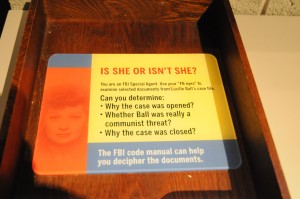 The exhibit is small ( in terms of space, not information) but if you are visiting the Clinton Center, it is worth a walk through. And be sure to read through the copy presented. There are a lot of interesting tidbits that might be passed by if you just browse or quickly walk through. For instance, don't miss Lucille Ball's FBI case files!
Opened in 2004, the William J. Clinton Presidential Center & Park, is home to the William J. Clinton Presidential Library and Museum, the University of Arkansas Clinton School of Public Service, and the Little Rock offices of the Clinton Foundation.
Hours at the center, which is located at 1200 President Clinton Avenue, are M-Saturday 9-5 and from 1-5 on Sunday.