Norfork Lake-An Ozark Mountain Jewel: 4 Reasons to Visit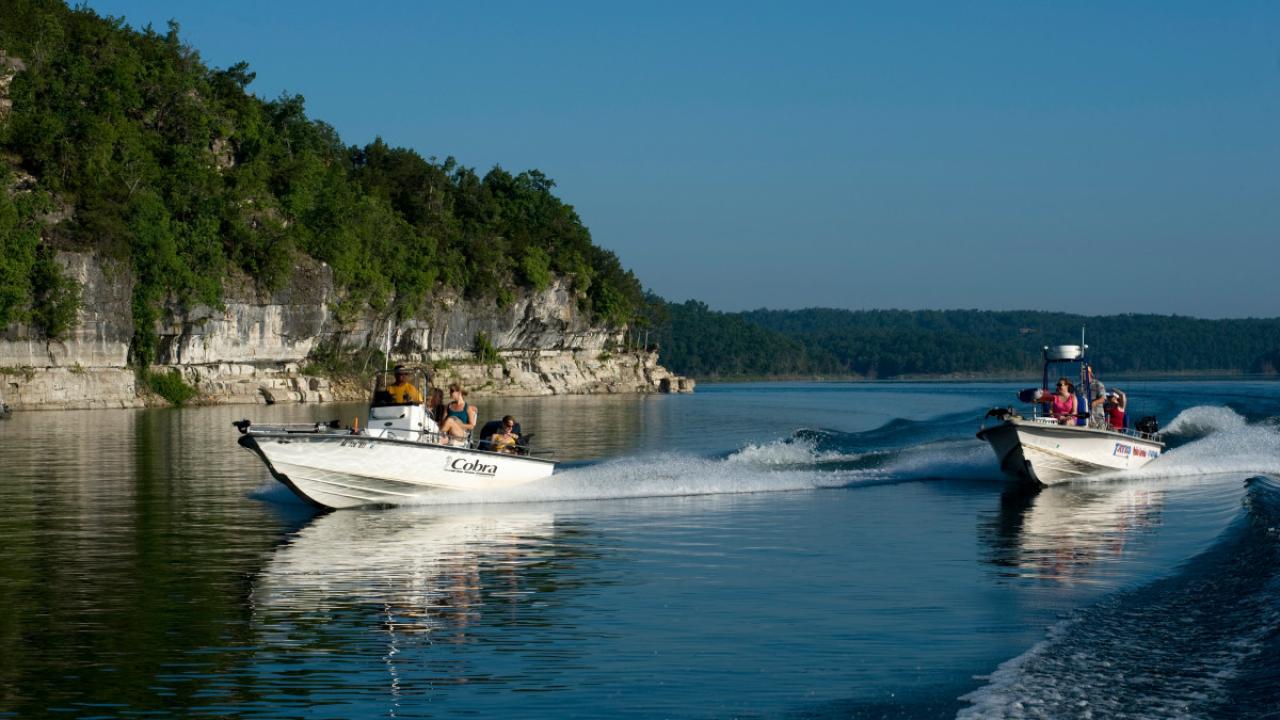 Norfork Lake with its clean, blue, unspoiled waters, is most definitely an Ozark Mountain jewel.  Expansive basins, uncrowded coves, and natural shorelines are the rule not the exception. Summer fun promises endless possibilities – boating, skiing, tubing, wake surfing. Local bluffs are great for cliff jumping and David's Trail is nearby for hiking. Spring and fall offer gorgeous scenery along with some of the best crappie and striper fishing in the Ozarks. Friendly locals and fabulous services just add to the charm.
The Gamaliel Recreation Area – All the best features of Norfork Lake right at your fingertips
Fout Boat Dock– pontoons, wave-runners and more for all your lake fun needs
Bayou Resort– family and pet-friendly cabins and cottages plus a swimming pool and a convenience store
The Cove, Vacation Lake Homes– affordable luxury featuring private, secluded, lake view homes
Plus, fantastic fishing, RV and tent camping, hiking and so much more
1. Fout Boat Dock – Best service and biggest smiles on Norfork Lake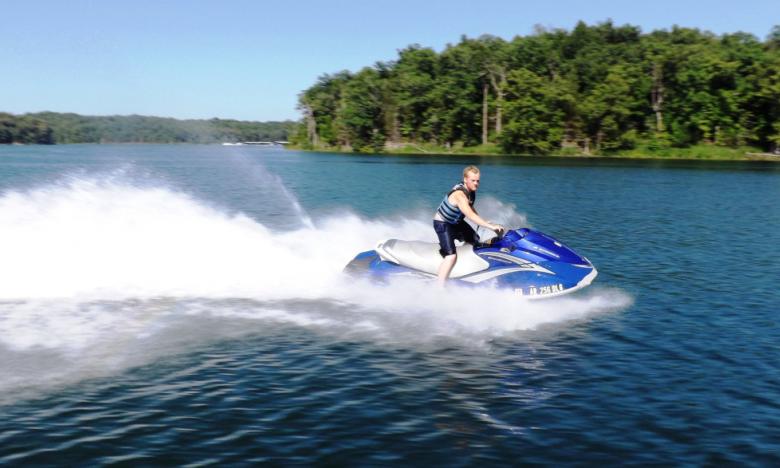 Fout Boat Dock, a full service marina, offers pontoon, wave-runners, and kayak rentals plus tubes, skis, wake boards and more for a full day of fun in the sun. Rent a pontoon boat with a slide or sundeck then bring on the thrills and spills with a tube to pull. Or take a spin on a three person wave-runners for an adrenaline-charged experience. Bringing your own boat? Fout has slips available plus a mechanic on duty if needed. Adjacent to the dock, there is a paved public launch ramp with courtesy dock, a swim beach, a playground, a hiking trail and the Gamaliel Campground. Everything you need in one location plus the best service and biggest smiles on Norfork Lake.
2. Bayou Resort – Kid-friendly, pet-friendly… just plain friendly!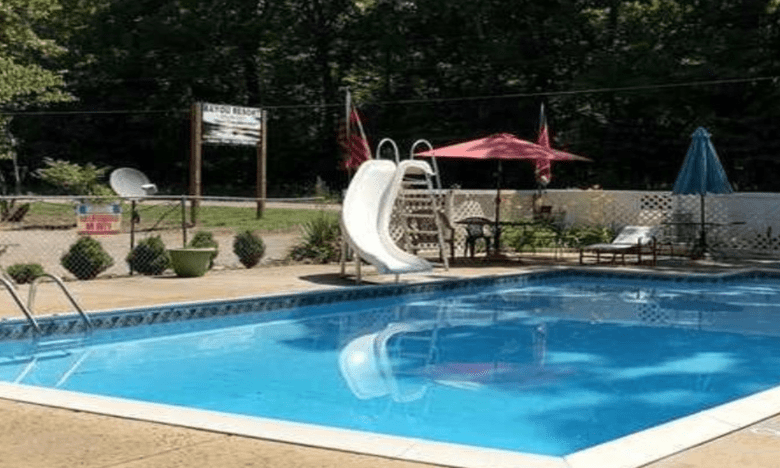 Bayou Resort is just around the corner from Fout Boat Dock providing cabins and cottages catering to families and fishermen all year round. An in-ground swimming pool and pavilion/deck area make for great gatherings plus an on-site convenience store provides everything from snacks and beer to minnows and novelties. Newly updated cabins and cottages promise a comfortable and relaxing stay. Family-friendly, pet friendly, sportsmen friendly – just plain friendly!
3. The Cove –Vacation Lake Homes – Peaceful, Private… Picture Perfect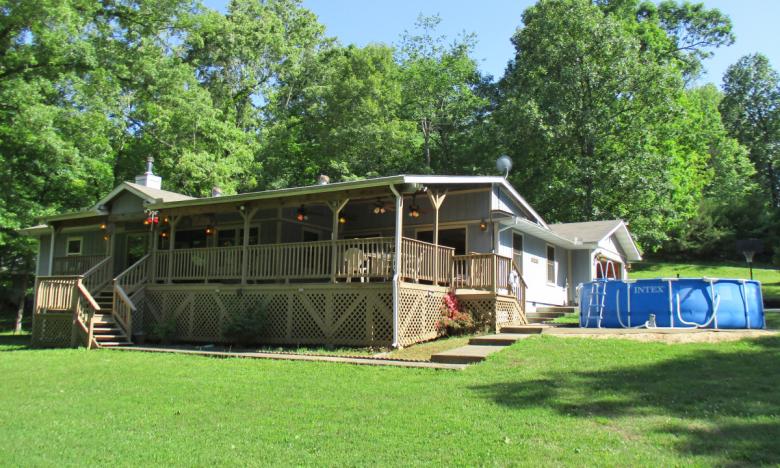 The Cove-Vacation Lake Homes feature luxury accommodations at an affordable price. Located in a secluded valley overlooking Norfork Lake just 1 mile from Fout Boat Dock, The Cove offers two, private, lake view homes for a more secluded vacation. The 4 bedroom Heights Lodge features an above ground swimming pool and a private game room. The 2 bedroom Ozark Retreat has a beautiful deck with a lovely view of the lake and groomed meadows. Take the easy walk down to our natural Norfork Lake cove to fish, swim or launch your canoe. Peaceful, serene – perfect.
4. Striper and Crappie Fishing – Outstanding in the spring and fall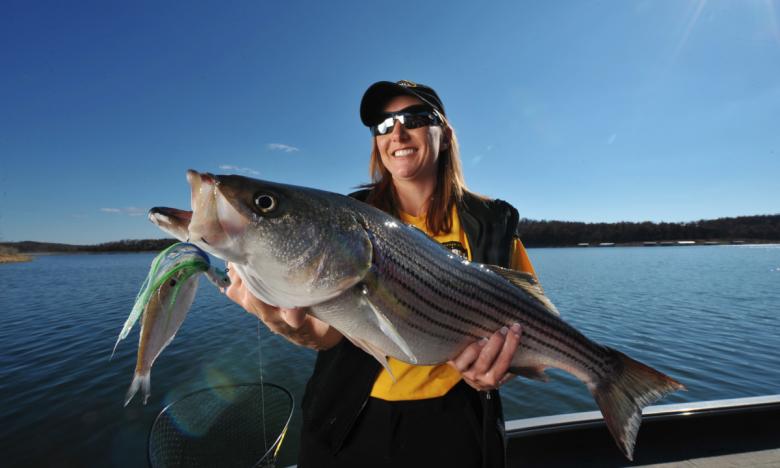 Famous for its Striped Bass fishing, Norfork Lake is your destination location for exciting top-water action catching these monsters. Stripers can go up to 30 pounds and, boy, do they put up a fight! Let us help you set up a guided fishing trip for the best Striper experience in the Ozarks.
Crappie fishing on Norfork Lake is amazing with slab-sized keepers being the norm. Lots of natural and artificial brush piles dot the many coves near Fout Boat Dock. As an added benefit, you can easily launch your boat into the Norfork River arm of the lake by using the Red Bank ramp just a few miles away. Check with Bayou Resort for the local fishing report on crappie, bass, walleye or stripers!
Plan your next getaway at Norfork Lake – Unforgettable
On Norfork Lake, every time of year is the perfect time to relax, unplug, unwind, reconnect and recharge. Whether you are planning a couple's getaway or a family reunion, the Gamaliel Rec Area can make your vacation unforgettable. Spring brings a kaleidoscope of colorful, blossoming trees plus great fishing with mild weather. Summer promises long, fun-filled days on the water and around the campfire. Beautiful colors and cooler temperatures make hiking, biking and fishing the perfect activities for fall.
From cabins and cottages to lake view vacation homes, a full service marina and the Gamaliel Campground, the Gamaliel Rec Area offers vacationers the very best of everything Norfork Lake has to offer. A quick 20 minute drive up the newly re-paved Fout Rd and on into Mountain Home provides opportunities for shopping, movies, antiquing, bowling and tons of dining choices. Easy day trips can take you to the Norfork Fish Hatchery, Blanchard Caverns or the Gaston's Visitors Center.