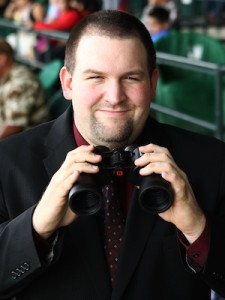 In store for racing fans for the 2016 season at Oaklawn Park in Hot Springs will be the sound of a new announcer. Pete Aiello, 30, becomes the fifth track announcer in the history of Oaklawn Park when he takes on his new role next month. Aiello replaces track announcer Frank Mirahmadi, who has returned to California to pursue opportunities at the Santa Anita racetrack. Mirahmadi became the announcer at Oaklawn in 2012 after the retirement of legendary announcer Terry Wallace, who worked at the park for 37 years and was known as the "Voice of Oaklawn."
Oaklawn opens for the live Thoroughbred racing season on January 15. Races take place Thursday through Sunday at the park (there is also racing on the two holiday Mondays and the first two Wednesdays in April) and the season ends with the famous Arkansas Derby on April 16.
Oaklawn, which is located at 2705 Central Avenue, is open year-round for simulcasting and electronic gaming operations. The destination features a newly expanded gaming area and is also Arkansas's only Thoroughbred racing venue.
Along with live racing, a number of special events are set to take place throughout the season, starting on January 16, when visitors can buy $.50 corned beef sandwiches and $.10 soft drinks.  January 18 is American Pharoah Bobblehorse Day and racing fans can receive their own bobblehorse with a $2.00 donation. American Pharoah was the winner of the 2015 Arkansas Derby at Oaklawn. The famous horse went on to win the Kentucky Derby, the Preakness and Belmont Stakes (known as a Triple Crown), becoming the first horse in 37 years to do so.
Other special events at the park include an event during the Southwest Stakes on February 15. On that day, Oaklawn will be giving away money after each race starting with $1,000 after the first race and ending with $10,000 on the 10th race. On April 2 there will be another giveaway, this time for a boat and truck. Fans can begin registering for the contest on March 19 (Rebel Stakes Day) and must be present on April 2 to win the contest. For more information, visit www.oaklawn.com or call 501-623-4411.