Old Fort Days Rodeo is May 30 through June 4
For 82 years, the annual Old Fort Days Rodeo in Fort Smith has been entertaining rodeo enthusiasts with talented cowboys, high prize money, and quality rodeo livestock. The fast paced action includes calf roping, barrel racing, wild horse racing, bareback riding, steer wrestling, saddle bronc riding, the Old Fort Days Dandies, and bull riding. The Old Fort Days Rodeo takes place May 30 through June 4 at Kay Rodgers Park.
In addition to the hard core rodeo fun, such as watching a competitor try to hang on tight to ride a bull for eight seconds, there are several other activities associated with the rodeo that make for memorable moments.
Mutton busting is one of the most popular events, where nightly a group of kindergarten and first graders try and hang on to a runaway sheep for as long as they can.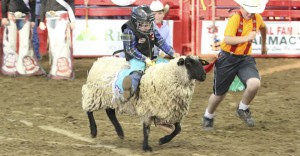 On Thursday, June 2, at 4 p.m. is the Super Kid's Rodeo. Super Kids pairs rodeo cowboys with special needs children and offers these youngsters an opportunity to spend a few moments as rodeo stars. The children work with their partners, world-class cowboys and cowgirls, to compete in a series of modified rodeo events, including barrel racing and teeter totter bull riding during this special one-hour performance. Each child receives a trophy and photo, along with other souvenirs to commemorate their participation.
And, of course, a rodeo isn't a rodeo without a clown. Showing off his humor and ability to keep the cowboys safe will be Cody Sosebee, a native of Charleston, Arkansas. He has performed at some of the largest rodeos in the U.S. including two times at CBR World Championships, Cheyenne Frontier Days, Calgary Stampede and Omaha Stampede. In 2006, Sosebee was nominated for the PRCA Clown of the Year.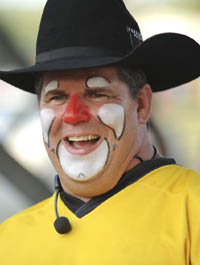 For ticket information, visit http://oldfortdaysrodeo.com/ or call 479-783-2393 or 1-800-364-1080.