One Tank Travels: Heber Springs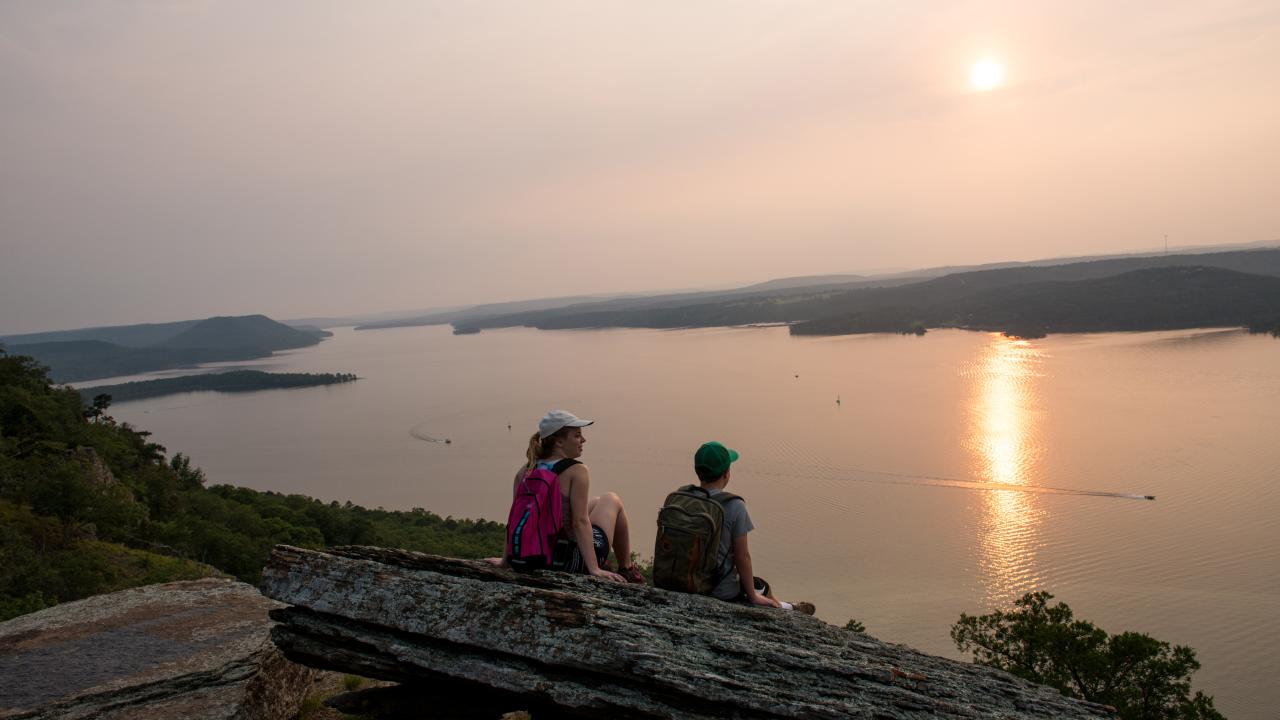 "Everybody ought to have to go to Heber Springs before they go to heaven so it won't be such a shock." — Freelance writer Georgie McIrvin of Heber Springs
Heber Springs was founded as a health resort in the mid-19th century. Today, it serves as a gateway to Greers Ferry Lake and the Little Red River. I have to agree with Georgie that the scenery in this area is pretty heavenly. Plus, the lake and river have served as national models for environmental cleanliness.
Greers Ferry is among the state's five largest lakes and is tops in providing great fishing, water sports, boating and camping. There are eight marinas on Greers Ferry Lake that provide boat, scuba gear, and water sport rentals. Sandy Beach is a five-acre beach with more than 1,500 feet of shoreline of white sand and crystal clear water. Corps of Engineers campgrounds and commercial parks are available.
You can also try your hand fishing for trout on the Little Red River below Greers Ferry Dam. It's internationally known for producing world-record trout. Resorts and outfitters are abundant and the Greers Ferry National Fish Hatchery is worth a visit.
A great place to get a feel for the area is the William Carl Garner Visitor Center located along Ark. 25 at the western end of Greers Ferry Lake Dam. The 6,000-square-foot stone and redwood structures contains an information center, exhibit hall and public restrooms. Its 96-seat theaters features a 20-minute presentation that relates the history of the region prior to and through the construction of the dam. It also chronicles President Kennedy's dedication of the $46.5 million project on Oct. 3, 1963.
There are two nature trails located at the center with plenty of other hiking options in the area. Two popular trails lead to Bridal Veil Falls just off Highway 25, where hikers can walk behind the 90-foot waterfall. Also, don't miss a trek up Sugarloaf Mountain rising 690 feet for a panoramic view of the city and the Little Red River.
In addition to the great outdoors, Heber Springs' historic downtown district has an Americana square with a stately county courthouse, museum, antique shops, art galleries, and retail shops. Spring Park, which attracted settlers to Heber Springs in the 1830s, is located in the heart of town along east Main Street.
The park has picnic tables, shade trees, a basketball court, skateboard ramp, playgrounds, two outdoor amphitheaters, public restrooms and is wheelchair accessible. It's also the backdrop for many festivals throughout the year, including Spring Fest and Old Settler's Days.
World-class resorts, hotels, motels and campgrounds can be found to suit any budget. I've had fine meals at Lindsey's Resort on the Little Red River and at the Red Apple Inn, but there are plenty of other dining options, whether you're looking for fried catfish or a juicy steak, a buzzing downtown coffee shop or patio seating by the river.
Heber Springs is also home to championship golf courses, a disc golf course, and the Trumpeter Swans on Magness Lake each winter.
It has some excellent events, like the annual World Championship Cardboard Boat Races and the city's annual holiday lights show.
So fill up your gas tank and make plans to see Heber Springs' little slice of heaven.
Did You Know?
In 1969, Carl Garner of Heber Springs led the Greers Ferry Lake and Little Red River Tourism Association's first lakeshore cleanup program. The annual event eventually became the Great Arkansas Cleanup and the model for the first National Public Lands Cleanup Day in 1984. In 1985, then-U.S. Sen. Dale Bumpers guided legislation requiring an annual pickup event during the weekend after Labor Day on all federal lands. The Carl Garner Federal Lands Cleanup Act honors Garner, who continued his advocacy for a clean and litter-free environment until his death in 2014.