Other Stones and Gems to be found at Crater of Diamonds State Park
There's been a lot of chatter about the 8.52 carat diamond found recently at the Crater of Diamonds State Park near Murfreesboro. The stone is a stunner for sure. But this story and photos from travel writer Cameron Reeder from Alabama show there is more to be found at the park.
"As we were leaving Crater, (no diamonds in our pockets) I picked up an interesting rock as a memorial of our trip.  When I got home, I had a friend of mine put it into two necklaces for my wife and daughter and a ring for myself."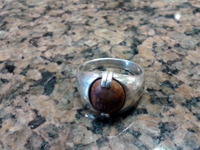 These photos are the beautiful results of their visit to the Crater. So, even if you don't find a diamond, you can still find some beautiful rocks and other gems. Come visit and start digging! For a list of the different kinds that can be found at the park, visit CraterOfDiamondsStatePark.com.