Out-of-the-Way Gem of an Arkansas Restaurant
If you whiz through the Arkansas River Valley via I-40, then you're missing out on the opportunity to eat at a wonderful small, family owned restaurant.  Located on U.S. 64, or Main Street in Lamar, Sweet Treats Sandwich and Pie Shop is just that – a treat.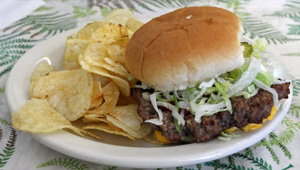 I visited for the first time in March and was immediately smitten with the food.  For several weeks I had been hungering for a good old-fashioned hamburger; one that actually has some flavor to it and didn't taste like cardboard.  Even though the daily lunch special of pinto beans and ham, fried potatoes and cabbage and cornbread looked very good, my eye went to the hamburger.
It was a simple burger with just a bun, lettuce and cheese to accompany the beef.  But the taste was anything but simple.  It was one of the best hamburgers I've ever eaten.  I found myself wishing I lived closer to Lamar so I could order one to go to take home for dinner.  Normally I want fries with my burger but I didn't miss them one bit; the chips were the perfect accoutrement.
My traveling companion had one of the prettiest grilled chicken salads I'd ever seen.  I think I would like to have ordered one of everything on the menu, it all looked so good.  To go along with the salad was a bowl of chili.  Since it was a brisk day, it was the perfect warmer-upper.
You can tell Sweet Treats is a very popular local spot.  The crowd was steady and by the time we left, the line of people was out-the-door waiting for a table.  It's small so if you don't want to wait, come early.  They're only open for lunch from 11 a.m. to 2 p.m. during the week.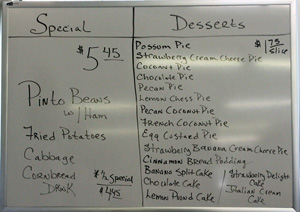 Owners/operators Greg and Marie Heiser are also famous for their pies. I was too full for dessert but that will be another trip.  If you like tasty home cooking, Sweet Treats is worth the trip and will become of your regular places to eat. It's located at #5 Main Street in Lamar; 479-647-0133.