Ozark Folklife Festival on the Buffalo National River is Oct. 1
The Ozark Folklife Festival, set for 10 a.m. to 8 p.m. this Saturday, Oct. 1, is a heritage event reflecting life  more than 100 years ago in the Ozark Mountains of Searcy County in celebration of the National Park Service's centennial.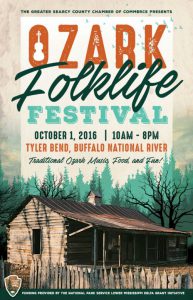 ​
The fun takes places at Tyler Bend Campground on the Buffalo National River near St. Joe and includes food, crafts, and music. Demonstrators will be on hand to teach people storytelling, history of Searcy County, spinning, felting, hymn and shaped notes, trapping, flint knapping, Native American flute playing, corn husk doll making, old time children's games, lye soap making, quilt tying, burial customs, Dutch oven cooking, firearms, folk dancing, blacksmithing, tomahawk throwing, pre-Civil War encampment, dairy goat milking, and more. You can also learn about the Early Arkansas Re-enactors Association.
If you play an instrument, bring it and join in with the "pickin' square." Or, just sit back and enjoy the great bands that have been booked for the event, including:
The Michael and Jennifer McLain Band from Tennessee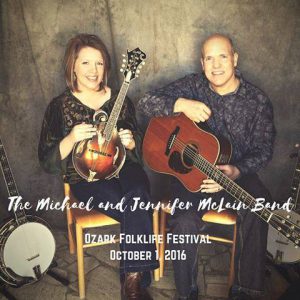 ​
Still on the Hill from Fayetteville
The Rackensack Folklore Society of Pulaski County
Mark Jones of Mountain View
Buddy Case of Enola
Possum Juice of Leslie & Mountain View
Jeff Stansbery & Breez of Leslie
The Burlesons of Lead Hill
Nathan Eaton of Marshall
Skymeadow Fine Arts of Yellville