Ozark Mountain Bike Festival Celebrates 25 Years
Ride one of the first mountain bike trails in the state while celebrating the 25th anniversary of the Ozark Mountain Bike Festival at Devil's Den State Park in northwest Arkansas on April 5-7. Along with scheduled bike rides, the popular festival includes many other fun events, including an evening social.
Test your biking skills as you pedal along on guided mountain bike rides over rolling, rocky terrain and creeks too. Riders of all experience levels are welcome and rides vary in length and difficulty. Each ride will be geared to a group's overall ability, so any level of rider can find a ride appropriate to his or her skills. The trails vary in length and some of the rides for the festival will use a combination of trails.
Participants usually include beginners who want to learn about the sport, or people that have just moved to the area and want to become familiar with the trails before striking out on their own. Experienced riders attend to meet other mountain bikers and converse with them about other places to ride. The experienced bikers also enjoy the opportunity to hammer down with their peers and see who can come up with the bragging rights. The 2 p.m. ride on Saturday and the 10 a.m. ride on Sunday are perfect for an advanced rider.
The festival  also helps riders learn the park's trails, which range from tight, single tracks, to wide, double tracks. Some of them are flat. The relief may not change more than 100 feet. Some trails have descents anywhere from 400 feet to 500 feet.
Kids can get in on the action too at 2:30 p.m. Saturday at the Kids' Fun Course, where kids test their biking skills weaving around cones, riding a skinny and teeter-toter, and limboing. About any age can enjoy the fun course but those participating in other events need to be at least old enough to be able to negotiate a trail – probably around the ages of 8 to 10.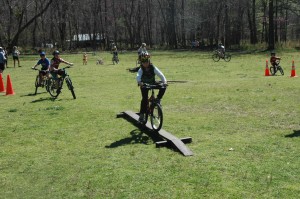 Plenty of fun, social elements are included in the festival mix, including a poker run, Saturday night music, bike toss, slow race, limbo, bunny hop contest, ladies only ride, and night ride. Dress for the weather and don't forget that helmets are required. Also bring your appetite for hamburgers, cake and ice cream to celebrate 25 years of mountain biking at Devil's Den at 7 p.m. on Saturday.
In addition to fun trail rides and events, there are also some learning opportunities with rides focusing on improving skill and a trail maintenance course.
The Ozark Mountain Bike Festival was one of the first, if not the first mountain bike event in the state. You can read more about its history here. The terrain at the park is perfect for mountain biking activities, and with the development of other trails in the area, the popularity of the sport in northwest is now huge.
Admission is free. Those attending can plan to spend the night, or just attend the festival for the day. Camping is the recommended way to get the most out of the festival. Camping and cabins are available at Devil's Den; but, cabin reservations usually go quickly. Group camping is available too. Also, bike vendors selling supplies or making bike repairs are usually available during the festival.
Family members of bike festival participants often use their time to explore the park. Devil's Den has hiking and backpacking trails that lead to caves, crevices and bluff overlooks. The park store offers groceries and gifts. The horse camp area includes riding trails and a bathhouse.
For the full schedule of events, call (479) 761-3325 or email [email protected]. Visit www.ArkansasStateParks.com for more information about the park.
To reach the park, travel eight miles south of Fayetteville on Interstate 540 to exit 53 at West Fork, then go 17 miles southwest on Ark. 170; or exit I-540 at exit 45 at Winslow and go seven miles west on Ark. 74. Note, trailers longer than 26 feet should use exit 53.