Ozark Mountain Music Festival lineup
The 2018 Ozark Mountain Music Festival, also known as OzMoMu, is set for Jan. 18-21 in Eureka Springs. Twelve bands will entertain in the genres of bluegrass, folk and Americana roots music. Headlining this year is Tall Tall Trees from Asheville, NC; and Carrie Nation & The Speakeasy from Lawrence, KS.
According to a press release from event organizers, "Mike Savino, the Tall Tall Trees banjo-wielding bard, has reshaped the landscape of what is possible with his instrument featuring its basic iteration and the banjo's drum roots.  Audiences become wildly mesmerized with his mastery of electronic effects, loops, toy ray guns, and heaps of spontaneous creativity.
"Carrie Nation & The Speakeasy is a high-energy 'Brass 'n' Grass' sextet whose sound has been described as 'a stagecoach in overdrive'.  Their eclectic blend of bluegrass, ska, punk, and Dixieland has energized audiences all across America and in five other countries."
Other bands taking the stage during this four-day music festival include: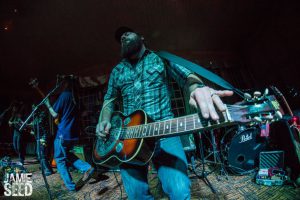 "DimeTrip – Five guys out of Eureka Springs, AR that have decided to work towards a common goal of creating and playing original music with diverse sounds for as many people as this life allows.
Alaina Blake & Dylan Hawf – A pair of expert musicians from Fayetteville, AR who have teamed up to prove that when it comes to music, style and performance skill one plus one does equal three much to the wild enjoyment of their fans, and audience members who quickly become fans.
Urban Pioneers – Mix one part Texas fiddle and one part Tennessee banjo, add doghouse bass and a splash of guitar and you have a delicious cocktail for your ears known as the Urban Pioneers. This string band hammers out a variety of original songs that encompass old time hillbilly music, western swing, rockabilly, and even a few gypsy type songs for good measure.
High-Fi Hillbillies – A trio of "knuckle-heads" from Tulsa, OK, who have way too much fun playing music! They came together through a comedy of errors and are riding this musical train to see where it goes. They play great songs by artists like Johnny Cash, Buddy Holly, Carl Perkins, and Creedence Clearwater Revival!
The Creek Rocks – This duo, part of the former group Big Smith, from Springfield, MO delves into the ups and downs of the deep Ozarks sound with a special focus on old-time music that soars above the hills and hollers.
American Lions – From Conway, AR comes this band formed in early 2012 and today features a new style of music from Blues-driven ballads to rowdy Indie rock, all connected with the influences of Southern roots.
Grassfed – A quick pickin' string band out of KC/MO that pivots on the foundation of traditional bluegrass entwined with an eclectic array of influences. Forged by songwriters and driven by instrumental conversation, this band brings a punching sound all its own.
Miles Over Mountains – a progressive bluegrass band based in McHenry, IL.  Their live shows are high energy, centered around an arsenal of original material and refreshing variety of cover songs served up in their own unique style.
Camptown Ladies – Two ladies, Gina Gallina and Melissa Carper, from Eureka Springs, AR who serve up hillbilly swing like it was a banquet of sound.  This duo, plus some surprise guests, is dynamic, to say the least.
All performances all four days will be on stages in the 1905 Basin Park Hotel, located in the middle of Eureka Springs Downtown Entertainment District.  The popular Late Night Jam on both Friday and Saturday nights will be held in nearby Chelsea's Corner Cafe & Bar."
For tickets and more information, visit OzarkMountainMusicFestival.com.