Ozark Mountain Transformation Conference is June 9-11
A unique metaphysical and spiritual gathering with a psychic fair, the 12th annual Ozark Mountain Transformation Conference is set for June 9-11 at the Best Western Inn of the Ozarks in Eureka Springs.
Founded by renowned author, hypnotist and past life regressionist Dolores Cannon, The Ozark Mountain Transformation Conference is a venue for Ozark Mountain Publishing authors to share their books and insights into metaphysical topics, such as healing, channeling, psychic abilities, dreams, spirituality, and more. Many of the speakers will also offer workshops, personal readings and sessions that can be booked in advance by calling 800-935-0045.
The Transformation Conference will also be live streamed so anyone who is unable to travel to Eureka Springs can watch online.
The conference features keynote speaker Tricia McCannon, clairvoyant, historian, author and teacher, on the topic, Awaken: Antarctica and the Scientific Evidence for the Existence of Ancient Advanced Civilizations on Earth. In another session, she will discuss The Shift of the Ages, The Cycles of Time and The New Earth.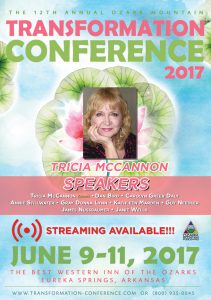 Other speakers and topics include:
During the Speakers Dinner on June 10, attendees have the opportunity to dine and mingle with all of the conference speakers.
For more information and to register, visit: www.transformation-conference.com.
For the latest updates follow the Ozark Mountain Transformation Conference on Facebook www.facebook.com/OzarkMountainTransformationConference and Twitter https://twitter.com/OzarkConference (@OzarkConference).