Paddling the Arkansas Water Trails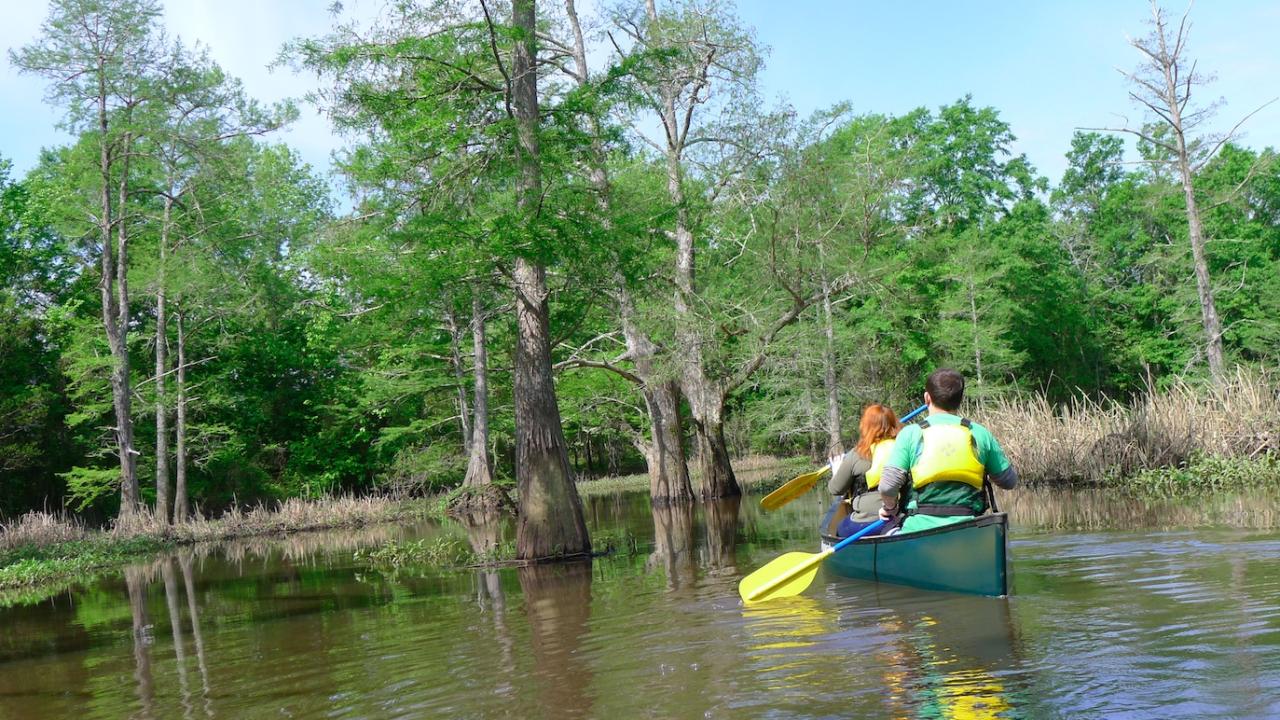 Arkansas has an abundance of waterways for paddlers to explore. The Arkansas Water Trails project, created in 2009, is at the forefront of developing a system of mapped water trails throughout the state. A goal of the project, initiated by the Arkansas Game & Fish Commission, is to highlight the diversity of paddling terrain that can be found in the state.
Trails are added to the system as site assessments are completed and maps developed. Ten trails are currently part of the program with a route at Bayou Bartholomew in the works. Below, Kirsten Bartlow, watchable wildlife coordinator and director of the Arkansas Water Trails program, shares details on a few of the trails one can find in the program.
Bayou DeView Water Trail (Sheffield Nelson Dagmar Wildlife Management Area)
"Bayou DeView is special. It is part of the Big Woods, which is bottomland hardwood forests and an imperiled type of habitat. It's one of the largest tracts of bottomland hardwood forests in the nation and has been designated a Wetland of International Importance. This is where the Ivory Bill Woodpecker search happened in the early 2000s. It is known for very old cypress trees that can be hundreds of years old. It's a pretty wild trail. People need to pay attention to the signs and if you do have GPS and map and compass skills, it's good to bring them along. Flooded timber can be a fairly easy place to get lost.
"There are a lot of different options you can do on trip lengths. You can paddle one section of trail, paddle out and then paddle back to your vehicle, or do the entire 15-mile trail with an overnight at Hickson Lake. There is now a USGS gauge to help people determine when Bayou DeView is accessible by boat.
"Generally it needs to be around 14 feet. It can be a wonderful place to paddle any time of year, but it is rain dependent and can become too low to paddle certain times of year and can become too high and the roads flood. The area is rich with wildlife including migratory songbirds and waterfowl and is popular with duck hunters. Right within the same wildlife management area is Robe Bayou [also an Arkansas Water Trail], which is a more distinct channel and holds water year round. It is pretty as well, has great cypress trees and it is a good beginner route. And then just down the road is the Wattensaw Bayou Water Trail [also part of the Arkansas Water Trail program] and it is also a bit more of a distinct channel. We have a new camping site on the trail where visitors can do an overnight stay if they would like.
Little Maumelle Water Trail
"In general, the Little Maumelle can be paddled year round. Put in at the Pinnacle Mountain State Park boat launch and paddle down the river as far as you like and then paddle back up to the launch. Heavy rain and water flow occasionally make it hard to get back up—check in with park staff. Boat launches are also available at Two Rivers Park or at the River Mountain Park Access.
"The trail is nice because it is so near an urban area, but you can quickly get out and be in nature. It's pretty amazing. It's a wonderful area for watching wildlife and offers nice fishing opportunities. In the upper portions of the river up by the state park you can get out in some of those riffles and wade around and cool off.
"Common wildlife seen and heard along the trail are ospreys, red-shouldered hawks, barred owls, all kinds of waterfowl, beavers, deer, raccoons, possums, and water snakes. You can do parts of the Arkansas River Trail or hike Pinnacle Mountain and combine that with a float. It's pretty neat to have this water trail right here by the city center.
Grassy Lake Water Trail
"This route is in the Bell Slough Wildlife Management Area. From Little Rock, you can be out there and on the water trail in 30 minutes. What's really unusual about this trail is that it's a loop. It goes through flooded timber and then wider pools and then back in cypress and tupelo trees.
"The wildlife viewing along this trail is excellent. There is a heron rookery and you get a lot of migratory songbirds that come through in the spring and fall. They really like that area. There are beaver lodges, frogs and toads and migrating waterfowl. This trail is within a green tree reservoir, which means we hold water on it for the winter months for waterfowl. And then we lift the gates and start letting the water back out in the spring so the trees don't die.
"Some years we have been able to paddle it in July into the first of August but again paddling here is rain dependent. Spring is a good time to paddle there and winter too, you just need to work around duck hunters. If you want to hike, nearby there is a nature trail [Kenny Vernon Bell Nature Trail] that is within this same wildlife management area.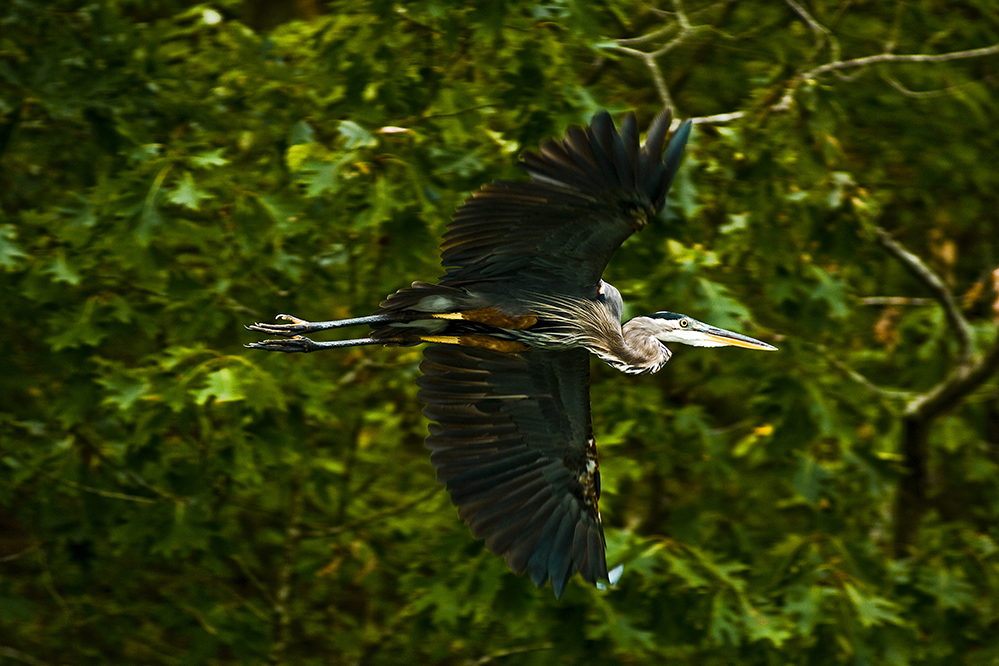 Felsenthal National Wildlife Refuge Water Trails
"These are the newest trails added to the program. We partnered with the Felsenthal National Wildlife Refuge and the Friends of Felsenthal. Felsenthal NWR lies within the Mississippi Flyway—this highway in the sky is used by a vast number of migrating waterfowl, songbirds, birds of prey and shorebirds.
"These water trails within the refuge offer a tremendous way to view all sorts of wildlife in their watery world. Both black bears and alligators call the area home. There are currently two loop trails and a linear trail and certain times of year, paddlers can enjoy blooming water lilies and water lotus. Be sure to check out the refuge's visitor center and nature trails.
Crooked Creek Water Trail
"This route is unusual compared to the others in that it is the only Ozark stream we currently have in the program. It is known for smallmouth bass fishing, but offers much more for visitors seeking solitude, exploration and a float down a river. It is a beautiful little stream.
"The trail is about 22 miles long but you can paddle it in different sections. Game and Fish has different access points along it, which you can find on our website. People can fish, you can camp along it, you can do float trips, you can go hike at the Fred Berry Conservation Education Center at Crooked Creek.
"I think the cool thing is people know to go to Ozark streams to paddle but a lot of them don't know about this one. It is predominately private property along the creek, but the Game and Fish and The Nature Conservancy offer some primitive camping sites along the way. Like other Ozark streams, this one is also rain dependent and also prone to flash flooding."
For further details on the Arkansas Water Trails program. For more details on paddling in Arkansas.