Paddling the Lower Mississippi River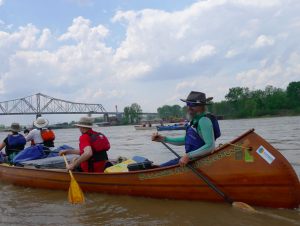 The Mississippi River forms the eastern border for Arkansas and is a natural lure for nature tourism in the region. John Ruskey, owner of the Quapaw Canoe Company in Helena-West Helena, is in the midst of a six week venture paddling the Lower Mississippi River, including 321 miles of the Arkansas portion of the river, which goes by cities such as Osceola, West Memphis, Helena, and Arkansas City. The venture, which is taking place from March 20-May 10, entails paddling for six weeks and 1154 miles from St. Louis to the Gulf of Mexico. This route stands out as it is the single longest section of free-flowing river in the continental U.S.
Ruskey is embarking on the journey to spread the word about paddling the river and to celebrate the completion of his project Rivergator, an online paddler's guide to the river.
"One of the purposes of the Rivergator is helping paddlers understand what it is that they are seeing on the river," said Ruskey. "The Mississippi is notoriously mysterious and full of surprises."
Last week, Katherine Stewart and I joined for a day of the venture, paddling around 20 miles from Helena Harbor to a drop off point near Elaine, Arkansas. We were in the 'daytripper' boat, a voyageur style canoe that was part of a four canoe fleet. The fleet included participants taking part in various parts of the voyage, some along for the entire journey and others joining in for a few weeks, the weekend or the day as we had done.
The day offered a peek into river life as we paddled by barges, rural industrial scenes, and underneath the landmark Helena Bridge. We took rest breaks on two islands including one called Montezuma, where we saw a nest full of goose eggs, and paddled through a quiet backchannel, where the sounds of the wind, birds and water against our paddles provided a peaceful backdrop to the flow of the river.  You can check out videos Katherine took during the day on the Arkansas State Tourism facebook page.
Ruskey's goal is to share the story and beauty of the river with as many people as possible. If you want to keep up to speed on his venture, or learn more about the Lower Mississippi River Trail, check out island63.com. More about Ruskey can be found at the video below.