Pam Setser and Donny Catron perform Gospel Favorites Thanksgiving Night
Continuing a long tradition of Thanksgiving night gospel concerts, the Ozark Folk Center State Park in Mountain View will feature Pam Setser and Donny Catron in a special performance from 7 p.m. to 8 p.m. on Thursday, Nov. 27, in the White Oak Theatre.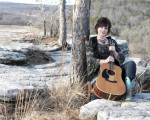 Pam Setser is one of the region's best-known vocalists and performers. She is most known for her work with The Leatherwoods. Catron is part of the group The Tennessee Gentlemen. His tenor singing is considered second to none.
A limited number of tickets (150) are available for this performance. The tickets will only be sold the day of the show, beginning at 8:30 a.m. until sold out. Tickets are $10 and season pass holders can present their pass for a ticket the night of the show. No reserve seats will be sold.
The mission of Ozark Folk Center State Park is to perpetuate, present and promote the Ozark way of life in an educational and enjoyable manner through craft demonstrations, musical programs, the Heritage Herb Garden, workshops and other special events. For more information on this and other events visit ozarkfolkcenter.com or call 870-269-3851.