Photographer Presents Program on Bald Eagles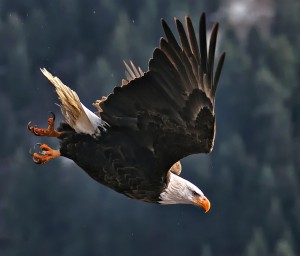 Native Arkansan Mike Martin, who has been an avid nature and wildlife photographer for more than 20 years, will present a program on bald eagles at 2 p.m., Sunday, Jan. 10 at Hobbs State Park-Conservation Area in Rogers.
Martin particularly enjoys the challenge of capturing birds in flight.  As a devoted outdoorsman most of his life, Mike has coupled his knowledge of the outdoors with photography to capture animals in their natural habits. Martin's photos have recently been published by the New York City Parks and Recreation Department and Cornell University's Ornithology Department's award winning website, "All About Birds." One of his photos was selected for publication in a book titled, "Capture Arkansas."  His photo was one of only 200 photos selected in this contest from over 63,000 submissions for this book.
Northwest Arkansas sees the most migrating bald eagles from the first of November through the end of February when winter is coldest to our north. When lakes freeze over, the eagles can't get to their main diet, fish, and have to head south to unfrozen waters.
The program is free. For more information: call, 479-789-5000.