Sponsored Article
Plan a Spring River Escape
With the 2024 Total Solar Eclipse fast approaching, people from all over the world will be searching for the perfect spot in Arkansas to take in this once-in-a-lifetime event. While most will flock to larger cities, you can skip the traffic and the hassle by enjoying this spectacle in North Central Arkansas's dreamy Spring River Country.
Throughout this serene region you'll find lush forest hideaways for hiking, hunting and camping; crystal-clear rivers for fishing, boating and swimming; and the rolling hills of the Arkansas Ozarks that provide spectacular panoramic overlooks. Nestled within this natural paradise are the neighboring towns of Hardy and Cherokee Village, where you'll experience a whopping 4 minutes and 12 seconds of totality. There is no better place in the world to be than here on April 8, 2024.
Make Cherokee Village and Hardy your basecamp
In Cherokee Village, you'll experience a range of natural beauty at the first planned community of its kind in the United States. Discover seven pristine lakes, three recreation centers (fitness center, tennis and pickleball), two championship 18-hole golf courses, numerous parks and trails, local restaurants and the scenic South Fork River. There is even the Sharp County Regional Airport that affords recreational flyers and private aircraft instant access to Spring River Country! If you choose to stay in Cherokee Village, you can have an entire home or cabin to yourself. As a guest of a homeowner, your host can arrange guest passes that provide access to the community's recreational amenities. Vacation rentals are available through local property management firms or individual owners.
Five minutes up the road is the picturesque town of Hardy, where the entire downtown district is listed on the National Register of Historic Places. This charming community is home to postcard-worthy shops, restaurants, cafes and museums as well as many river outfitters and small music venues where you can experience the best in Ozark bluegrass and indie rock. In Hardy, you can stay right along the Spring River at a mix of lodging options from motels and inns to local cabins, historic homes and campgrounds under a star-filled sky.
No matter which riverside town you choose for your eclipse escape, just make sure to book your stay ASAP!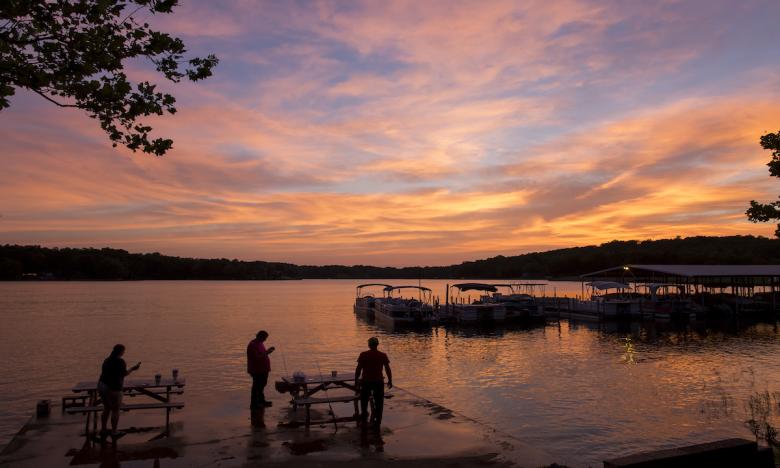 Themed travel itineraries
Below you'll find all the different ways you can enhance your trip with themed travel itineraries. See how many you can check off the list while in Spring River Country for the eclipse. Happy traveling!
Have a lake day
That's right, there are seven lakes in Cherokee Village! With a guest pass to access the lakes, you can rent a boat from Thunderbird Marina to enjoy Lakes Thunderbird and Sequoyah or bring your own to ski and tube across the glassy water on the larger lakes. The smaller lakes are ideal for leisure boating, floating and swimming. All seven lakes are also great for fishing so don't forget your fishing pole.
Shop till you drop
Hardy is the place to be if you seek a unique and original shopping experience. Take home traditional Ozark crafts such as leather goods, stained glass, quilts, jewelry, needlework, paintings, pottery and sculpted wooden goods. In the historic district, you'll also find locally owned boutiques and antique stores, even an old-fashioned candy shop, the Hardy Sweet Shop.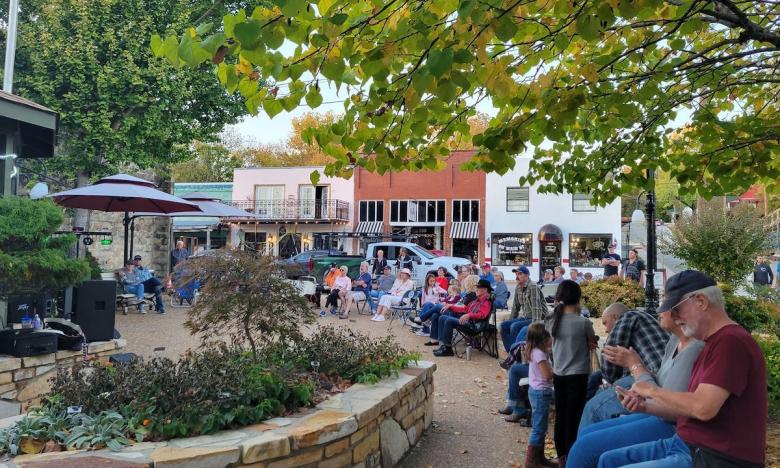 Visit Mammoth Spring State Park
Mammoth Spring State Park is one of the largest springs in the world with nine million gallons flowing hourly. Here you can take the trail loop around the vibrant blue and turquoise water. Have a picnic at the pavilion. Go fishing by the roaring waterfall that flows from the old mill and hydroelectric plant. You can even watch trains chug by the 1886 Frisco Train Depot and Museum.
Hike through beautiful scenery
Enjoy hiking right in town and on nearby trails that offer beautiful scenery and abundant wildlife watching. There are over a dozen parks located in Cherokee Village. Stop by Papoose Park that has a beautiful, multi-tiered waterfall or head to Star Falls for a scenic overlook. In town, there is also the Flathead Trail along the South Fork River and the Tohi Nature Trail by the regional airport. The carved totem pole on the Adahi Trail is a popular photo op as are the waterfalls along the route. The trail starts at the Cherokee Village Town Center and ends at Thunderbird Lake. In Hardy, Loberg Park offers a lighted and paved walking and biking trail along the Spring River and the Bubbling Springs Nature Trail on the Harold E. Alexander WMA is a moderate 1.2-mile out-and-back hike.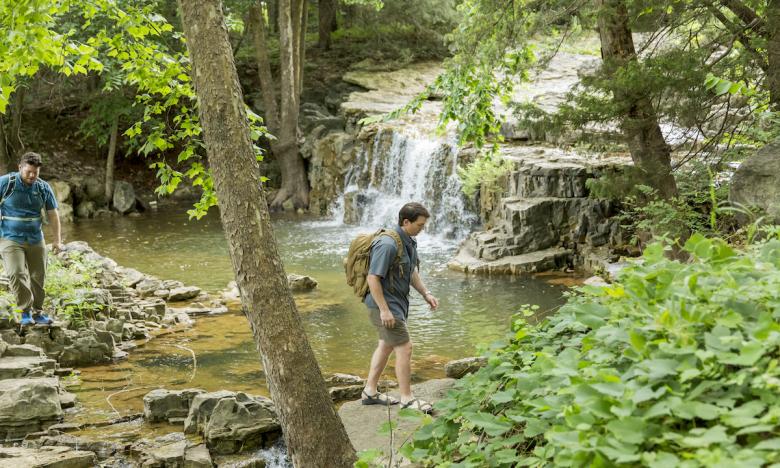 Cruise along scenic routes
Wind through the Ozarks on Scenic Hwy 289 for an afternoon of leaving the windows rolled down as you pass pictorial pastures and beautiful forests. Other popular rides include the 16-mile jaunt from Hardy to Mammoth Spring on HWY 63 or the 47-mile cycling and motorcycle loop that combines HWY 289 and 63 for a perfect afternoon ride. For more scenic driving ideas in the area, checkout the Arkansas Motorcycling Guide.
Retreat to a WMA
Harold E. Alexander Spring River WMA is an outdoorsman's paradise featuring hunting, fishing and primitive camping. Here, you can hunt for deer, bear, rabbit, turkey and squirrel. There are also three creeks, 78 ponds and boat access to the Spring River. A free annual General Use Permit is required to hunt or trap on WMAs. Get yours before visiting at the Arkansas Game and Fish Commission website or any regional office.