Plan your trip: Southwest Arkansas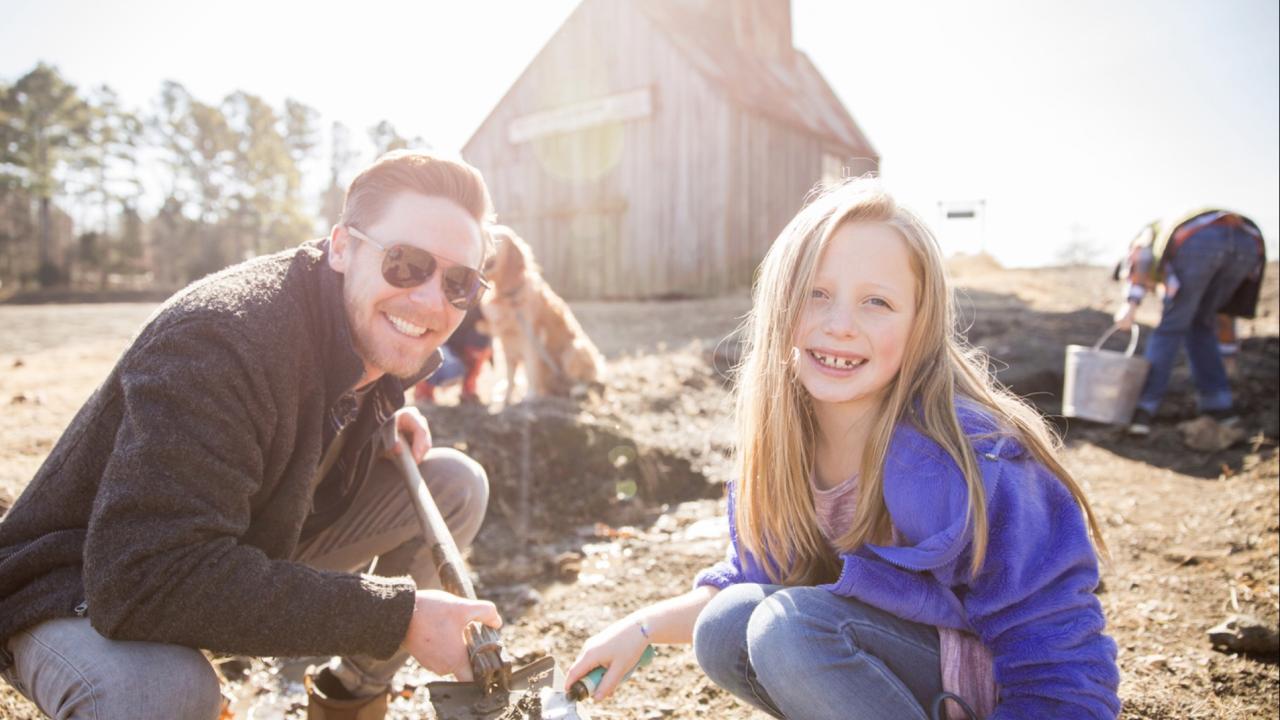 January is a great time to start planning trips. There are many must see spots to explore in Southwest Arkansas. 
Hot Springs National Park is an urban park located in the city of Hot Springs. The national park is well-known for Bathhouse Row, which is home to eight picturesque bathhouses, most built in the early 1900s. The Fordyce Bathhouse serves as the park's visitor center. The Buckstaff Bathhouse, which has operated continuously since it first opened in 1912, and the Quapaw still operate in their original capacity as bathhouses and have thermal spa treatments available. The Superior Bathhouse Brewery currently makes its own brew on site and aside from standing out for using thermal spring water as the main ingredient, it also lays title to being the first brewery inside a national park. The Hale is now a boutique hotel called Hotel Hale; the Lamar Bathhouse is the Bathhouse Row Emporium; and the Ozark Bathhouse is now the Hot Springs National Park Cultural Center. The Maurice Bathhouse is the only bathhouse on the Row that is vacant.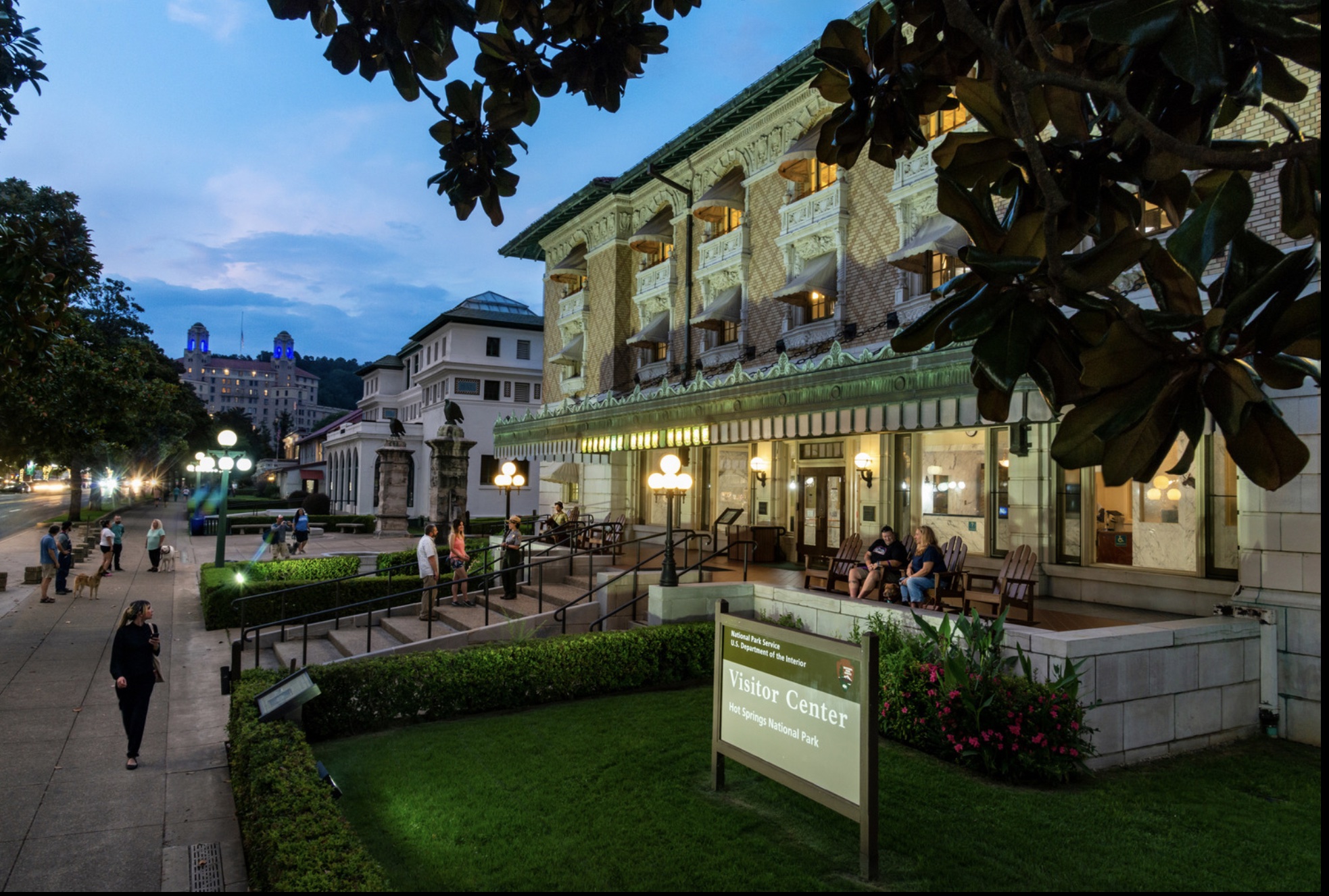 When touring Bathhouse Row, one should be sure to see the park's namesake attraction. However it should be noted that these are not thermal springs that you can jump into as they are 143 degrees (F), thus very hot. Hot Springs National Park has 5,500 acres to explore including over 25 miles of hiking trails that lead to scenic vistas and to destinations like the Hot Springs Mountain Tower, which provides an aerial view of downtown Hot Springs and the surrounding Ouachita National Forest. Pets are allowed throughout the park and on all trails, but not in federal buildings.
Places to stay in Hot Springs are plentiful as are the many shops, restaurants and other attractions you will find that are all within walking distance while downtown. You can also camp in the national park at Gulpha Gorge campground.
Arkansas is well-known for its scenic beauty. Lake Ouachita is the state's largest lake and one of the cleanest lakes in the nation. With over 40,000 acres to explore and very little shoreline development, this lake offers an experience like no other in the state. The lake is surrounded by the Ouachita National Forest so when you are out in the waters, you are surrounded by outstanding scenery and natural beauty. The lake is known for its fishing, boating and other fun water activities like kayaking, scuba diving, stand-up paddleboarding or sailing. 
What makes a venture to the lake stand out even further is the opportunity to camp on the lake's numerous islands. For more camping options, you can stay at Corps of Engineers campgrounds on the lake's shores and you can also access the lake via one of the many boat ramps. There are also various resorts you can stay at while enjoying the lake including Mountain Harbor Resort and Spa, Echo Canyon Resort, and Crystal Springs Resort. Lake Ouachita State Park can also be found at the east end of the lake, where you can find cabins, campsites, a marina, hiking trails and more.  
Lake Ouachita is near Hot Springs, Hot Springs National Park and Mount Ida. On Highway 270 near Mount Ida is a road called Hickory Nut Mountain that you can drive up to a wonderful lookout spot called the Lake Ouachita Vista. From the top of this mountain is a breathtaking vista, where you can really take in the vastness and beauty of this special lake.
Our state parks are a true wonder and among the 52 state parks you can visit in the state is Crater of Diamonds State Park, Arkansas' 27th state park. This landmark destination in Murfreesboro is well-known for the steady number of diamonds that are found by visitors to the park. This state park is the only diamond mine in the whole country where the public can search for real diamonds in their original volcanic source. On top of this, visitors can keep any rock, mineral or diamond they find while digging the park's expansive 37-acre plowed field.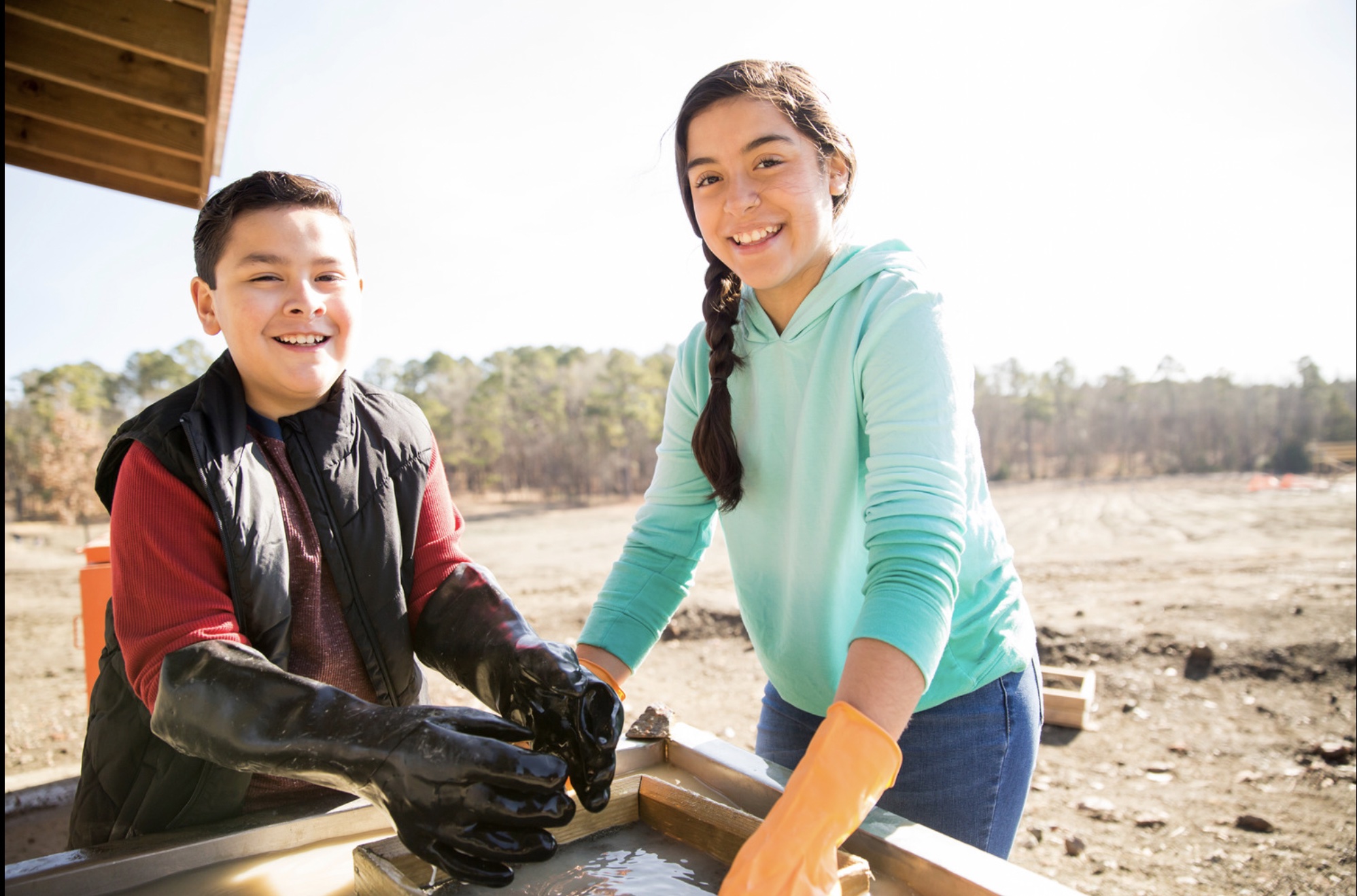 While here, you can learn about the fascinating geology of the park, which encompasses an eroded diamond-bearing volcanic pipe. You can also learn about the history and stories tied to the discovery of diamonds in the area. Numerous displays around the park help tell this tale, starting with John Wesley Huddleston, who first discovered diamonds in the area on his 160-acre farm in 1906. His neighbor, Millard Mauney, also owned several diamond bearing acres to the north of Huddleston's property. 
History abounds in and around the town of Murfreesboro. After the family has gotten their fill of prospecting, you can head downtown to Murfreesboro's Courthouse Square to shop and grab a bite to eat at spots like the Hawkins Variety Store, an old-fashioned store located in a historic structure built in 1909. This variety store has been in business since the early 1940s and is a nice family stop as you can find sandwiches, coffees, ice cream and more there. The Pike County Courthouse, which is on the National Register of Historic Places and built in an Art Deco style, can also be seen downtown. 
Boating, fishing and camping are also popular at nearby Lake Greeson. The lake is around 12 miles long and is known for fishing, boating, scuba diving and water sports, so it can be a destination in itself. The lake is home to Daisy State Park and many recreation areas. 
Another destination to put on a to-travel list includes Mena. This city was founded in 1896 as a railroad town and the Mena Depot Center, which is inside a restored Kansas City Southern Depot, greets visitors with history exhibits and railroad memorabilia. Nearby in Janssen Park, you'll find a 1851 log cabin still on its original site. Downtown is filled with shops and restaurants to enjoy.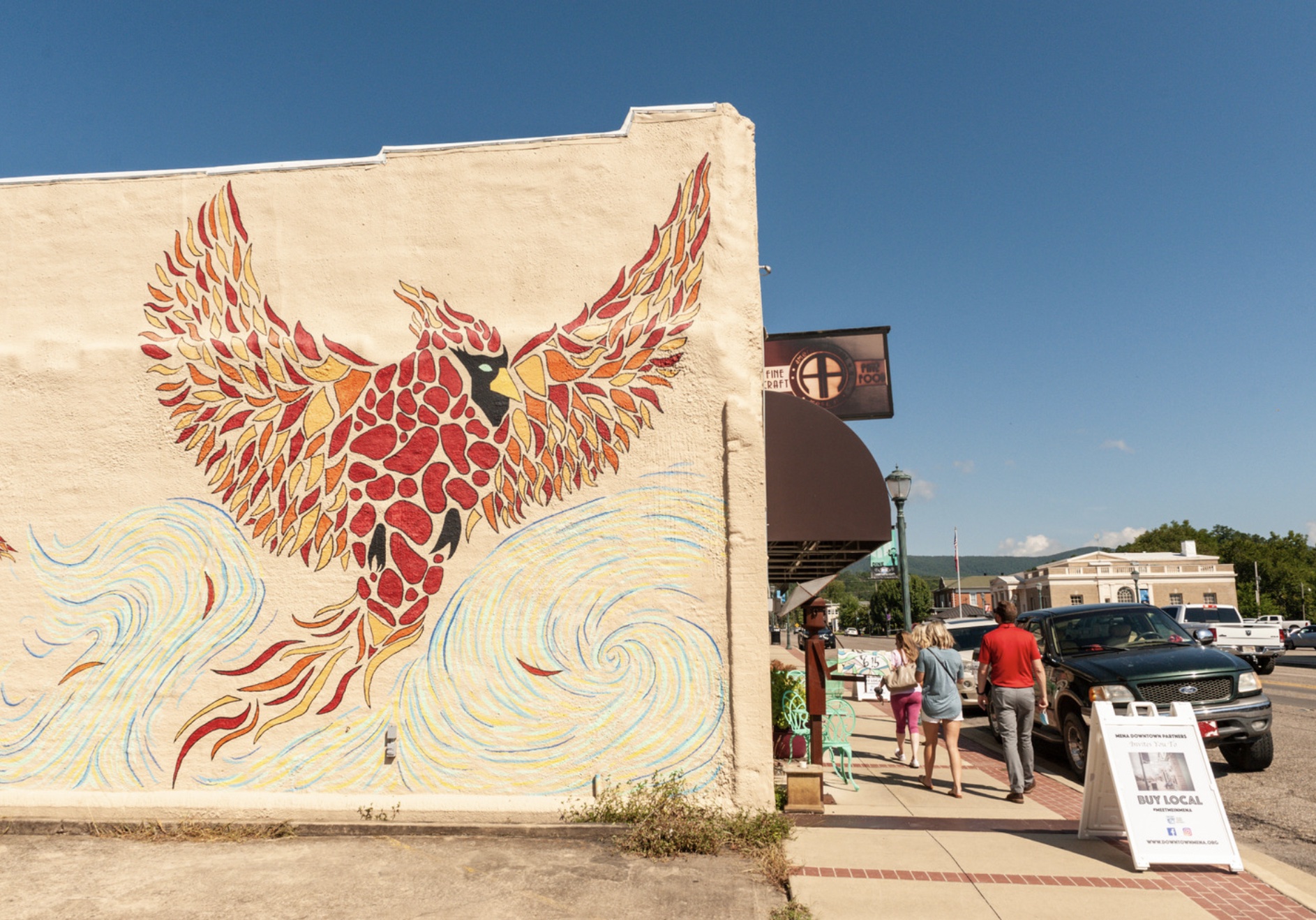 With many panoramic vistas that overlook the surrounding Ouachita Mountains, the Talimena National Scenic Byway is the very definition of a scenic drive. From Mena, the route climbs Rich Mountain, Arkansas' second highest peak, and passes by Queen Wilhelmina State Park on its way to Talihina, Oklahoma. A large chunk of the 54 mile route, 18 miles of which are in Arkansas, travels through the scenic Ouachita National Forest.