Play Ball! Naturals Season Opener is April 4
Opening day for the Northwest Arkansas Naturals, a minor league baseball team based at Arvest Ballpark in Springdale, is Thursday, April 4. The Naturals will take on the Midland Rockhounds at 6 p.m. The event will feature numerous pre-game ceremonies, including revealing the first inductee into the Naturals Hall of Fame. There will also be those spectacular post-game fireworks.
Tickets for all 70 home games are sold in person at Arvest Ballpark, online at www.nwanaturals.com or by calling the toll-free ticket hotline at 1-877-444-2637. A complete list of Naturals promotions is accessible at www.nwanaturals.com.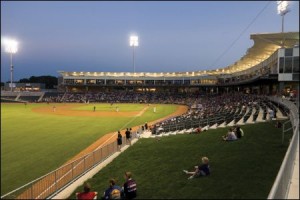 Individual game ticket prices (excluding special events) remain the same as last season and are as follows:
Super Premium* – $13
Premium* – $11
Reserved* – $9
Jack Link's Beef Jerky Grass Berm* – $7
*All individual tickets are $1 OFF when purchased in advance of gameday
Children 12 and under and adults over 55 years of age receive $1 off the purchase of Premium, Reserved, or Jack Link's Beef Jerky Grass Berm seating for individual game tickets. Active and retired military can also receive the $1 ticket discount at the ticket window by presenting the proper identification. All discounts must be redeemed in person at the Ticket Office.
To purchase your individual tickets online CLICK HERE. You can also purchase Weekend Plus Pack, Fireworks Pack, or a Naturals 30-Ticket Flex Pack.
Need some gear? The Red Dirt Outfitters, the Official Team Store of the Naturals, is open Monday – Saturday from 10 a.m. until 5 p.m. A member of the Texas League, the Naturals are the Double-A affiliate for the Kansas City Royals. Their season consists of 140 game schedule with 70 home games and 70 road games and is five months long, beginning in early April and finishing Labor Day weekend.
They also have special events throughout the season. For example, the Northwest Arkansas Naturals are teaming up with Twentieth Century Fox Home Entertainment for a post-game screening and celebration of The 20th Anniversary Sandlot Tour at Arvest Ballpark Park on April 21. David Mickey Evans, the writer, director, and narrator of the film The Sandlot will be hosting the event immediately following the Naturals game against the Tulsa Drillers.
Evans will introduce his film, to be shown on the video board in the outfield, recount for the audience where the idea for the story came from, and directly following the screening engage with the audience for signings, photographs and Q&A.
Arvest Ballpark will be the third stop for the yearlong Sandlot Tour which will be visiting various major and minor league ballparks across the country.
To guarantee your seats for "The Sandlot" Anniversary Night purchase them now by clicking HERE.