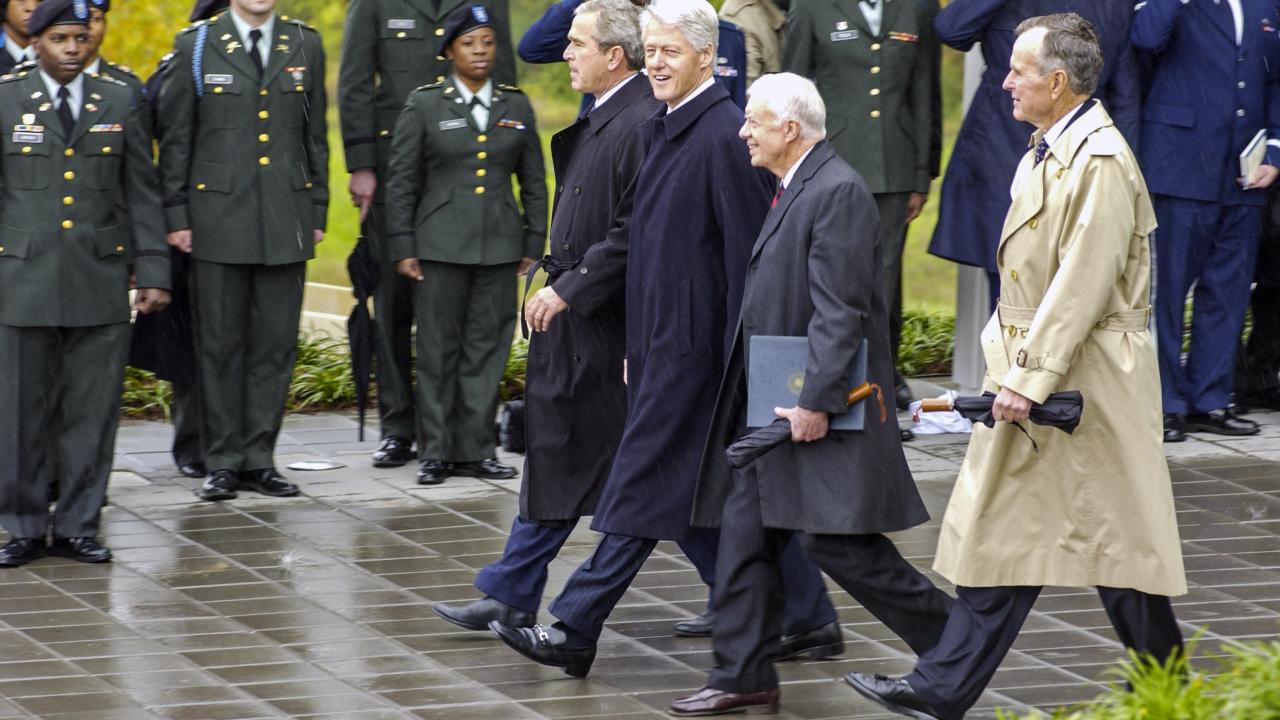 Stand where Kennedy spoke in Texarkana. Stay where Reagan slept in Little Rock, Arkansas. Presidents visited Arkansas on many occasions, and now you can follow in the footsteps of Presidents Roosevelts, Bushes, Eisenhower, Johnson, Nixon, Carter and more across the Ozarks and to the Delta, through every region of The Natural State. And visit the places that Clinton called Home.
With Presidential Pathways, we invite you to see Arkansas through the eyes of some of the world's greatest leaders and visit all of the attractions that make this state so special.
Arkansas and Our Commanders in Chief
In 1836, President Andrew Jackson signed legislation making Arkansas the 25th state of the Union. Long famous for scenic natural beauty and Southern hospitality, Arkansas took center stage in the presidential arena with the 1992 election of favorite son William Jefferson Clinton as the 42nd President of the United States.
But before Clinton's presidency made Arkansas a focus for national politics, we played host to many presidents and patriots. From President Benjamin Harrison in 1891 to President John F. Kennedy in 1963 (just weeks before his untimely death in Dallas), Arkansas has showcased our unique brand of fun and excitement to many presidents and political contenders. We hope that you enjoy this trip through Arkansas history, learning about the people and events that shaped The Natural State into a pleasurable destination for so many prominent persons.
Arkansas's Capital: Where Presidents Came to Celebrate and Campaign
Vice President Henry Wilson spent a day and a half in Little Rock in May of 1875, making him the second vice president to visit Arkansas, the first having been Richard Mentor Johnson in October and November of 1839. Neither Johnson nor Wilson came on official business. Johnson visited relatives in Pulaski and Chicot Counties, and Wilson was on a sightseeing tour. While in Little Rock, Vice President Wilson stayed at the Metropolitan Hotel on the northwest corner of Markham and Main Streets (current site of Little Rock's Statehouse Convention Center).
Over the years, many more sitting and former vice presidents have enjoyed the many charms of The Natural State.
Grant Camps at the Capital 
On April 14, 1880, former President Ulysses S. Grant briefly visited Little Rock as part of his world tour. The citizens of the community celebrated with a huge parade down Main Street and a banquet attended by 300 guests at Concordia Hall in The Capital Hotel. Grant also stayed at The Capital Hotel, an elegant structure at the corner of Markham and Louisiana Streets that features a magnificent stained glass masterpiece in the ceiling of the lobby. A plaque on the west side of the hotel marks Grant's visit.
The hotel is also famous for its bar, having served numerous politicians, campaign officials and members of the international media through the years.
Harrison Makes a Whistle Stop
Benjamin Harrison, the first president to visit Arkansas while in office, came through Little Rock on his way to the Pacific coast in 1891. All the buildings in downtown Little Rock were decorated, and lampposts were covered with red, white and blue bunting. As the president's train reached Argenta (now North Little Rock), whistles and horns on both sides of the river sounded for 15 minutes.
Truman Reunites with Army Buddies 
President Harry S. Truman came to Little Rock on June 10, 1949, to visit with his 35th Army Division buddies of World War I. The meeting was held downtown at Robinson Auditorium on Markham. A reception was held at Hotel Marion (where The Peabody Little Rock, home of the world-famous Peabody Ducks, now stands), and the President's Ball followed at Robinson Auditorium. While in Little Rock, Truman was a guest in the home of Dr. Hyman Rosenblum who lived on Kenyon Street. The next day, approximately 12,000 people filled War Memorial Stadium for the dedication of the city's War Memorial Park to hear President Truman speak. The ceremony climaxed Truman's festive two-day visit to Little Rock.
Teddy Charges Up Main
On October 25, 1905, President Theodore "Teddy" Roosevelt was the guest of honor in a parade up Main Street to City Park in Little Rock where a public meeting was held. Main Street from Markham to Tenth was a solid mass of cheering spectators.
15,000 Greet Taft for 15 Minutes
President William Howard Taft's visit on October 24, 1909, has been billed as the shortest presidential visit in Arkansas. Taft's train arrived at Union Station in Little Rock to a crowd of 15,000. President Taft stepped from the train, made brief remarks in a hoarse voice that few heard, stepped back onto the train and departed.
FDR and Eleanor Celebrate Our Centennial 
In 1936, the high point of Arkansas's centennial celebration was the June 10 visit of President and Mrs. Franklin D. Roosevelt. Arriving at the Missouri-Pacific Depot, the first couple was welcomed by a large crowd.
We Liked Ike, Too 
Presidential candidate Dwight D. Eisenhower stopped at Adams Field and MacArthur Park in Little Rock on September 3, 1952, prior to his November victory. In 1957, at the behest of Little Rock Mayor Woodrow Mann, Eisenhower would send 1,000 members of the 101st Airborne Division and federalize the Arkansas National Guard to maintain order and complete the integration of Central High.
Lady Bird Visits MacArthur Birthplace 
When Mrs. Lyndon Johnson spoke in Little Rock in 1964, she was more than an hour late for the event. Faron Young, star of the Grand Ole Opry, took over the stage from the master of ceremonies, Director of the State Publicity and Parks Commission Bob Evans, to entertain the crowd while they waited.
Lady Bird Johnson also visited MacArthur Park in Little Rock during this campaign trip for her husband's bid for the presidency.
General Douglas MacArthur was born in the Old Armory that is now the MacArthur Museum of Arkansas Military History, a national landmark built in the 1840s, in MacArthur Park. General MacArthur was courted by several groups to run for president.
Carter Kicks Off Campaign
On November 12, 1975, with the presidential election a year away, Jimmy Carter, the former governor of Georgia, came to Little Rock to declare himself a candidate for the presidency in the Arkansas primary.
Rosalynn Graces The Governor's Mansion
First Lady Rosalynn Carter made her 1979 appearance in Little Rock at the Governor's Mansion, built between 1947 and 1950 and designed in a latter-day version of the Colonial Revival style.
The Mansion and the Running Mates
Shortly before the Democratic National Convention in 1992, then-Governor Bill Clinton introduced Tennessee Senator Al Gore as his vice presidential running mate on the lawn of the Arkansas Governor's Mansion. The pair of candidates from neighboring states went against conventional wisdom, but the decision proved a wise choice when the double-barreled southern ticket took two terms in the White House.
Publishing a President
Jimmy Carter, ex-president and Nobel Prize winner, has published many books through the University of Arkansas Press. This includes updated editions of his insights into the Middle East, a collection of his best quotations and a memoir of his post White House years written with his wife Rosalynn.
Hillary Lends a Helping Hand
In 1998, First Lady Hillary Rodham Clinton returned to Arkansas, where she served as first lady for 12 years, to speak at the 40th reunion of the Women's Emergency Committee to Open Our Schools (WEC). The WEC was formed to reopen the Little Rock schools that had been shut down after the 1957 crisis at Central High.
It's Morning in Arkansas 
President Ronald Reagan became the first sitting president to spend the night in Little Rock in 35 years when he stayed at the Excelsior Hotel (now The Peabody) in downtown Little Rock on November 2, 1984. Reagan was in town for the "America Is Back" rally in the Governor's Exhibition Hall at the Statehouse Convention Center.
Ford Rallies the Faithful
Former President Gerald Ford spoke at a campaign rally in Searcy for Congressman Ed Bethune when he ran against Senator David Pryor for the U.S. Senate in 1984.
Rockefeller Remembers Rockefeller
Vice President Nelson Rockefeller spoke at former Arkansas Governor Winthrop Rockefeller's March 4, 1973, memorial service.
A First Lady Fundraiser 
First Lady Barbara Bush attended the Bush/Quayle fundraiser dinner in Little Rock at the Excelsior Hotel on April 6, 1992.
"Give 'em Hell Harry" Dedicates Dams 
President Truman came to Arkansas on July 2, 1952, to dedicate Bull Shoals and Norfork Dams. The presidential train route included Norfork through Mountain Home to Bull Shoals Dam, Flippin to Cotter and Batesville to Newport.
Camelot in the Ozark
In 1963, President John F. Kennedy dedicated Greers Ferry Dam, a multi-million dollar project on the Little Red River in Heber Springs. The Little Red River holds the world record for the largest brown trout ever caught.
Nixon in Hog Heaven
In 1969, the University of Arkansas at Fayetteville Razorbacks football team was ranked number two and played the number-one Texas Longhorns at Fayetteville. The National Championship, known as "The Big Shootout," was perhaps the greatest game in Arkansas history and even brought President Richard Nixon to Razorback Stadium. After Reverend Billy Graham gave the invocation, the announcer notified the crowd that Nixon would be late and that he had requested the game not be held up for him (which they had no intention of doing).
Nixon entered Razorback Stadium as Texas fumbled the opening kick-off.
As Arkansas recovered, a giant roar of approval went up from the crowd. Assuming the approval was for him, Nixon waved his standard "V" for victory sign.
Let's Call Those Hogs
When Nixon first heard the roar of an Arkansas "Hog Call," he commented, "I've never heard a yell like that before!" The Razorbacks led 14-0 until the fourth quarter. Texas scored 15 unanswered points and won the National Championship 15-14 in stunning fashion. Accompanying Nixon on the trip was then-Congressman George H.W. Bush.
Bush Honors Walton
President George H.W. Bush presented the Presidential Medal of Freedom to Samuel M. Walton, founder of Wal-Mart. The ceremony took place March 17, 1992, at Wal-Mart Headquarters in Bentonville. The Wal-Mart Visitors Center, located in Sam Walton's original Bentonville store, offers exhibits tracing the growth of Wal-Mart stores.
Bush Cuts Ribbon for Hammerschmidt 
President George H.W. Bush dedicated Congressman John Paul Hammerschmidt's office at North Arkansas College in Harrison in 1992.
The Duck Stops Here
Former President Jimmy Carter enjoyed duck hunting visits to the Arkansas Delta, where he was hosted by Senator Kaneaster Hodges Jr., starting in 1983 for 14 of the next 16 years. The two interruptions were caused by intervening world events. Carter would arrive in Newport after leaving church in Plains, Georgia, on Sunday morning and hunt Sunday afternoon on the Bayou DeView near Weiner.
Young Woodrow Worshipped Here
A pre-presidential Woodrow Wilson worshipped at the Augusta Presbyterian Church when his brother-in-law, Rev. A.P. Kennedy, was pastor there.
Van Buren Docks on This Side of the Delta
On April 22, 1842, Martin Van Buren was a passenger on the steamboat Nashville, which stopped briefly at Columbia, then the county seat of Chicot County. In 1855, the Mississippi River changed course and claimed Columbia and the courthouse.
20,000 Cheer for Truman 
President Harry S. Truman visited Blytheville on October 7, 1947. Truman walked through the streets of Blytheville and greeted a crowd of about 20,000.
Fanfare for a Favorite Son
President Bill Clinton dedicated the new $11.8-million addition to the Arkansas State University library/museum complex in Jonesboro on April 3, 1995, officially opening one of the finest and largest museums in the Delta.
Duck Hunting in the 21st Century 
Vice President Dick Cheney took advantage of Arkansas's fabled duck hunting in 2002 and 2003 near DeWitt.
Future President Commands Fort Smith 
Although he was known as Colonel Zachary Taylor at the time, President Taylor spent 1841-1845 stationed in Fort Smith as its military commander. Taylor's private home was once located behind what is now the Immaculate Conception Church and St. Anne's Convent at North 13th Street and Garrison Avenue. A December 8, 1875, fire destroyed the home, but what is now referred to as "Zachary Taylor Chimney" still stands on the north grounds.
Kennedy Deeded the Fort
On October 29, 1961, President John F. Kennedy stepped onto Arkansas soil for the first time since becoming president. At Fort Smith, Mayor Brooksher handed President Kennedy the deed to 10 acres of the original site of Old Fort Smith.
Lady Bird Speaks at the Gallows 
On a platform near the gallows where Judge" Isaac C. Parker once sent 88 men to their deaths, Lady Bird Johnson spoke to a crowd of about 5,000 people in Fort Smith. Johnson was in Fort Smith to dedicate the 13-acre Fort Smith National Historic Site.
Ford Gives Mercy Dedication
President Gerald Ford visited Fort Smith on August 10, 1975, for the St. Edward's Mercy Medical Center dedication ceremony.
Hoover Hails Pine Bluff 
While Secretary of Commerce and Chair of the 1927 Flood Relief Organization, Herbert Hoover spoke in Pine Bluff, which is now known as the City of Murals due to the elaborate murals featured in its downtown area.
Hoover Helps Out Again 
Hoover also later visited Arkansas (Arkansas City and Pine Bluff) to survey the flood damage.
Kennedy Visits Two States at Once 
Kennedy's 1960 Texarkana visit, which drew a crowd up to 100,000, extended down State Line Avenue about six blocks.
LBJ Dedicates Memorial To JFK
President Lyndon B. Johnson dedicated a memorial to the late John F. Kennedy in Texarkana on September 25, 1964. The bronze plaque is mounted on a four-foot-tall Georgian granite pedestal in front of the Texarkana Post Office, which straddles the Arkansas-Texas state line.
First Lady Tends Grassroots
First Lady Rosalynn Carter visited the Pine Bluff Union Railroad Depot in 1979 to honor Arkansas volunteers. Mrs. Carter toured the Arkansas Grassroots Jamboree, sponsored by the Governor's Office of Volunteer Services.
Carter Campaigns Across State Lines
On October 22, 1980, the Carter/Mondale campaign held a quad-state rally, with Texas, Arkansas, Oklahoma and Louisiana, on the steps of the Texarkana, USA Downtown Post Office. As Carter approached the stage, the band played the "Arkansas Fight Song." As soon as Carter crossed the line to the Texas side, the band played "The Yellow Rose of Texas."
Bush Lectures Harding 
Former President George H.W. Bush spoke at Harding University's Distinguished Lecture Series in 1996 in Searcy, where Vice President Dick Cheney also delivered a speech in 1994.
Clinton Highlights Rural Opportunities 
During his November 1999 New Markets tour, President Clinton visited Hermitage to highlight the economic opportunities available in rural America.
Roosevelt Goes to the Racetrack 
President Theodore Roosevelt served as the principal speaker at the fifth annual Arkansas State Fair on October 10, 1910, when it was held in Hot Springs at Oaklawn Park, one of the top thoroughbred racetracks in the nation. A human flag composed of 2,000 schoolchildren dressed in red, white and blue served as a backdrop while Roosevelt addressed the crowd.
Hoover Holds Key to Spa City 
In 1927, the year prior to his election, Herbert Hoover was honored at a banquet and received a gold key to the city of Hot Springs.
Second Roosevelt Sees First Park
Franklin D. Roosevelt, the second Roosevelt to visit Arkansas as president, arrived at America's First National Park, Hot Springs National Park, on the morning of June 10, 1936, to celebrate the Arkansas Centennial. While in Arkansas, Roosevelt visited Couchwood for lunch. This served as the country home of Arkansas Power and Light Founder Harvey Couch on Lake Catherine. It's also known for its excellent bass and crappie fishing, near Hot Springs. Roosevelt would also attend pageant and religious services at Rockport, a historic community near Malvern. 
The President also spoke on a nationwide radio broadcast and viewed the WPA Federal Theatre Project pageant, "America Sings," at Fair Park.
Traveling with the President, Mrs. Roosevelt was the honored guest of the women of Arkansas at a breakfast at the Arlington Hotel.
The Arlington is an 1875 structure famous as a favorite vacation spot of gangster Al Capone, on Central Avenue in Hot Springs. To spruce up for Roosevelt's visit, the road from Hot Springs to Malvern was blacktopped for the occasion.  Unpainted buildings along the way were given a coat of whitewash, but only on the sides facing the road. 
Kennedy Addresses the Bar 
While a senator from Massachusetts in 1957, John Kennedy accepted Senator John McClellan's invitation to address an overflow crowd at the 59th Arkansas Bar Association's convention at the Arlington Hotel in Hot Springs. It was Kennedy's first Arkansas visit, occurring four days before the groundbreaking ceremonies for Greers Ferry Dam at Heber Springs, a project he would later dedicate as President of the United States. While in Arkansas, he also visited Governor Orval Faubus at St. Joseph's hospital in Hot Springs.
Johnson Follows Kennedy's Footsteps
Lyndon Johnson, who would follow Kennedy to the presidency, also came to Hot Springs to address the Arkansas lawyers' convention in June 1962.