Pumpkin patches in Arkansas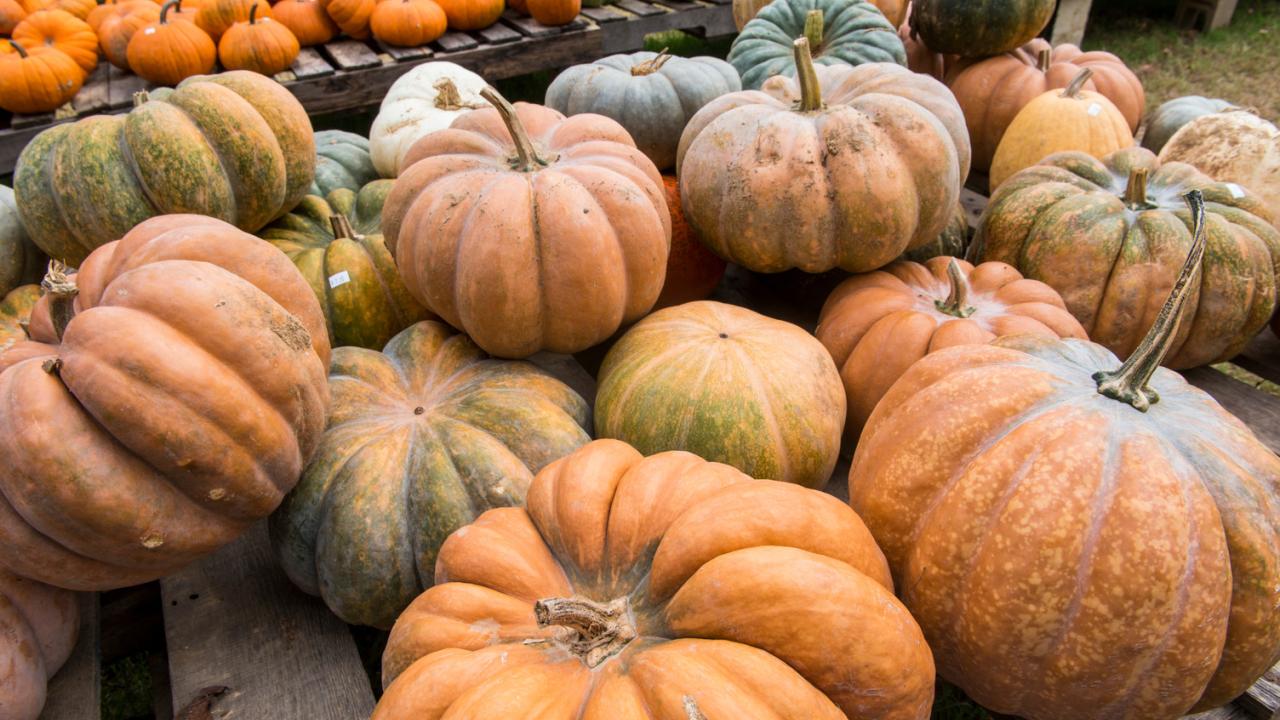 Fall is a wonderful time to explore Arkansas. During the season, there are many activities to take part in including visiting pumpkin patches. Below is a glimpse at some of the farms in the state that host these seasonal treats.  
Located close to Little Rock and a few miles past Pinnacle Mountain State Park is BoBrook Farms at 13810 Combee Lane in Roland. The family farm has been open since the early 1990s and during the month of October it also has a pumpkin patch to visit onsite. Admission to the farm is $7 for everyone age 2 and up and there's also a pumpkin patch to pick pumpkins at for an additional charge. Of note that no pets, including dogs, can enter the pumpkin patch grounds.
While at the farm you can enjoy a wide range of fall favorites including hayrides, hay slides, pig races, farm animals, a corn pit, a hay bale maze, a sunflower maze and more. "We try to keep everything farmy and educational," said Karen Bradford of BoBrook Farms. Bradford said they have tried to keep the farm affordable to visit over the years too. "We want families to be able to afford to bring their families to the farm," she said. Along with being an educational site to visit, there is also a chance to enjoy wine made on the farm onsite at River Bottom Winery. For more details on the pumpkin patch, farm and winery visit bobrookfarms.com.
Motley's Pumpkin Patch in Little Rock has been a fall family tradition for many over the years. "At Motley's Pumpkin Patch we specialize in fun and pride ourselves on the large variety of activities we offer like our pig races and many other attractions," said Mike Motley. "We try to add something to our patch each year." The pumpkin patch is located in the same location the family has for their Christmas Tree Farm, which has been operating since the early 1980s. The farm is located at 13724 Sandy Ann Drive in Little Rock. "Motley's Farm is celebrating our 40th season this year," said Motley.  "At over 20 acres, our patch not only includes a huge variety of pumpkins, but many awesome attractions, fresh Zinnia flower fields, and several great food options including homemade fudge, burgers, BBQ sandwiches and other items."
For someone who has never been to the pumpkin patch before, Motley said there is much to look forward to. While there you can pick pumpkins from their traditional and specialty pumpkins, sample their fresh fudge, enjoy a hay ride, watch their pig races, take in the sights of their farm zoo, take on a mini corn maze, climb aboard a giant wooden pirate ship and more including a new surprise attraction debuting this year. "We are so thankful for the generations of families that visit our farm," said Motley. "We now have adults who visited our pumpkin patch as kids that are now bringing their own kids to the patch. Our pumpkin patch is like a mini-vacation only 15 minutes from downtown Little Rock where you can make memories that will last." For more details on the farm, visit motleyspumpkinpatch.com.
Another pumpkin patch and corn maze can also be found at the Hicks Family Farms, which is located at 184 Lasiter Road in Lonoke and easily accessed from both I-40 and US 67/167.
"We want you to feel like you have just visited our family's farm," said Rebekah Hicks. "You have, after all. When you come to visit with us we view it as extending a seat at our table. Many members of the Hicks family are onsite and we love to chat with our guests. We've made many friends throughout the years that we get to see year after year. Our farm has a family feel to it. We do have some Halloween items, but most of what you see and experience will be fall-based and family-friendly." 
The Hicks Family Farms is a working farm and also an Arkansas Century Farm. They farm 365 days a year on land that has been in their family for over 100 years. "One of the things that is different about our farm is that we charge one admission price and that covers all of our activities, except for our Corn Cannon and Pumpkin Chunkin'," said Hicks. "That admission price is for ages 5 and up meaning that kids 4 and under are free. That age is higher than a lot of other agritourism venues in the state. Our corn maze is also designed by us and we try to incorporate either a part of our family or our community into the maze each year." 
Hicks said the farm has an over 7-acre corn maze, pumpkins, pony rides, a hay ride, zip lines, mini-golf, slides, a rock climbing wall, a barn full of farm animals and more. "Our farm store is open during our pumpkin patch," she said. "We sell our jelly, jam, salsa and other canned goods. We also sell a variety of items that are seasonal and many made by local craftsmen."  Also onsite is the Wagon Wheel Cafe, which serves traditional snack bar foods and also hand-pattied burgers, smoked BBQ, catfish, fresh cut fries, homemade chili, freshly made sauces and homemade pie. "Our mom, Sandy, was well known in our area for her pumpkin pie," said Hicks. "The Hicks' girls are carrying on her tradition baking up her pie recipe and their apple and pecan pies as well."
The owners of Hicks Family Farms have long had the aim to share knowledge about agriculture with the community. "We (Kevin and Rebekah Hicks) invited kindergarten classes of our local schools to our dairy farm in the late '90s to teach them where milk came from," said Hicks. When the family sold their dairy cows in early 2010 they still had the desire to keep on with agritourism. "In late summer of 2010 we plowed up one of our hay fields and planted corn for the corn maze," said Hicks. "There are little bits of educational information spread throughout the farm. Our visitors are learning without even realizing it." 
Hicks Family Farms is open on Saturdays and Sundays during the month of October for general admission. During the week, they are available for field trips for schools and daycares. More information is available at hicksfamilyfarms.com. 
Along with these spots, many creative pumpkin patches can be found across Arkansas including Pumpkin Hollow in Piggott, which had the first corn maze in the state. For more options across the state visit Arkansas.com and type in pumpkin patches in the search field.