Pure Joy Ice Cream opens storefront in downtown Siloam Springs
I don't think there's a better name than Pure Joy for an ice cream place. It pretty much sums up the experience of eating this cold treat.
Pure Joy Ice Cream has been around since 2012, creating naturally crafted, small batch ice cream from locally sourced ingredients. Their bold and creative flavors change with the seasons. Up until now, Pure Joy could only be found wholesale and at special events. I always look for them when I go to festivals and events in Northwest Arkansas.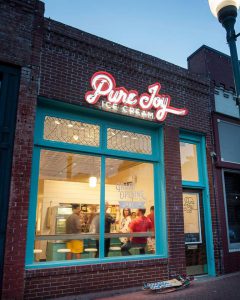 Now the company has opened its first scoop shop in downtown Siloam Springs. The storefront is at 108 N. Broadway. In addition to ice cream, you'll also be able to get milkshakes, freezes, sodas, syrups and other sweets.
Pure Joy will continue to stock pints at these businesses: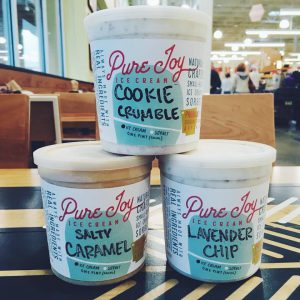 Fayetteville: Ozark Natural Foods, Blackboard Grocery, Whole Foods
Rogers: Fork and Crust Pie Co.
Bentonville: Snack Lab
If you haven't had Pure Joy before, you'll find that the company's approach to ice cream focuses on three elements: quality, partnership, and fun. Recipes use locally sourced and fair/direct trade ingredients, providing freshness and excellent quality while supporting other small businesses. For example, they proudly feature local strawberries in the Strawberry Lavender sorbet, local goat cheese in the Happy Goat flavor, and Midnight Mocha is made with Askinosie chocolate and locally roasted coffee. The owners believe that when they support quality products and ethical business practices, everyone succeeds.
Pure Joy originally started as a fundraiser for an adoptive family and continues to give back to orphan care through various organizations.
The business hours for the new storefront will be noon to 10 p.m. Monday through Saturday and 2 p.m. to 9 p.m. on Sunday.