On the radar: 40th annual Lum & Abner Festival
Editor's note: The event featured in this article occurred in 2017, but we hear that this year's will be the best yet. Find it on our Events page.
Lum and Abner was a popular radio show in the U.S. that aired from 1932 to 1954. Chester Lauck played Lum and Norris Goff played Abner. Both Lauck and Goff moved to Mena in 1911 and lived there until their move into show business. In the show they played the co-owners of the Jot 'em Down Store in the then fictional town of Pine Ridge. Early broadcasts of the show were carried locally but soon, the show garnered national contracts, with networks such as NBC, and the reach of the show spread  into millions of homes. Due to the show's  popularity, movies featuring the characters were also made during the 1940s
Each year, the town of Mena celebrates the local connection to the famous duo.  This is a special year as it marks the 40th annual Lum & Abner Festival, which is set for June 2-3.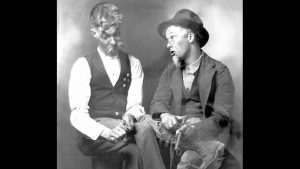 "This is Mena's signature event and celebrates the popular Lum and Abner characters created by former Mena residents Chester Lauck and Norris Goff," said festival coordinator Donnie Crain.
As to specific Lum and Abner tie ins, festival-goers will have an opportunity to meet Donnie Pitchford, cartoonist of the Lum and Abner comic strip, have a chance to run by the boyhood home of Chester Lauck on the route of this year's Lum & Abner 5K, and have their picture taken with a Lum and Abner cut-out.
Further activities at the festival include live music, a car show, a quilt show, gunfighter reenactments, arts and crafts, a taco competition, helicopter rides of the local area, fishing derbies and even pig racing. There will also be a free Friday night concert featuring Ricochet, an award-winning country music band.
"We always encourage folks to see other Lum and Abner sites and exhibits while they are in the community too," said Crain. "There are some great exhibits on Lum and Abner at Mena's Historic Train Depot that fans of the program would enjoy and a museum and exhibits at the Lum and Abner Museum in nearby Pine Ridge."
The Lum and Abner Museum and Jot 'Em Down Store is located in Pine Ridge on the side of Hwy 88. The museum opened in the 1970's and is now on the National Register of Historic Places.
The festival is taking place at Janssen Park at 601 7th Street. "This is a beautiful, historic park and an attraction in itself with beautiful fountains, ponds, a children's playground, and a historic log cabin built in 1851," said Crain. "Mena and the surrounding area make a wonderful place to visit, situated in the middle of the Ouachita Mountains at the eastern gateway to Talimena Scenic Drive.  Mena's historic downtown area, adjacent to Janssen Park, has galleries, shops, and cafes. Nearby are trails, a crystal mine, streams and lakes, and the Queen Wilhelmina and Cossatot River state parks." For more details on Mena or the festival, check out VisitMena.com.