A Road Less Traveled: Arkansas Highway 21 (part 1)
This is the first installment in a series about Arkansas Highway 21, written by former Arkansas Tourism Director Joe David Rice.
Apparently not worried a bit about my sudden appearance, the black bear paused on the opposite side of the road, taking up most of the lane as if he owned the asphalt. I'd rounded a curve and quickly slowed to a stop on Arkansas Highway 21 a couple of miles south of Salus in the middle of the Ozark National Forest. This was the first bear I'd ever seen in the wilds of the state – and my pulse kicked into overdrive. He looked plenty big to me even if 20 yards separated us. He gazed my way with small dark eyes for another 10-15 seconds and then ambled west and nonchalantly disappeared into the thick woods of summer, probably never giving me another thought. But I think about him every time I make that curve, always hoping I might encounter him again or one of his offspring.
That's one reason Highway 21 ranks at the top of my list of favorite drives in the state: the prospects for seeing wildlife. Over the years I've also spotted a fox, a coyote, too many deer to remember, dozens of wild turkeys, and hundreds of elk along the route, not to mention all sorts of smaller critters.
Yet this northwest Arkansas road – a good portion of which is known as the Ozark Highlands Scenic Byway – offers far more than an interesting assortment of animals. It's got geology, historic sites, vernacular architecture, serenity, hospitable folks, great fall color, and some of the nicest views in a state already known for spectacular vistas. And, in my humble opinion, it provides the finest introduction to the Ozarks you'll find anywhere.
Although Highway 21 doesn't enjoy the fame of Arkansas Scenic Highway 7 (which runs on a parallel course about 20 miles to the east) or the notoriety of Arkansas 23 (the Pig Trail National Scenic Byway, which also traverses a north-south route about 20 miles to the west), it can hold its own with those classics and any other roadway in The Natural State. Mile for mile, it may be the best of the lot.
My goal with this piece is to get you to put Arkansas Highway 21 on your own personal bucket list. I've been driving it for years over every season – and the road still retains its original charm and intrigue. Pack a picnic lunch, your walking shoes, a camera, and maybe even a pair of binoculars. Better yet, pack a suitcase and make it a leisurely trip. And consider working in a visit to Clarksville, Harrison, Fayetteville, or Eureka Springs while you're at it. Take note, however, that food and gasoline are scarce commodities throughout much of the route.
Highway 21 begins a short distance north of the Arkansas River and Interstate 40 at the eastern city limits of Clarksville. Branching off US 64, it heads more or less due north for exactly 99 miles to the Arkansas/Missouri state line at Blue Eye. For folks interested in this sort of thing, the beginning elevation of Highway 21 is approximately 480 feet above sea level. The pavement soon begins a steep and curvy climb into the heart of the Ozarks where it tops out at approximately 2240 feet – a net vertical gain of about one-third of a mile, or more than enough to make your ears pop.
Those starting a trip at the route's southern terminus might make the Pleasant Hill Ranger Station of the Ozark National Forest their first stop. Located at 2591 Highway 21 North, it's approximately 2.5 miles above the junction with US 64. The U.S. Forest Service staff can provide helpful maps and brochures Monday through Friday (8:00 am – 4:30 pm). Another half a mile or so up the road is the community of Ludwig, noted for its delicious Johnson County peaches in early to mid-summer. In fact, a plaque on an official "historical marker" under one of the peach sheds in town reads: "Ludwig – Home of the First Johnson County Peach Festival; June 26, 1938." The University of Arkansas operates a Fruit Research Station just east of town where a team of scientists works to develop better strains of peaches, apples, nectarines grapes, blueberries, blackberries, raspberries, and even pecans.
A few miles farther to the north and Highway 21 actually enters the Ozark National Forest, a federal reserve created via a proclamation signed by President Teddy Roosevelt in 1908. Eventually encompassing some 1.2 million acres, this immense tract serves a variety of purposes: grazing, timber, wildlife habitat, watershed management, aesthetics, and outdoor recreation. Although much of the land never left the public domain, some of it had been settled and later abandoned by pioneer families unable to scratch out a living on the thin soils of the rough terrain. It's not uncommon for today's hunters and hikers to discover stone fences, chimneys, and foundations of early homesteads now going back to nature.
The first Ozark National Forest Service rangers had their hands full dealing with the famously independent mountain folks not used to government regulations. They investigated timber thieves, fought deliberately set forest fires day and night, and chased moonshiners with teams of bloodhounds – all for a salary of $900 a year. When the Chief of Operations toured the district in 1909, he recommended the use of public circulars to explain the agency's policies, but instructed his colleagues to avoid long sentences and to stick with short, common words. Even so, the relationship between federal employees and local mountaineers remained often contentious for decades.
Given that those early rangers traveled by foot or by horseback, they could hardly have imagined a nationally recognized scenic highway coursing through the rugged Ozark landscapes. Yet a short distance north of Ludwig visitors will spot the "Ozark Highlands Scenic Byway" sign just before the road begins its twisting and tortuous route up the steep slopes of the National Forest. For the next 40 miles, the roadway swings from ridge top to ridge top and never really dips into the deep hollows far below. In fact, there's not a single bridge to cross until the highway completes its long and steep descent into Boxley Valley.
Ozone is the next community of note, and it's one of two or three places in America with that interesting appellation. Tradition has it that in 1875 Mrs. Delia McCracken, the local postmistress, gave the town its memorable name because of the pureness of its air. Back in those days, the word ozone was used to describe the distinctive smell of fresh air following a lightning storm. Chances are Mrs. McCracken would not appreciate the "Ozone Alerts" and "Ozone Action Days" of the twenty-first century.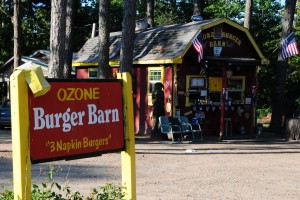 Ozone lost most of its retail establishments over the years, but one exception is the Ozone Burger Barn – a rare opportunity for sustenance in the area. It'd been in business a decade or so when proprietor Tom Camardese bought the establishment in 1999. An Ohio native, Camardese had worked for several national restaurant chains before making the move to the Ozarks. He offers an amazingly diverse menu (hand-made burgers and fried catfish are specialties) with favorable on-line reviews from Yelp and TripAdvisor patrons. Dining is outside on one of the many picnic tables. Camardese says he's pretty busy year-round: hunters in the winter, canoeists/hikers come springtime, traditional tourists throughout the summer, and motorcyclists during the fall. On at least one occasion he's had bears grazing on the berries in front of his take-out window.
Next up:  Devil's Knob, Fallsville and the Glory Hole