Road Trip Like a True Detective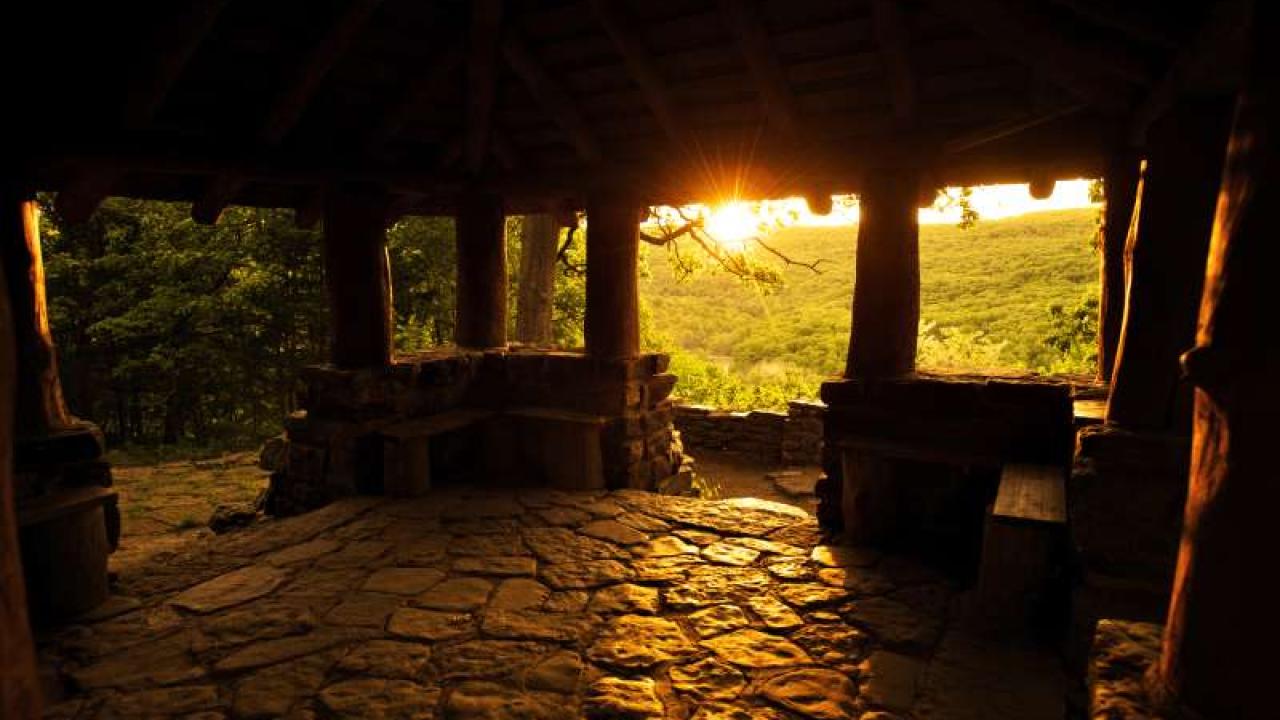 The critically acclaimed HBO crime drama True Detective is macabre at its heart. In its third season, the show depicts the lives of two detectives following a trail of missing children across Arkansas's small towns and backroads.
Starring Academy Award winner Mahershala Ali and Stephen Dorff as Arkansas State Police detectives, it takes place over three separate time periods.
While there's no doubt the actors and actresses for season three are stellar, there's another standout in the show. The landscape it's filmed in becomes a beautiful character in the story, despite the heavy subject.
It's easy to see why the show's creator and director, Nic Pizzolato, wanted it filmed in Northwest Arkansas. He is a graduate of the University of Arkansas at Fayetteville, and knows this territory well.
So, gas up your car and get ready to road trip like a True Detective. From the beauty of the Ozark Mountains to the entertainment district of a college town, these locales are just as binge-worthy as the show itself.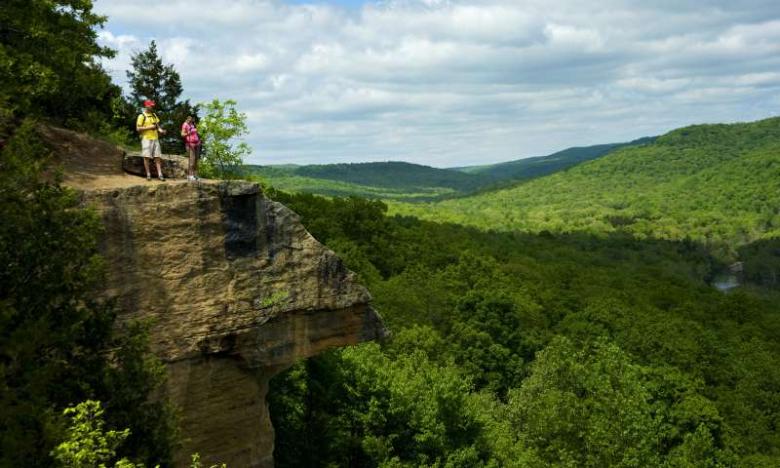 Devil's Den State Park
About 2,000 unspoiled acres adjoining the Ozark National Forest between Winslow and West Fork, Devil's Den offering hiking, backpacking, equestrian and mountain bike trails, RV and tent camping, crevice area, swimming pool, nature programs, cabins and interpretive programs.
Yellow Rock Trail
On the National Recreation Trail, this path takes you 300 feet in elevation to one of the best views in Devil's Den State Park and a featured crime scene in True Detective. This is a day hike of moderate difficulty. The distance is about three miles and the time it takes to hike it is about two hours. Along the way you'll see cedar glades, interesting rock formations and the first structure built in the park. Atop Yellow Rock is an unobstructed view of Lee Creek Valley and a popular place to take photos.
Herman's Ribhouse
This Arkansas icon opened in 1964 and retains its original ambiance pretty well, making it a perfect set for True Detective characters to have dinner. You haven't experienced Fayetteville if you haven't eaten at Herman's.
Hugo's
Located by the downtown square, Hugo's is always hopping. It's a dimly lit, basement burger restaurant with fabulous vintage decor. Just look for the neon sign. It's another defining Fayetteville eatery. Make sure to share a basket of fries.
Fayetteville Square
The focal point for many local activities, the charming downtown square is home to unique shops, restaurants, historic buildings and modern offices. It's known for its variety of colorful flowers in the square gardens, carefully tended from season to season, and for hosting one of the oldest Farmer's Markets in the state.
The Chancellor Hotel
A perfect place to spend the night during your road trip is The Chancellor Hotel, which also served as a filming location. It's on the corner of the Fayetteville square. From here you can walk to other road trips spots and just enjoy the cool vibe the city offers. Restaurants, breweries and shops abound.
University of Arkansas
Old Main, its front lawn, Peabody Hall and Carnall Hall were part of the shoots as well. Enjoy a walk around this beautiful campus. Carnall Hall is a great place to book a room and get some food and drink at Ella's Restaurant.
Kingfish
This dive bar didn't see any film action, but it did serve as a hang out for some of the cast. Dorff was a big fan and even held his birthday party there on an outside patio. Kingfish is known for its fun patio season with free music. It's a perfect road trip pit stop.
Christ of the Ozarks
Seen in the show's opening credits, this seven-story statue of Christ overlooks the Ozarks Mountains and Eureka Springs. It's lighted for night viewing, can be seen for miles, and is located on the grounds of The Great Passion Play.
AQ Chicken House
The award-winning, world-famous AQ Chicken House restaurant opened on July 20, 1947, and has become a tradition for family-style casual dining in Springdale.
Susan's Restaurant
A popular breakfast joint in Springdale, Susan's offers Southern, homestyle cooking with breakfast served anytime. One of the waitresses was even in a background scene.
A to Z Variety
This Fort Smith store was transformed into a Walmart, not the Supercenter variety, but an early model. Just like the movie, parents are always trying to keep track of their kids in Walmart.
Mountainburg Schools
Take old Ark. 71 over the Boston Mountain for a look at the outside of the school, where some scenes were filmed. There's excellent sightseeing along the way at scenic overlooks and great little shops. Plus, you'll find the turn off to Lake Fort Smith State Park on this road. Book a cabin for your road trip overnight.
Additional locations you can drive by:
Scenes for the "West Finger Community Center" (not a real community), were filmed at the American Legion Post building near the square in Lincoln.
The Hanna's Candle plant in Fayetteville doubled as the show's Hoyt Foods factory.
The University of Arkansas Global Campus building served as another filming site.
Interior shots of a bar were staged at VFW Post 3031 in Rogers.
Crews filmed out on Ark. 45 in the area of historic Cane Hill.