Roasting expansion in the works at Red Light Roastery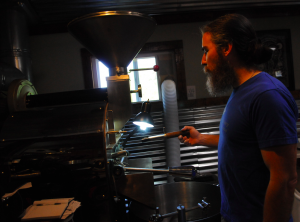 Red Light Roastery, which holds title as the first small batch roastery of its kind in Hot Springs  when it opened last year, is planning an expansion of their roasting facility.
Owner and roaster Adam Moore said plans include moving from the current 400 square feet they use for roasting purposes on site at the coffee house  to 1400 square feet at a new roasting facility, which is housed in a historic renovated building from the 1940s.  The space is going to be solely for roasting and packaging their coffee and is located at 871 Park Avenue, which is on the National Register of Historic Places.
The building is about 2 blocks down the street from the Red Light Roastery coffeehouse, which is located at 1003 Park Avenue in a renovated 1881 bungalow home. The coffeehouse will remain at the same location for the public to enjoy. You can enjoy a cup of coffee on site or buy custom roasted beans to brew on your own. Moore said there aren't any plans to expand the coffeehouse or such, they are just expanding their roasting area.
"We might do more outdoor seating but we are going to keep it how it is," he said. "It is just kind of special the way it is being a coffeehouse with a big front porch."
Moore said currently he roasts beans one day a week and it is usually anywhere from 300 to 500 pounds on that one day [Tuesday]. "I roast about 20 pounds per batch," he said. "The beans come from all over the world….we get beans from all over the place and I figure out the best way to roast them for my taste and then I present that to people and hopefully they will like that too."
In the next few weeks they will be moving their roasting equipment into the new facility with plans to perhaps increase the number of roasting days per week as well.
"There are some really great roasters in Arkansas," Moore said about the coffee scene in the state. " Every roaster kind of has their own style…I try to find a sweet spot for the beans that I get and that's what I do."
The roastery also has a community give-back program. "We are giving back to our immediate community," he said. " A lot of coffee roasters give back to the farmers and the communities of the origin of the beans and that is great but we had a pretty big need in our community locally. We started in our neighborhood."
To keep up to speed with Red Light Roastery, check out their website at redlightroastery.com or their Facebook page here.