Safe Boating Week Begins May 18
Lately it's been a little hard to believe it's almost boating season with the weather confusing us from one day to the next, but the time is drawing nigh.  Governor Mike Beebe, the U.S. Army Corps of Engineers, and the Coast Guard Auxiliary Flotilla 15-08 have joined together to encourage those who enjoy Arkansas's rivers and lakes to be safe this summer.
Safe Boating Week, which is May 18-24, emphasizes the need for common sense and safe boating practices while on the water.  The Governor's proclamation reminds everyone to take certain precautions, including always wearing a life vest and never operate a vessel while under the influence of alcohol.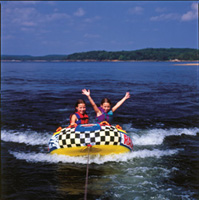 Enjoy the over 600,000 acres of lakes and more than 9,000 miles of streams and rivers safely this summer. Whether you're skiing, fishing, riding a water toy, canoeing, kayaking or being pulled on a raft, remember: a little caution goes a long way.