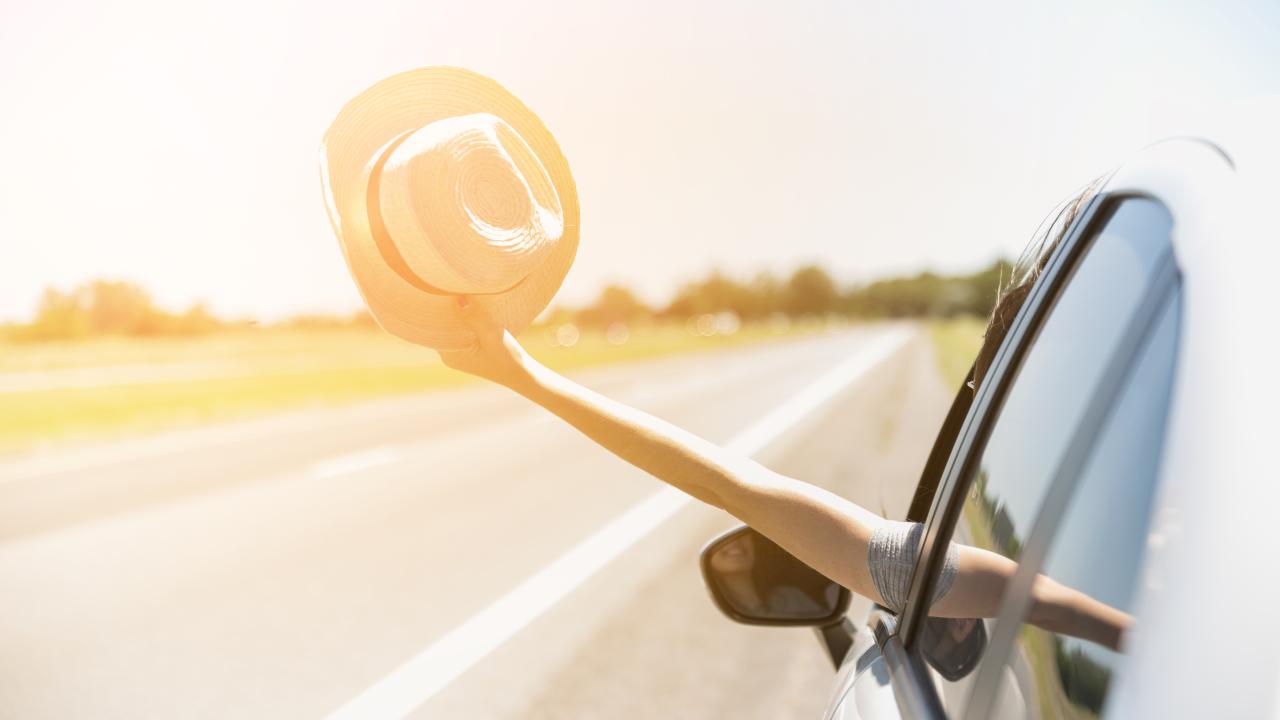 By Sara Dacus, Visit Hot Springs
The spring I had planned included Oaklawn infield days with my husband Casey and nights at The Waters rooftop bar, a trip to Garvan Woodland Gardens with our 7-year-old son, Case, and a visit to Quapaw Baths and Spa and Central Avenue shops with girlfriends. Hot Springs is a haven for our family: easily accessible for the weekend but an exotic change of pace from our daily routines, and we had several trips scheduled for March and April. 
Instead, my spring, like everyone else's, was derailed by the COVID-19 pandemic and entailed long stretches of not leaving the house while sporting the messy bun (the hairdo of the apocalypse). Case didn't play with the kids next door for weeks. We got a quarantine puppy, a Papillon we named Bodemeister, called Bode, after the winner of the 2012 Arkansas Derby and attempted to fill our time constructively and creatively.
Towards the end of May, as the governor eased restrictions in Arkansas and the mayor of Hot Springs provided almost-daily updates concerning the city's health, we decided it was time to get out of the athleisure and head back to Spa City. We wanted to introduce Bode to our beloved city and get back to a few of our favorite spots we were missing. A blockbuster weekend came together quickly and easily.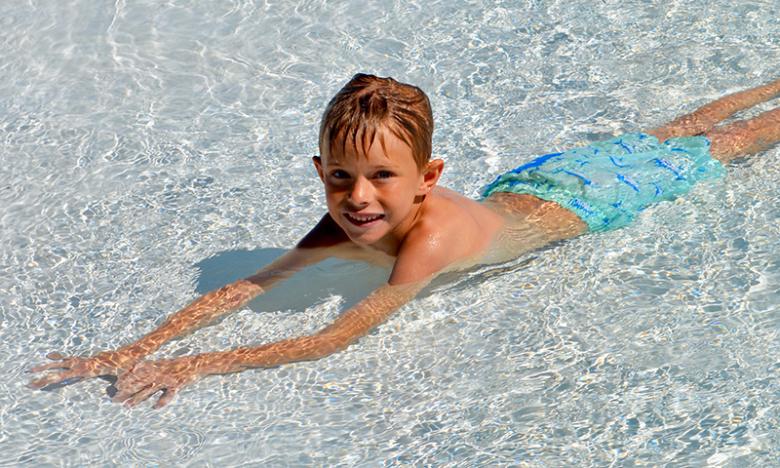 We returned to DoubleTree by Hilton Hot Springs, where we were able to stay once before  the Oaklawn Park racing season was closed to spectators. The former Clarion Resort reopened in its new hotel family in January after a $20 million renovation, and her glow-up is impressive. This centrally-located lakeside property provides gorgeous views and a dock with direct lake access for guests who bring their own boats or rent from nearby marinas. This visit, Case shook off his road trip wiggles at the pool while I enjoyed watching the lake activity, my book and a cocktail from the surrounding lawn patio that features rocking chairs, a fireplace, grill and stringed lights.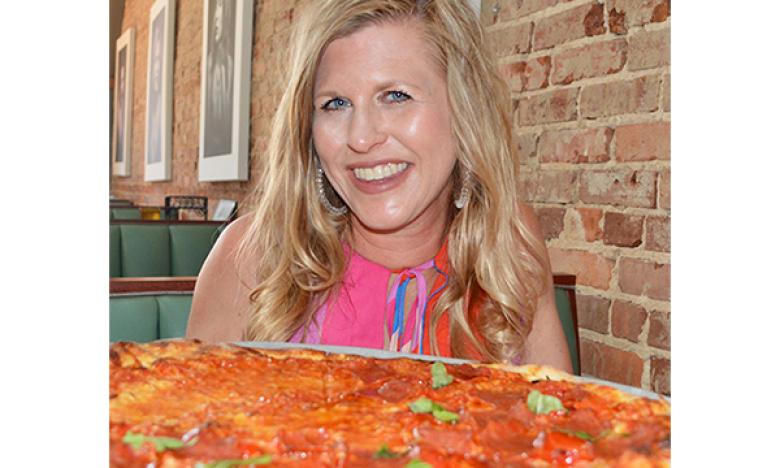 Next, we went to DeLuca's Pizzeria, an establishment we patronize almost every Hot Springs trip. Among the restaurant's accolades are inclusion in a Southern Living feature on the South's best pizza, the title of best pizza in the state from Arkansas Times and recommendations from The Food Network and Time Out New York. Located in the downtown historic district, this casual, modern setting provided the backdrop for many memorable evenings including birthdays and anniversaries. We were scheduled to attend a big bash there that was cancelled because of the pandemic, and we were eager to make up for lost time. I wanted one of everything: the charcuterie, pasta, burger and pizza. The Patsy Searcy pie won out with its unique blend of honey and spicy soppressata, Calabrian chili oil and peppadews. It was a little odd to see empty tables on a Saturday night (because of social distancing), but I'm glad the restaurant was able to safely open, and DeLuca's was also filling many take-out orders and pick-ups in the alley behind the restaurant. Owner Anthony Valinoti, an extrovert who loves widely and is widely loved in return, was obviously thrilled to be back at his craft and serving others. 
After dinner, we strolled down one of the most charming stretches of street in America, continuing north on Central Avenue, passing the eclectic and beautiful architecture of Bathhouse Row heading towards the Arlington Hotel. The magnolia-lined promenade dotted with antique lamp posts and dazzling hanging baskets has been the epicenter of the town for over a century. I love contemplating the history that occurred here and experiencing the current chapter of downtown's resurgence that has been building for a decade.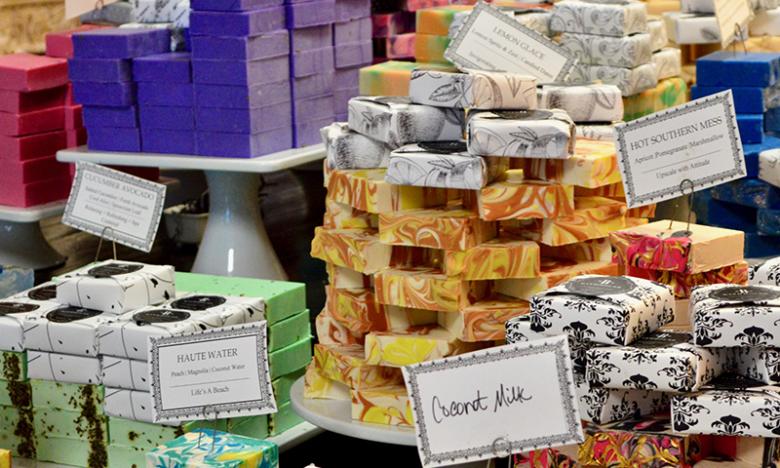 We stopped in my favorite shop in Hot Springs: Bathhouse Soapery and Caldarium, a purveyor of handmade cosmetics located across from Bathhouse Row. The first time I walked through the doors was after a spa day across the street, and I was eager to extend the luxury experience at home. Bathhouse delivered in a big way, and I was hooked. Proprietress Charlene Simon, who was crowned Mrs. Arkansas 2019, made her first batch of soap when she was 18 and grew Bathhouse into a multi-store brand. This evening, the Bathhouse team was celebrating the company's eleventh birthday, and I bought the very last birthday mystery box, whipped soap in my favorite scent Cloud, bath bombs and bar soap. Casey selected Steam shave cream and Honky Tonk Man soap.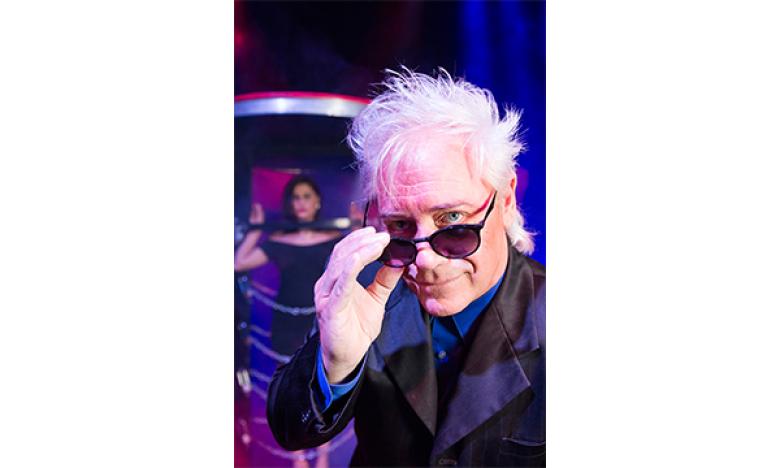 Maxwell Blade Theatre of Magic crowned our day. We hadn't seen his magic, comedy, and music show, which is in its 24th season in Hot Springs, since he restored the historic Malco Theatre and relocated. Spending a few hours in the glorious space is worth the price of admission alone. Blade kept the art deco aesthetics and original items like the front counters and the brass pyramids above the concession area. The top-to-bottom overhaul brought the original neon back to life alongside a digital marquee. In keeping with guidelines, every other row was empty, and groups were relegated to separate ends of rows. I was glad we were among the exclusive audience able to experience the Vegas-style show that's surprising to find in a mid-sized Arkansas town. Case was selected to help with a portion of the act, and I don't know if he found that to be more thrilling or the ride back to the DoubleTree in Blade's limousine. 
The next morning, under blue skies with perfect temperatures, our adventure resumed from the dock at the DoubleTree with a pontoon excursion. My momma heart relished in sharing Case's first tubing adventure, as we sat side-by-side on a double-seater and he laughed and asked for more speed. We floated by the pristine, untouched shoreline of Garvan Gardens, Carpenter Dam and beautiful lakeside luxury homes. We finished our water escapades lunching on the spacious patio of Fisherman's Wharf, where it was easy to socially distance. The Wharf is one of Hot Springs' many restaurants with a dock that is accessible by boat. My crab-stuffed shrimp was unbelievably delicious, and Case enjoyed counting turtles, fish and ducks in the water. 
Our final stop was the award-winning Mid-America Science Museum, another Hot Springs attraction we've found worth repeating that features many hands-on experiences. While some exhibits were closed due to the pandemic, most of Case's favorites were open, including the Dinotrek, which features 13 life-like dinosaur replicas along paved walkways in the woods behind the museum, the Bob Wheeler Science Skywalk, which provides science fun above the forest canopy and the Fluid Motion Workshop, a two-story interactive water tower. A staff member in each exhibit sanitized stations immediately after each guest. This was our first visit to the museum since the new 8,750-square feet traveling exhibit hall opened in May. "Bionic Me," the inaugural exhibit, came from Australia and examines modifications of the human body that extends its capabilities. Visitors can attempt to control a computer using the power of the mind, race against a Paralympian and see how a bionic eye works. "Bionic Me" will be at Mid-America until October 4. 
Although life isn't fully back to normal, Hot Springs provided a safe bridge during this time of transition. Our first family getaway since life changed was a success. As we left town, Case was bargaining to stay one more day and asking how quickly we could return. Since Hot Springs offers so much more than can be explored in one weekend, I know the Dacus family will be back to our home-away-from-home soon. 
Sara Dacus was born and raised in Searcy, Arkansas, where she still lives with her husband Casey, their son Case and their puppy, Bode. She is an eighth grade English teacher and freelance writer who enjoys horse racing, reading and solving the New York Times crossword.