Second year for The Steel Horse Rally in Fort Smith
Featuring live music, a parade, vendors, bike show, bikini contest, barbecue competition, and poker runs, The Steel Horse Rally takes place Friday, April 29-Saturday, April 30 on Garrison Avenue in downtown Fort Smith.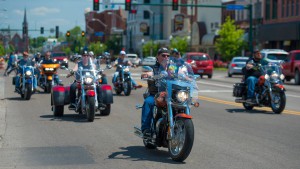 The Steel Horse Rally honors those who serve or have served our country and citizens – military, veterans, law enforcement, and first responders. This year a statue of General William Darby, who founded and led the first units of United States Army Rangers during World War II, will be dedicated at 10 a.m., Saturday, April 30 during the rally at Cisterna Plaza (near Garrison Ave. and 10th Street). Darby is a celebrated military hero. His boyhood home in Fort Smith is a tour home and museum.
This year's rally features an all new Vendor Village location near 800 Garrison Ave., the Harley-Davidson national demo truck filled with new 2016 motorcycles for you to ride, the Thunder Through the Valley Motorcycle Parade and more.
The Vendor Village opens Friday afternoon with vendors from more than two dozen states, offering a wide variety of merchandise, food and beverages. Shop for everything from incredible leather goods to engraved jewelry and eat anything from loaded nachos to cheesecake on a stick.
Jackyl to rock the stage Friday, April 29
Formed in 1991, Jackyl is equal parts hard rock, heavy metal and Southern rock. The band is known for unique performances such as the song "The Lumberjack," during which vocalist Jesse James Dupree performs a chain-saw solo. Jackyl is also featured on the hit reality TV show, "Full Throttle Saloon." ​​Also playing Friday is Juni Moon, .357, and Hillbilly Vegas.
Purchase Jackyl tickets online or at: Old Fort Harley-Davidson, 6304 South 36th St., and Simply Couture, 305 Garrison Ave. You must be 21 years old or older to purchase tickets. Tickets are available for at minimum donation of $15, but please feel free to donate more as this money will be used to help the rally and local charities. Tickets at both of these store locations can be purchased by cash, check, or money order. Make checks payable to the Steel Horse Rally Inc., or they can be purchased by credit card or PayPal online.
There is no cover charge for music on Saturday night, which will feature Colton Cerny and the Red Sun Caravan, the Jason Wells Band, and back from its European Tour, White Collar Sideshow.
Helping Local Charities
The Steel Horse Rally Inc is a non-profit public charity that is dedicated to raising funds for local charities in the Fort Smith area. The Steel Horse Rally Board of Directors has selected five charities to benefit from the 2016 Steel Horse Rally: Fort Smith Children's Emergency Shelter – Independent Learning Program, Hannah House (Tree of Life Preventative Health Maintenance), Earthbound Angels, the Gregory Kistler Treatment Center, and the Fort Smith Museum of History.
The Handle Bar
The Steel Horse Rally Handle Bar opens Friday evening inside the Fort Smith Convention Center for those ages 21 and up only. All proceeds from beverages purchased will go to the Steel Horse Rally Inc. See some of the best bartenders in town while enjoying great live music at this one-of-a-kind bar. Have your photo made at the Handle Bar, which will be decorated with some very special music and motorcycle items.
Tattoo Alley
Tattoo Alley will be open Friday and Saturday inside the Fort Smith Convention Center. See some of the best tattoo artists in the country and get a world class tattoos from world class tattoo artists.
The Birds of Prey Show
Back by popular demand from some of the youngest Steel Horse Rally-goers, is the Birds of Prey Show at 9 a.m., Saturday, April 30 at the convention center parking lot. See incredible birds of prey from hawks to falcons to owls up close and learn about these winged creatures from the experts from the Arkansas Native Plant and Wildlife Center. Make a donation to the center which helps rehabilitate birds and have your photo made with your favorite bird of prey.
Latest Information
Stay up-to-date on activities offered at www.TheSteelHorseRally.com. For more information, including VIP events, call 479-414-3775 or email [email protected].