Seven ways to celebrate 75 years of the Historic Arkansas Museum
At 75 years old, Arkansas's first accredited history museum is in and of itself a historic institution. This is a great reason to have a meta-party feting the highlights and milestones in HAM's own history. We visited with Bill Worthen, who has been the museum's executive director for more than half its existence, and Chris Hancock, HAM's communications manager, to see what the museum is raising a glass to during this anniversary year. Here are seven ways to join the fun: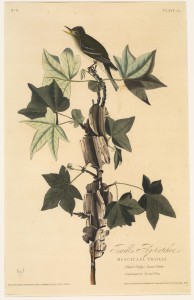 Party like it's 1941
HAM's official birthday is July 19, 1941, and the museum is making it super easy and fun to celebrate with free admission and tours all day followed by cake, lemonade, snacks smoked onsite and a special beer from Stone's Throw Brewing honoring Arkansas's first brewers, Alexander and Henry George. This would also be a great time to check out the museum's 75th anniversary exhibit "Diamond in the Rough," which elucidates HAM's history through important pieces from the permanent collection. Tuesday, July 19, 10 a.m.-6:30 p.m.
Go on a cheap date…with an artist
Though 2nd Friday Art Night—a monthly evening when downtown Little Rock galleries welcome patrons to new exhibits with open arms (and open wine bottles)—wasn't technically HAM's idea, the museum has been its longest consistent collaborator and artspace participant and in so doing has become the event's epicenter. Which is fitting: "HAM hosted the first exhibit space dedicated exclusively to Arkansas artists," says Hancock. The Trinity gallery, opened in 1973, counted works by such luminaries as Elsie and Louis Freund among its early exhibits.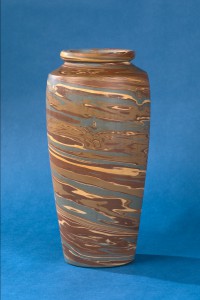 See what Arkansas is made of
When a search for era-appropriate furnishings, decor and household items dead-ended in a research void, Worthen and chief curator Swannee Bennett dove headlong into it, discovering that in addition to creators of the expected log cabins, baskets and other utilitarian kinds of things, Arkansas had terrific silversmiths, cabinet makers, gunsmiths, and so on—and thus the Arkansas Made collection and gallery were born. "We can just be thankful for all the academics who decided not to study the material culture of early Arkansas," says Worthen. Indeed we can.
Get fired up
HAM is home to a collection of 100-plus modern and historical knives, and HAM's master bladesmith, Lin Rhea, relishes discovering "historical secrets" he can apply to modern competition bladesmithing. In recent years, knifemakers from as far away as France and Ireland have come here to learn from him in the museum's period-perfect blacksmith shop, where even the basic tools of blacksmithing are made in-house by original methods. After you see what goes into making a single nail, you'll never wield a hammer the same way again.
Walk in two worlds
With this eponymous permanent exhibit, HAM finally got to tell the story of Native Americans in Arkansas in full partnership with three of the tribes who were here in the Colonial period: the Caddo, Osage and Quapaw. "It's the first time any state agency in Arkansas has invited these people to tell their story." The museum's award-winning living history program brings to life another often-untold story, that of slaves in Arkansas. "Museums tell history through objects," says Worthen. "Enslaved folks on this site didn't leave behind a lot of objects, due to the nature of slavery. A living history program is one of the ways we're able to tell that story."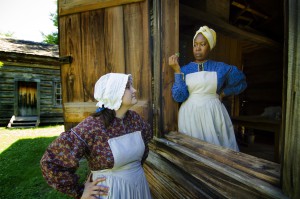 Develop an eye for detail
They say the devil's in the details, but at HAM, they're pure delight. While strolling around the Brownlee House, built in 1848 by a Scottish stonemason who'd come to Arkansas to work on the original Capitol (now the Old State House), notice how different the front of the building looks from the sides and back. "It tells a story of how people were very concerned about their front door," says Worthen, "and their back door was pretty much…you wanted it the cheaper the better. There are a lot of things like that, elements that each have a story." Bonus: Keep an eye out for the shutter dogs, and remember that someone put in a lot of time choosing those grapes and flowers.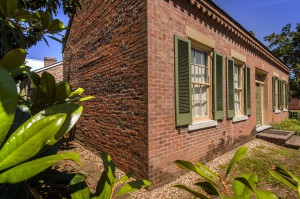 Y'all come back now, y'hear?
If you once toured HAM's grounds and have been thinking "been there, done that" ever since, you've got another think coming. "You might think they're static," says Worthen. "But if someone who was here in the '90s came back to see the Brownlee House today, they wouldn't recognize it. In the last 15 years we've completely redeveloped the back yard to create a functioning household garden." And the property will continue to evolve for as long as historians continue to care about historical accuracy and dig around in attics and basements looking for it. I.e., forever. So come early, come often. For more information: http://www.historicarkansas.org.