Slaughter Pen Jam Mountain Bike Festival
Slaughter Pen Jam Mountain Bike Festival takes place Oct. 2-4 in Bentonville, and is jam packed with biking events, vendors, music, and food.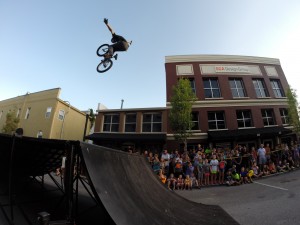 This three-day festival for riders of all ages kicks off at 5 p.m., Friday, Oct. 2 with BMX events on the downtown square and vendors set up on the lawn. Watch riders perform balancing acts and flips at the BMX Stunt Show by Real Encounter, which was featured on the 2014 season of America's Got Talent.
From 9 a.m. to 5 p.m. on Saturday, Oct. 3, "The Pen" at Slaughter Pen Hollow Park opens with live music, food, vendors, giveaways, drag races, guided rides, kids' events, inflatables, downhill race, archery/bike/biathlon, longboard competition, and more.
The big race, the Arkansas Mountain Bike Championship Series Race, gets serious on Sunday, Oct. 4.