Something for Everyone in Buffalo National River Country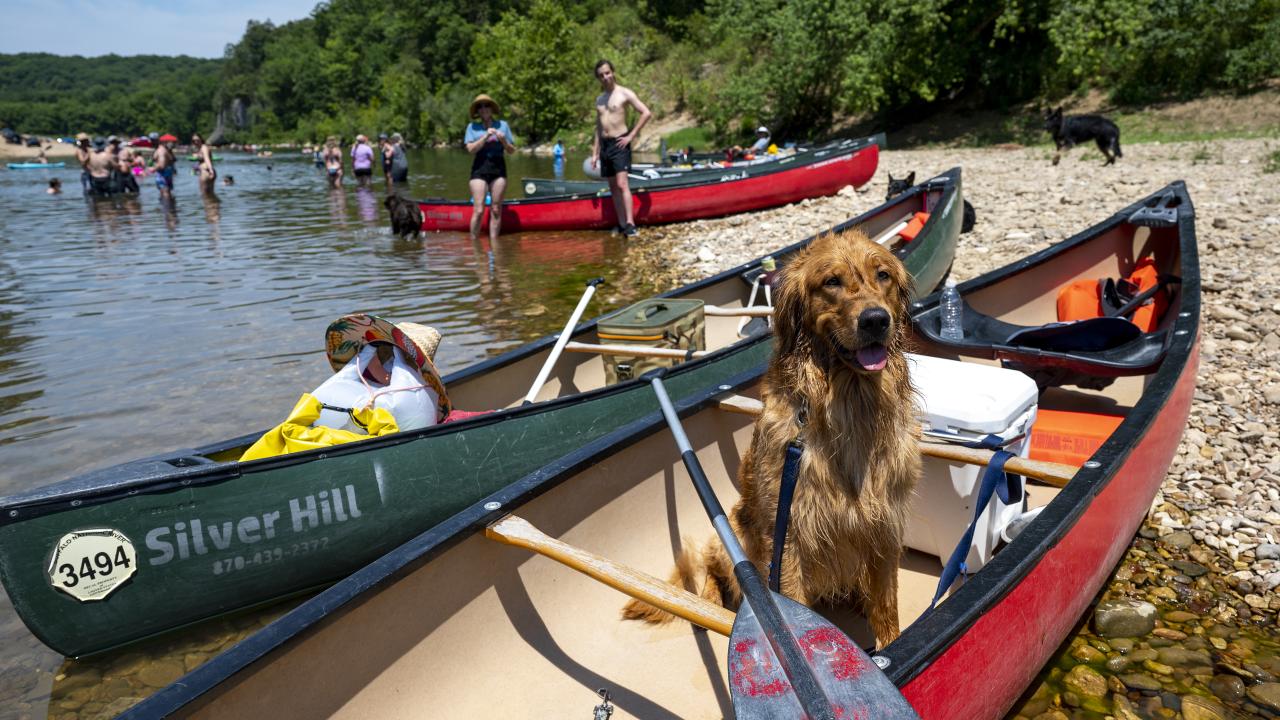 It took years of debate and the hard work of many landowners, individuals, groups, politicians and federal agencies to pass the legislation designating the Buffalo as a national river. Today, the National Park Service oversees 95,730 acres and three designated wilderness areas within that acreage.
Rushing whitewater is interspersed among sections of calmer water as the river wends its way 135 miles through the lush green valley that is home to elk, deer, black bear and other woodland creatures. Tall limestone bluffs in earthy hues of gray, tan and brown are defining features of the Buffalo. It is one of the few remaining undammed rivers in the lower 48 states.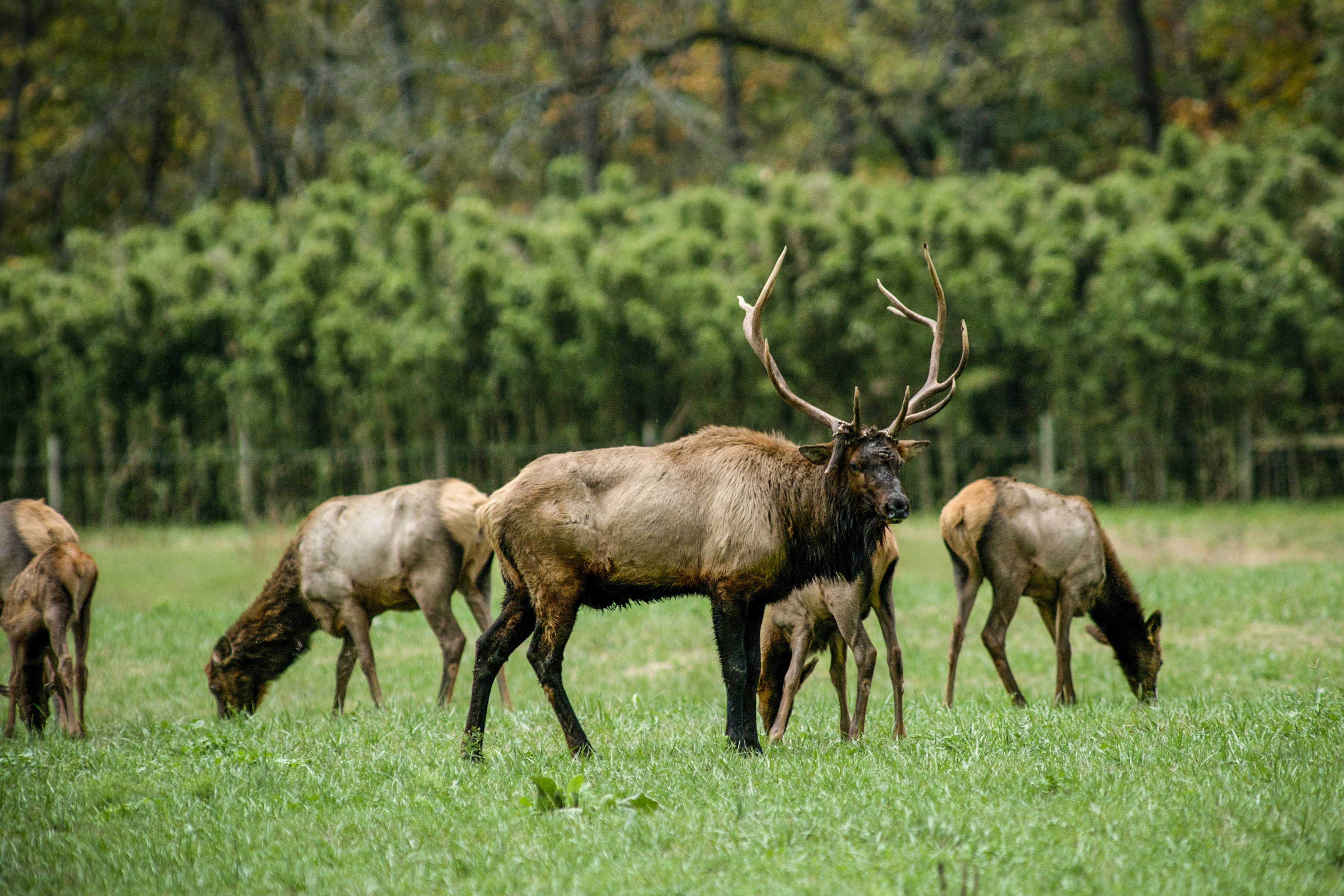 Activities in the Park
Fall is prime time to enjoy the Buffalo with its vivid fall colors and comfortable temperatures. Along its corridor, you'll find canoe and kayak outfitters, campsites, hiking trails, cabin rentals, towering limestone bluffs, quiet pools and whitewater rapids, an elk herd, and historic areas such as the Boxley Valley Historic District, the Parker Hickman Homestead, and the Villines Cabin. The Buffalo National River preserves many pioneer homesteads ranging from the 1840s to the 1930s.
There are more than 75 miles of designated equestrian trails, and 100 miles of maintained trails within the river park. Mountain biking and hiking are very popular activities at all times, but especially in the cooler months from fall through spring. Some trails offer views from the top of the limestone bluffs. Other treks snake through the woods past remnants of old homesteads and down old logging roads.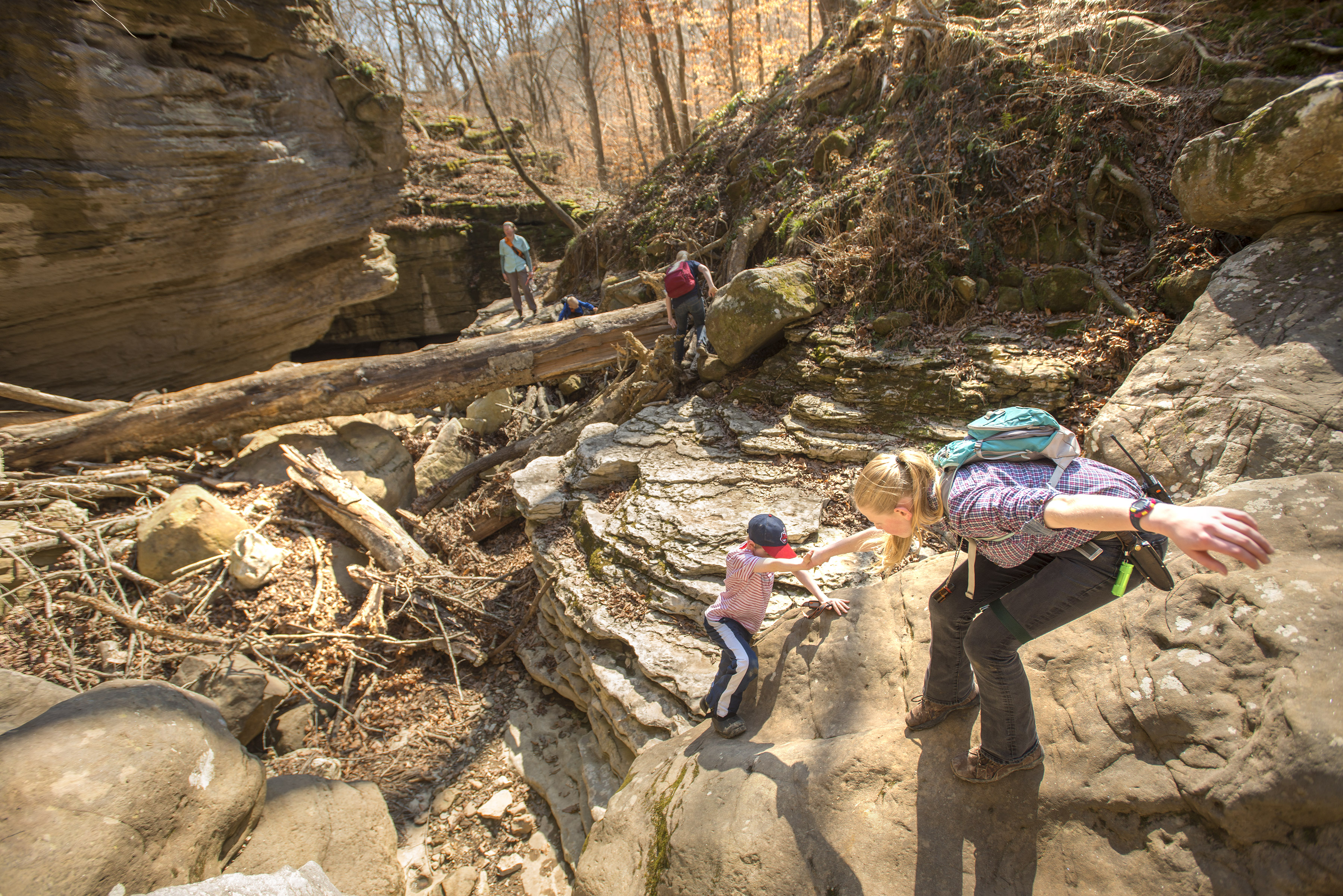 Overnighting along the Buffalo can be unrolling a sleeping bag on a primitive backpacking adventure, pitching a tent at a NPS campground, or staying in rustic housekeeping cabins constructed in the late 1930s by the Civilian Conservation Corps at Buffalo Point. Cabins and resorts just outside the park are popular with visitors as well.
Permitted park concessioners for the upper, middle and lower sections of the Buffalo River rent canoes, kayaks, and rafts, and provide shuttle services. Typically, the float season begins in the upper Buffalo in the spring. More water makes this section attractive for visitors seeking a higher level of challenge with whitewater kayaking. The season moves downstream with the months. Because the Buffalo is largely rainfall dependent, floating opportunities for each section can change not only from season to season, but week to week.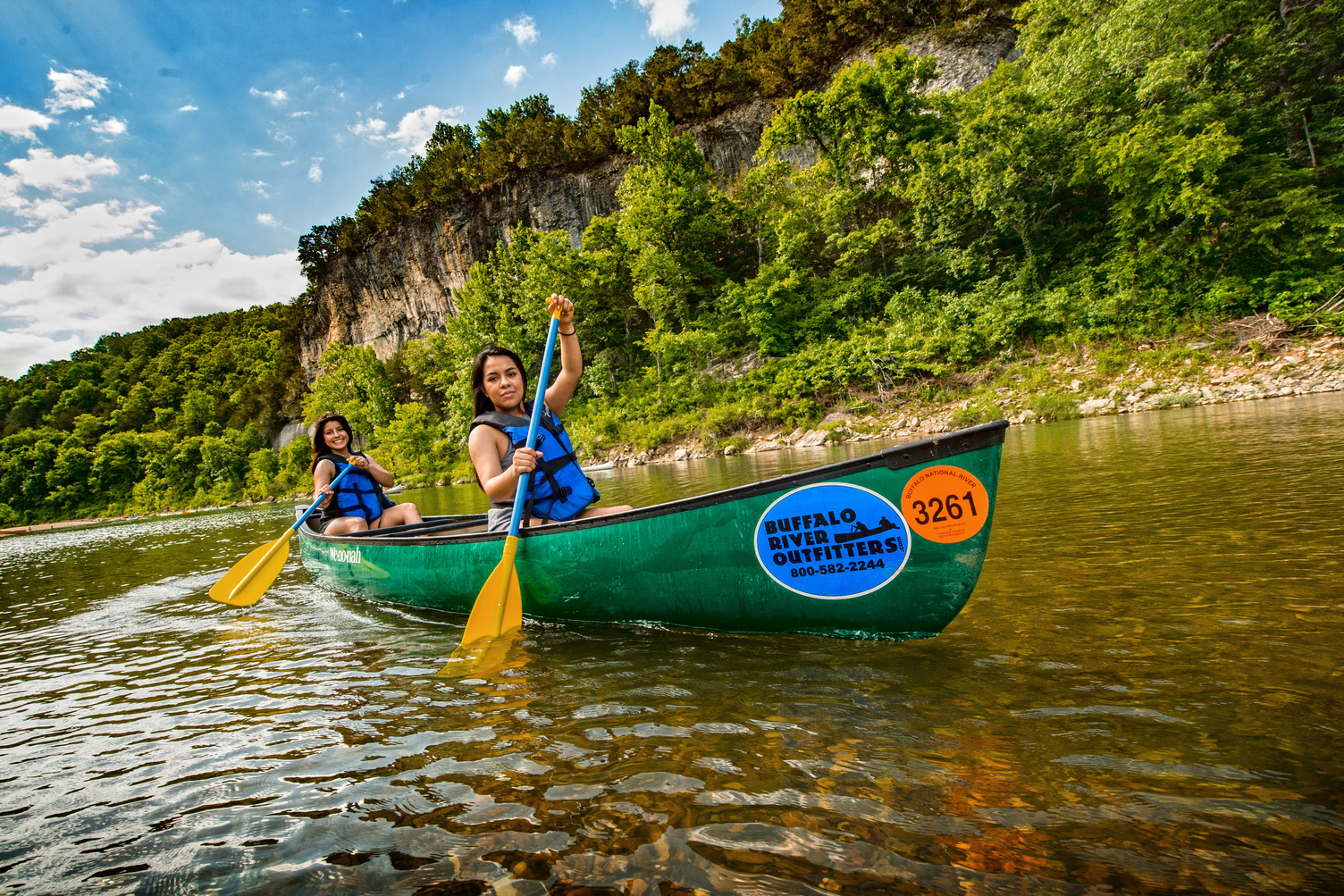 To rock climbers, Sam's Throne is probably the most well-known chunk of rock in the Ozarks. Another hot place to climb in Buffalo River Country is on private land owned by Horseshoe Canyon Ranch, where you can pay a nominal fee to climb. Plenty of rock in the area is suitable for "bouldering." Bouldering refers to the activity of climbing smaller rocks without the use of a rope because climbers are only six to 10 feet off of the ground.
Another activity that's easy for the whole family to enjoy is wildlife watching, particularly of elk. One hundred and twelve Rocky Mountain elk were introduced to the area in between 1981 and 1985 and the herd has grown to around 450. While not confined to the park, the herd is predominately found around the upper Buffalo. The large beasts prefer open areas for grazing with nearby wooded areas for resting. Drivers often stop their cars along roads in and around Boxley Valley to view elk in the fields. Morning and evening are the best times to watch them.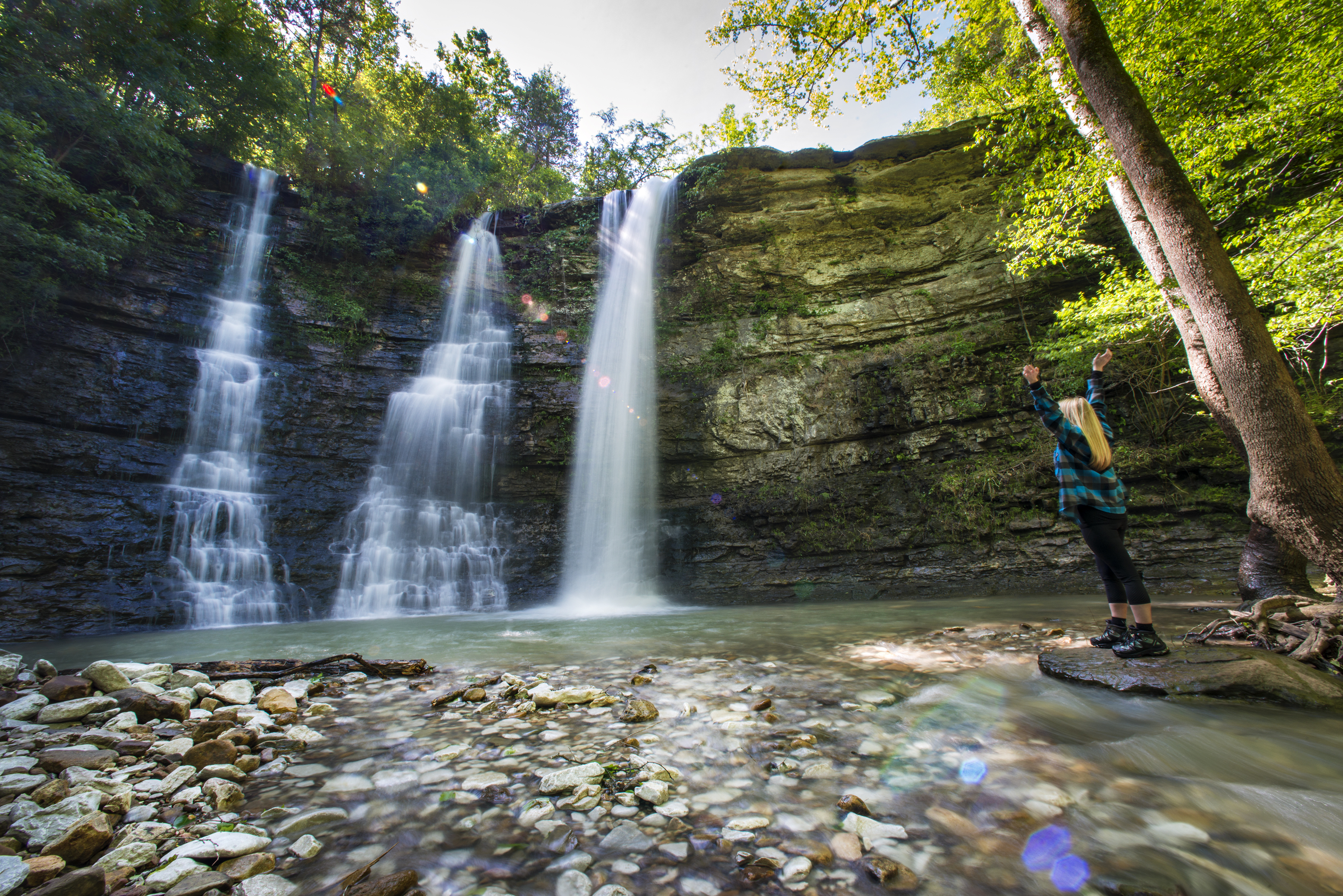 There's really something for everyone in Buffalo River Country. Fishermen will find a fish population of over 60 species, including small mouth bass, largemouth bass, Ozark bass, and goggle-eye. Horseback riding is another popular activity. Horseback riding concessions can be found and many are associated with lodging. While concessionaires aren't allowed to ride on the river, they have plenty of their own scenic trails in the river country.
Tyler Bend Visitor Center, offering exhibits, books, films, and more, is a great place to obtain park information. The NPS also provides ranger-guided tours and activities. Keep up-to-date on programs, or get trail maps, and other information for planning your visit at Nps.gov/buff/. This website also contains a map that shows current floating conditions along the length of the river, as well as additional information on access points, campsites and trails.