Special Summer Hours Start at Museum of Discovery!
Special Monday summer hours have been added for The Museum of Discovery in Little Rock . They are usually closed on Mondays but will be open on that day from 9-5 from July 8- August 12. The museum, located at 500 President Clinton Ave, was on the top 10 list of America's best science museums this year selected by Mensa members.  Mensa is the largest and oldest high IQ society in the world.
Established in 1927 as the Museum of Natural History and Antiquities, the Museum of Discovery is the oldest museum in Little Rock. In 1998, the museum moved to the River Market and changed its name to the Museum of Discovery. In 2003, the museum merged with the Children's Museum of Arkansas and became a Smithsonian Affiliate. In 2011, the museum closed for nine months in order to add a new entrance and undergo a total renovation.
The museum  reopened its doors in January of 2012 after the $9.2 million renovation. The museum houses many interactive exhibits on science, history, and technology. The museum is no longer just a children's museum: the new exhibits and interactive displays are for the whole family.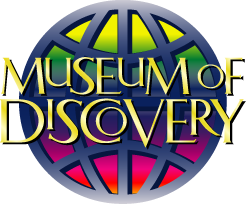 The museum is open Tuesday- Saturday from 9-5 and 1-5 on Sunday. For more details visit museumofdiscovery.org/