Squirrel hunting in Arkansas, recipes included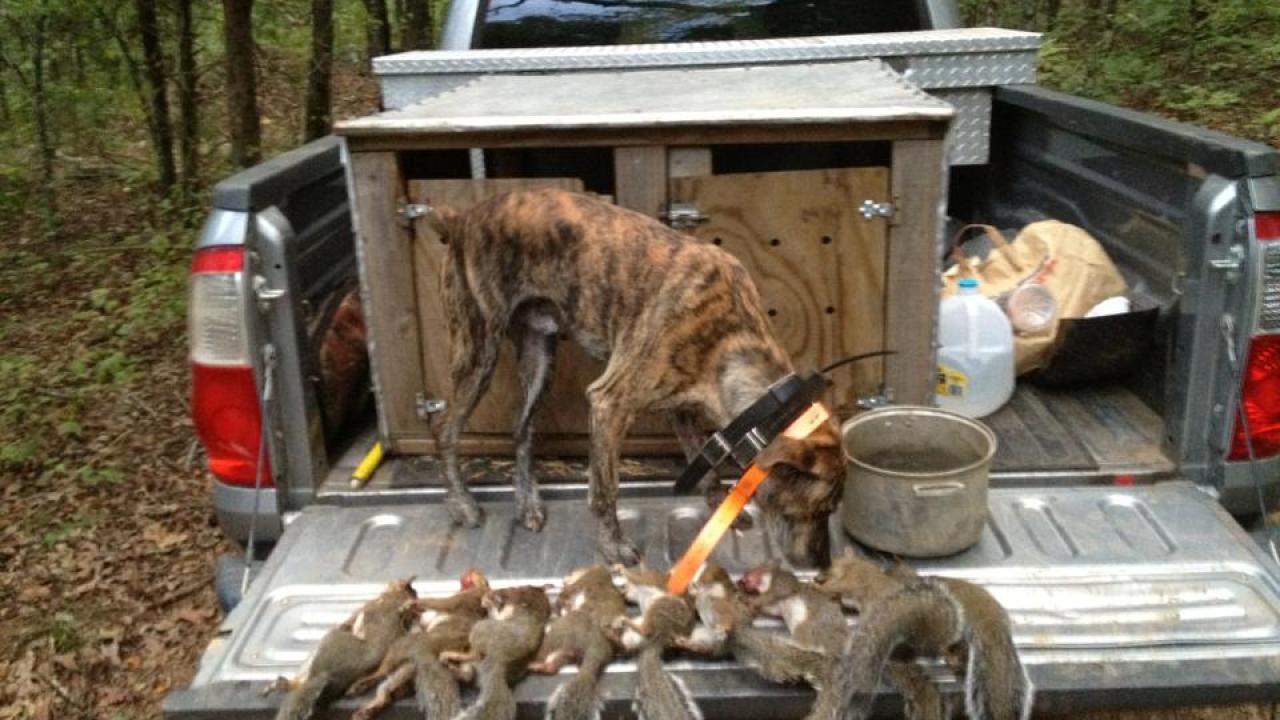 Squirrel hunting is an exhilarating experience that can help hunters sharpen their skills for larger game, or simply provide a thrilling chase after these scurrying creatures. Either way, hunting these small game animals is an absolute blast for all ages.
If you're looking for a good hunt, going after squirrel can be a pretty productive choice for several reasons.
Much of Arkansas' public land is bottomland hardwoods that hold a lot of squirrel. "Every Wildlife Management Area we have has a pretty good squirrel population," Clifton Jackson, wildlife biologist for the Arkansas Game and Fish Commission, said. "It's likely a hunter will see some squirrel and get a shot."
"I like it as a sport," Harrison Pittman of Fayetteville said. "You can go out and have some success." He's been hunting squirrel since he was a kid. "It doesn't necessarily take a lot of money to do like duck hunting," he added. "I like to deer hunt too, but you can sit on a deer stand for a couple of days and never see a deer."
Squirrel hunting is also less competitive than hunting for more popular species like deer and duck.
"You don't have to have an extensive deer lease or beat someone to a duck hole," Jackson explained. "Odds are you won't be successful deer hunting. Duck hunting is hit and miss with a lot of miss."
Squirrel hunting takes a minimal skill set and amount of equipment. Jackson said it's perfect for introductory hunting. "You need a rim fire rifle or a shotgun," he explained. "The shotgun is probably easier to start with. The rim fire, like a .22 caliber, is probably more fun."
"It's a great entry-level opportunity. Probably the best," Jackson said. " I still love it as much as I did when I was a kid. It doesn't get old to me. My ability to maintain that skill set and feed myself is fun to me."
"On one hand, you can start without a lot of skill, but you can gain a lot of skill," Pittman added. "The things you have to do to hunt squirrel lend themselves to learning how to deer hunt."
Pittman said it's not like seeing squirrel in your yard and therefore is not as easy as you might assume. Strategies also change throughout the seasons. Squirrels adapt their behavior based on factors like the presence of leaves on trees and their perceived vulnerability. "They wake up thinking about birds of prey," he explained. "Death from above." Availability of food is also a factor. Additionally, he said that in his experience different types of squirrel (e.g. fox, gray, black...) in different regions of the state have distinct feeding habits and require unique hunting strategies.
Squirrel Hunting Methods:
One method of hunting squirrel is to "still hunt" or go into the woods on foot and then sit up against a tree and watch for them. Squirrels are relatively messy eaters. They leave telltale signs of eating, called cutting. "Get around in the woods and look for those fresh cuttings piled up around the base of the tree," Jackson explained.
"I like to walk through the woods. As simple as that is, it's a skill to roam around the woods undetected," Jackson said. Pittman added, "You have to sneak up on them. They do have pretty good eyesight."
Many hunters use squirrel dogs too. Jackson said it's incredible to watch a squirrel dog that has that innate ability to look for squirrel, trail squirrel and stay at a tree until someone gets there to harvest the squirrel. In Pittman's 40-some years of hunting squirrel, he has been using dogs for about the last 15 years.
"When treed like that the squirrels are not necessarily easy to see," Pittman said. "It's like 'Where's Waldo.' You see a piece of an ear or the squirrel stretched out." Squirrel is the smallest mammal you can hunt for in Arkansas.
Sometimes the squirrel leaves the tree before the hunter gets to it. "I like to train my dogs to timber the squirrel," Pittman said.  "I want them to look for it, so if that squirrel does change trees, I want them to go with it. Some people like the dog to stay. If that squirrel changes trees I want my dog to go with it."
Tips for Hunting Squirrel:
Pittman said those new to squirrel hunting should go with an experienced hunter if possible to learn strategies.
"Practice is still good and marksmanship is still key to having a successful hunt," Jackson said. Pittman added, "You need to get comfortable with a firearm for safety. Go through that process first."
He also suggested learning how to skin a squirrel before shooting one. Pittman advised getting some decent tools such as game scissors and a good pocket knife.
A GPS to mark your vehicle and where you started the hunt can also be important. "It is possible to get lost," Pittman said. "Especially with a dog that may lead you on and on as opposed to still hunting."
It costs $10.50 cents for a license to hunt for a whole season and you can take 12 squirrels per person per day. Squirrel season opens every year on May 15 and closes on the last day of February. "It's one of the more liberal seasons we have on the books," Jackson said. 
How to Process Squirrel:
Cleanly getting the hide off and preparing the animal to eat is the next key to reaping the rewards of a hunt. As the saying goes for cats, there are several ways to skin a squirrel. "YouTube is very handy for looking at techniques," Jackson said, adding that hunters should compare techniques and choose the one that best suits their preference.
Jackson is efficient at processing the squirrels he harvests. It takes him about a minute. "I start at the base of the tail and make my incision along the legs," he explained. You can see Jackson in action at the World Champion Squirrel Cook Off where he holds the current title (2022) of squirrel skinning champion. The contest is not timed, but rather a bracketed event with contenders advancing after each win.
How to Cook Squirrel:
"Squirrels are just chickens of the trees," Pittman joked. While he generally likes to fry them, he said you can cook them just about any way that you cook chicken. Squirrel is a leaner meat. Pittman said you can fry it, bake it and even use the air fryer. "I've done barbecue, cajun recipes, squirrel and dumplings," he explained.
Jackson said people have become more innovative in their creation of ways to cook squirrel meat.
A great place for cooking inspiration is the annual World Champion Squirrel Cook Off, held annually each fall in Northwest Arkansas. Squirrels become a culinary treasure as up to 40 teams max from several states compete for bragging rights. Get ready for delicacies such as Baha squirrel nachos, squirrel empanadas, blackened ground squirrel, braised squirrel nachos, five-spice seared squirrel and more. Team names are as unique as their dishes, like the Nutty Cheeks Squirrel Squad and Rawhide Nut Pirates. Squirrel costumes, funny T-shirts, live music and other nutty fun add to the experience.
Recipes:
Fried Squirrel
1 squirrel (cleaned, cut into 6 pieces)
water (to fill 1/2 a skillet)
onions (to taste)
peppers (to taste)
eggs (for coating squirrel)
flour (for coating squirrel)
Fill an iron skillet halfway with water. Add lots of onions and pepper. Turn the heat up and simmer for 30 minutes with the lid on to tenderize the meat.
After tenderizing, dip squirrel in eggs (beaten), then lightly flour and fry.
Broth can be retained to make soup or stew.
(Recipe from Harrison Pittman)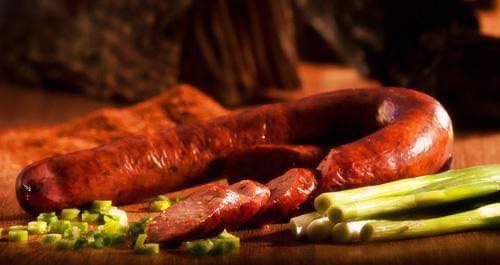 Squirrel Sausage
Squirrel is a great choice for sausage, but you will need to add fat. If you would like to add bacon, jowl, or fatback as your fat source that would work great. You can also use a pork breakfast sausage.
This is what you will need, double or triple if you have extra squirrel.
One 3-foot-length pork sausage casing
3 pounds squirrel, deboned
1 pound of fat (your choice)
1 teaspoon salt
1/2 teaspoon white pepper
1/2 teaspoon black pepper
1/2 teaspoon dried thyme
1/2 teaspoon freshly grated ginger
2 tablespoons chopped fresh chives
2 tablespoons chopped fresh parsley
1 tablespoon rosemary, bruised
1 tablespoon of crushed red pepper
1 diced jalapeño (optional, if you like it hotter)
Prepare casings according to maker's instructions.
Combine remaining ingredients; grind through the fine disk of a meat grinder, and stuff into casings. Twist off into 3 inch links.
Pan fry in oil, or smoke with pecan wood until done.
(Recipe and photo courtesy of World Champion Squirrel Cook Off)