Standing Ovation for Glen Campbell Documentary
Glen Campbell… I'll Be Me was the opening night documentary featured at this year's Hot Springs Documentary Film Festival. As the title suggests, this film, which was directed by James Keach of Walk the Line fame, delves into the life of the popular country singer. The moving documentary gives the viewer a glimpse into Campbell's life (both his family and professional life) and is open about what it means to live with Alzheimer's, an illness Campbell was diagnosed with in 2011.
A native of Delight in Pike County, the singer and songwriter was a pioneer in the field, becoming the first country music star to make the crossover to the pop charts. He is a winner of 8 Grammy Awards and some of his hits include Gentle on My Mind, By the Time I Get to Phoenix and Rhinestone Cowboy. After being diagnosed with Alzheimer's, Campbell performed a 151-show Farewell Tour ( which included three of his children joining him as part of the band) in 2012. Footage from this tour is showcased in the documentary. The film also includes multiple interviews with many familiar faces that have been influenced by the singer including Bill Clinton, Bruce Springsteen, Steve Martin and more.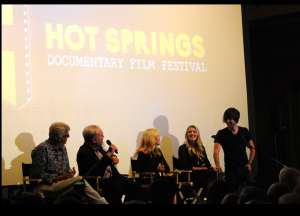 I came away from the film moved by the honesty, humor, and openness with which the Campbell family seems to operate. I wasn't the only one as the film received a standing ovation after the screening. After the film, there was a Q&A session with the filmmakers, Campbell's wife Kim ( who is shown in the film as a strong foundation of the family) and his musically talented children Ashley and Cal ( who performed a song from the film).
The film is being released in various theaters across the nation including in Arkansas on October 24. The theaters it will be at are the Hot Springs Mall Cinema in Hot Springs, Riverdale 10 Cinemas in Little Rock and AMC Fiesta Square 16 in Fayetteville. For more details on the film, check out glencampbellmovie.com or their facebook page here. Below is a music video of the last song Campbell, who currently lives in a care facility, will ever record. It was written for and is featured in the documentary.